This past weekend featured two major sports car events – the FIA World Endurance Championship had its 24 Hours of Le Mans dress rehearsal at Spa-Francorchamps and the IMSA WeatherTech SportsCar Championship ran solo at Circuit of The Americas for its first standard-length race of the year – but the month of May is dominated largely by open-wheel racing, and both Formula 1 and Verizon IndyCar Series' marquee events of the season.
Here's what to look forward to in F1 and IndyCar, as well as the rest of the month ahead:
—
FORMULA 1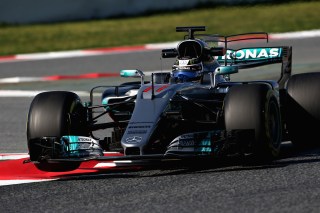 Spanish Grand Prix, Sunday, May 14, 8 a.m. ET, NBCSN
The Spanish Grand Prix this weekend is always the start of F1's "regular season," as you were. With the initial four flyaway races done, Spain marks the start of F1's traditional European stretch that runs through September, and as such represents the race where most teams will have brought the first round of major upgrades.
That makes testing times – eight days were done at the Circuit de Barcelona-Catalunya this preseason – perhaps not indicative of what is to come this weekend. Qualifying, as ever, will be imperative and the start just as much to ensure the best possible result at a track not traditionally known for scintillating races and the most number of overtakes.
Alas, there's a lot of excitement to look forward to. Can Lewis Hamilton rebound after a tough weekend in Russia? Is Ferrari poised to kick the traditional European run off in form? Will Valtteri Bottas follow his dynamic first win in Russia with an encore? Can Red Bull break out of its current solo state beyond the leaders and ahead of the midfield? It all starts this weekend in Barcelona.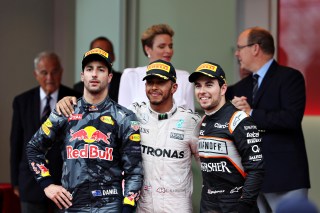 Monaco Grand Prix, Sunday, May 28, 8 a.m. ET, NBC
The crown jewel of the Formula 1 season is also a big one for us at NBC with the crew off to Monaco and the streets of Monte Carlo for the most glamorous Grand Prix of the season, and a race that isn't necessarily form-following compared to the rest of the year.
Case in point – the race should have been Daniel Ricciardo's to win last year after his maiden Grand Prix pole, but the Red Bull team's pit stop mistake in not having his tires set left him a justifiably disgruntled second place, and opened the door for Hamilton. Sergio Perez captured third for Sahara Force India.
Surprise winners rarely happen these days in F1 but they have happened at Monaco in the past, a place where qualifying is key and occasionally rain throws a spanner in the works. There's also the cool one-off return of 2009 winner and World Champion Jenson Button for McLaren, albeit with points as the only target if the reliability is there.
ALSO: Formula 2 at Spain (May 13/14) and Monaco (May 26/27); GP3 at Spain (May 13/14)
—
VERIZON INDYCAR SERIES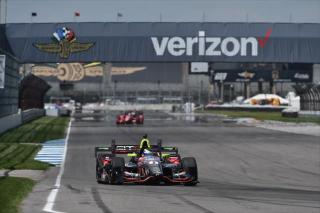 IndyCar Grand Prix, Saturday, May 13, 3:30 p.m. ET
The final Verizon IndyCar Series race before the Indianapolis 500 is now in its fourth year and is the antidote to the '500 in every way, shape and form. Seeing IndyCars on the Indianapolis Motor Speedway road course still takes some getting used to but has quickly established itself as a laid-back event that's good for families and a nicer warmup act to track activity than just oval practice.
Simon Pagenaud has won twice before (2014 and 2016) with Will Power (2015) the other winner thus far.
ALSO: Indy Lights, Pro Mazda and USF2000 at IMS road course (May 12/13)
Indianapolis 500 qualifying, Saturday, May 20, 11 a.m.-5:50 p.m. ET, Sunday, May 21, 2:45-5:45 p.m. ET
After a week of practice, qualifying commences for the 101st Indianapolis 500 presented by PennGrade Motor Oil on Saturday and Sunday. Saturday was more dramatic last year as teams made last-ditch efforts to make it into the Fast Nine for Sunday. Sunday's runs are more of a formality to set positions. Although with points again awarded for qualifying, there is incentive to gain as many as possible.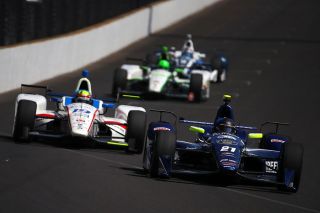 Indianapolis 500 Carb Day, Friday, May 26, 11 a.m. ET, NBCSN
Carb Day is the second most popular day of the month at IMS, with crowds second only to race day as the festival of activity features a bevy of items. The final one-hour practice (11 a.m. ET) is the ultimate dress rehearsal – outright speeds aren't as important as making sure you have clean ins-and-outs into pit lane and keeping your car in one piece.
It's followed by the Freedom 100 (12:30 p.m. ET), the marquee race of the Indy Lights Presented by Cooper Tires season, which frequently features finishes that are super tight. The 2013, 2014 and 2016 races all have been decided by less than 0.05 of a second.
Lastly comes the TAG Heuer Pit Stop Competition (1:30 p.m.E T), a chance for the crews to be in the spotlight in the closest thing to an IndyCar all-star race.
This all leads into the now annual episode of the NASCAR America Motorsports Special (3:30 p.m. ET), where crews from the NBC Sports Group team look ahead to Indianapolis, Monaco and Charlotte on racing's biggest weekend.
101st Indianapolis 500 presented by PennGrade Motor Oil, Sunday, May 28, 11 a.m. ET
"The Greatest Spectacle in Racing" has the 101st running after all, following all the buildup to last year's 100th running, and will no doubt have countless story lines to chronicle.
Fernando Alonso's arrival has captured countless headlines, domestic and international, and how the two-time World Champion gets on with it in his oval and IndyCar debuts will be fascinating to witness.
Alexander Rossi goes for an encore victory, albeit in a more conventional style than his Bryan Herta-strategized/aided "clutch-and-coast" call last year.
Each of the earlier winners this season looks for their first Indianapolis 500 win. None of Sebastien Bourdais, James Hinchcliffe, Josef Newgarden and Simon Pagenaud has captured IndyCar's biggest race, and a win for any of them would cement their legacies as IndyCar legends beyond what they've already achieved (Bourdais and Pagenaud having won titles).
And then there's the past winners of the race looking to regain their throne, and dethrone Rossi. In Juan Pablo Montoya, Ryan Hunter-Reay, Tony Kanaan, Helio Castroneves and Scott Dixon, there's five past additional winners looking for either their second (Dixon, RHR, Kanaan), third (Montoya) or fourth (Castroneves) '500 victory.
Those are but a sampling of story lines as others within the 33-car field will look to assert themselves in the biggest race of the year.
—
OTHER RACES OF NOTE
Just because open-wheel headlines the month of May does not mean it is the only racing this month. Also still to come:
Red Bull Global Rallycross, Louisville (Sunday, May 21, 1 p.m. ET, NBC)
FIA Formula E Championship, Monaco (Saturday, May 13) and Paris (Saturday, May 20)
MotoGP, Bugatti/Le Mans (Sunday, May 21)
NHRA, Topeka (Sunday, May 21)
Pirelli World Challenge, Canadian Tire Motorsport Park (Sat./Sun. May 20-21), Lime Rock Park (Fri./Sat. May 26-27)
European Le Mans Series, Monza (Sunday, May 14)