The Indianapolis Motor Speedway and the Indiana Donor Network, via its Driven2SaveLives campaign, have announced a partnership on Tuesday to promote organ, tissue and eye donation.
The campaign made its debut in 2016 as part of Stefan Wilson's entry into his maiden Indianapolis 500 last year, in a late deal struck with KV Racing Technology for that team's third car. Wilson competed in honor of late brother Justin, who died in August 2015.
Wilson was meant to have a sophomore run in this year's 101st Indianapolis 500 presented by PennGrade Motor Oil with Andretti Autosport, but stood down to make room for Fernando Alonso's arrival in what was an undoubtedly tough but gracious decision.
Per Trackside Online, Wilson will be one of several driver ambassadors for the partnership. Others of note include Pippa Mann, Kyle Larson and Ricky Stenhouse Jr., all of whom were close to Bryan Clauson, who competed in three Indianapolis 500s, the last two with Jonathan Byrd's Racing (in partnership first with KVRT and then Dale Coyne Racing) but was fatally injured in August last year.
The release from IMS is below:
—
The Indianapolis Motor Speedway (IMS) announced today it has partnered with Indiana Donor Network to promote organ, tissue and eye donation and transplantation through the Driven2SaveLives ® campaign. The goal is to educate race fans on donation and to encourage them to register their donation decisions through the campaign.
"This partnership between IMS and the Indiana Donor Network is very important to all of us," said Mark Miles, Hulman & Company president and CEO. "We see this as a great opportunity to reach fans who visit the Racing Capital of the World throughout the year, informing them about the need for registered donors across Indiana and the United States. It's extremely easy for anyone to take part in this process and save lives."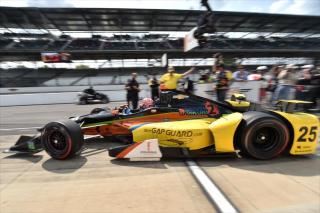 Indiana Donor Network, which oversees and coordinates organ, tissue and eye donation across the state, launched Driven2SaveLives in April 2016 with IndyCar driver Stefan Wilson to promote donation and transplantation awareness around the 100th Running of the Indianapolis 500. At the time, the campaign honored Stefan's late brother, IndyCar driver Justin Wilson, who died in August 2015 from injuries he sustained in a race crash and saved five lives as an organ donor.
"When we launched Driven2SaveLives last year, we wanted to show the hope and healing that donation provides families, and in turn, we hoped to inspire race fans to become registered donors like the Wilson brothers," said Kellie Hanner, president and chief executive officer at Indiana Donor Network. "Then we lost another racing hero in Bryan Clauson, and his family approached us to help spread donation awareness and to encourage donation registration more broadly within motorsports."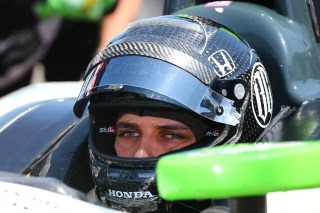 Bryan Clauson, a versatile and beloved driver best known for his talent and achievements in dirt track open-wheel racing, died in August 2016 following a race accident. As a registered donor, he went on to save five lives as an organ donor and continues to heal the lives of countless others as a tissue donor. In January 2017, Indiana Donor Network partnered with Clauson-Marshall Racing and expanded Driven2SaveLives into dirt track racing in honor of Clauson.
"Driven2SaveLives has worked tirelessly to promote donation and transplantation within motorsports since it was formed after the tragic passing of Justin Wilson," said J. Douglas Boles, IMS president. "The need for donors was magnified even further after we lost Bryan Clauson last summer. Both Justin and Bryan were incredible people who always connected with fans and selflessly gave of themselves as donors, and we hope fans will honor their memory and join drivers from so many series by supporting this vital campaign and registering as a donor."
IMS and Indiana Donor Network together will promote donation and transplantation awareness starting this weekend, at the INDYCAR Grand Prix, through next year's Indianapolis 500. Race fans can expect to see the Driven2SaveLives campaign – signage, videos, advertising, social media and more – at all IMS events in between. A special Bryan Clauson tribute is also in the works for the 100th lap of this year's Indianapolis 500.
"The Indianapolis Motor Speedway is the biggest name in motorsports, and we are incredibly grateful to have their support as we honor donation heroes like Justin Wilson and Bryan Clauson and encourage more people to take part in those legacies by registering their own donation decisions," Hanner said.
The easiest way for race fans to register their decisions to become registered donors is to visit Driven2SaveLives.org. The campaign's website feeds into Donate Life America's national registry, which means fans, no matter where they live in the United States, can register their donation decisions there.
FACTS:
More than 118,000 people nationwide are waiting for lifesaving organ transplants.
Over 1,300 of these people are in Indiana alone.
In the U.S., another person is added to the transplant waiting list every 10 minutes.
Each day, 22 people on average in the U.S. die because a donated organ wasn't made available in time.
One organ donor can save the lives of as many as eight people.
One tissue donor can heal the lives of approximately 75 people.
Approximately 90 percent of Americans support organ donation, yet only 50 percent are registered.
You can register to become an organ, tissue and eye donor at http://www.driven2savelives.org.