INDIANAPOLIS – A pair of official livery reveals – and one other car's livery being teased – headlined the Thursday of INDYCAR Grand Prix weekend, ahead of Round 5 of the Verizon IndyCar Series season on the Indianapolis Motor Speedway road course. There was no track activity today except for the three rungs of the Mazda Road to Indy presented by Cooper Tires ladder.
—
Harvey, Veach liveries revealed
Within the last 24 hours, two of the four rookies competing in this year's 101st Indianapolis 500 presented by PennGrade Motor Oil have had their liveries revealed.
Jack Harvey's No. 50 Honda for the Michael Shank Racing with Andretti Autosport combination features a striking yellow, pink and black combination and notable sponsors AutoNation and Gap Guard among the items on the car. Of note here, Tim Keene, Shank's general manager, will serve as Harvey's race strategist.
Harvey, Shank and Michael Andretti all spoke at the launch, held at Andretti's hospitalty on the IMS grounds. Fuller interviews with them will appear in the coming days on NBCSports.com.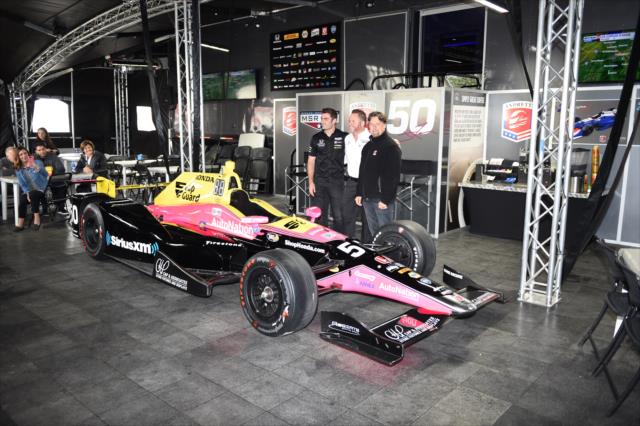 The night before at the Foyt Wine Vault, Zach Veach's No. 40 Chevrolet for AJ Foyt Racing was released, along with the ticket for the Indy Women in Tech Championship presented by Guggenheim, the LPGA event to be held at the Brickyard Crossing golf course in September.
While the Indy Women in Tech Championship is the primary sponsor, Sexton Companies and Alfe Heat Treating are also rather visible on this car.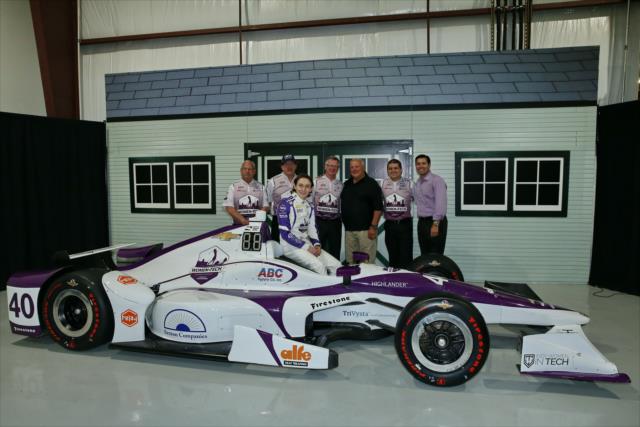 —
Nearly all the Indy 500 liveries are out now, as well
The two rookies were not the only drivers who have their liveries out. There have been another three either formally released or teased, as well.
Pippa Mann's No. 63 Honda for Dale Coyne Racing features the similar pink as she's had the last three years, but is not primarily pink as it has been those years.
Susan G. Komen is a partner and is on for a fourth straight year. Other announced entities include Genetic Technologies (BREVAGenplus), OrthoIndy (which isn't on car, but was announced as strong partner), Tamarack Agency, Clear Software and Boosterville, with others also including Towne Post Network, MadeInSpace, Visit Indy, and Momentum Group. Mann has also hinted at an announcement regarding MadeInSpace to come soon.
She also announced as an ambassador for #Driven2SaveLives earlier this week. Her #GetInvolved 2017 campaign is also live. The livery rendering is below, and is being wrapped by the Dale Coyne Racing crew at the Speedway.
Oriol Servia's No. 16 Honda for Rahal Letterman Lanigan Racing has not been formally released, but the garage sign above his garage in Gasoline Alley seems to hint at what figures to look like a similar yellow-and-white car as Spencer Pigot had last year.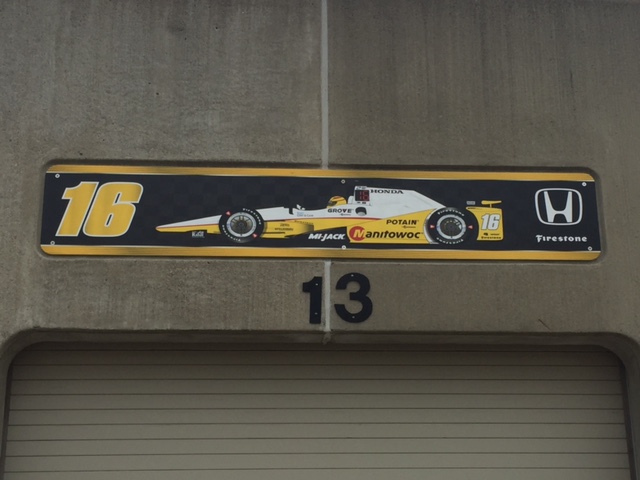 There's been one other tease, as well. With a soft launch of a gold-and-white No. 3 Chevrolet for Shell, Helio Castroneves' livery looks intense. It should be revealed fully next week.
—
Juncos Racing's quick prep and strong engineering team
Both Juncos Racing cars are here and being prepped. To denote the separate liveries, look for more orange accents on Sebastian Saavedra's No. 17 Chevrolet and more yellow accents on Spencer Pigot's No. 11 Chevrolet on near identical green-and-white canvasses.
People may not be used to the size or scale of operation Ricardo Juncos assembles, but the crew and other staff brought on is strong ahead of the Argentine's IndyCar and Indianapolis 500 debuts.
The Pigot and Saavedra deals were announced this week, and will feature three aces on the engineering front. Tom Brown, an IndyCar and sports car veteran who's recently been with CORE autosport and Starworks Motorsport in the IMSA paddock, will serve as the overall engineering head.
Steve Newey, another who's in sports cars with Stevenson Motorsports and has a wealth of IndyCar experience both as an engineer and team co-owner, will serve as Pigot's race engineer. Interestingly, both Newey and Pigot were both with Ed Carpenter Racing last year, but not simultaneously; Newey was JR Hildebrand's engineer for the month of May, while Pigot was still at RLL before joining ECR at Detroit.
David Cripps will be Saavedra's race engineer. Another IndyCar veteran, Cripps has been in-and-out with teams in recent years, and has also been involved with the U.S. Olympic Bobsled Team in recent years.
Greg Senerius, Sebastien Bourdais' former crew chief at KV Racing Technology, is one of several ex-KVRT alumni as part of this program.
Jay Frye and INDYCAR have been incredibly helpful and instrumental in Juncos' arrival into the series. While there is still a steep learning curve for the team to face in the new series, it's a step they're ready to take on and preparing to take.