Indy Lights: Nico Jamin goes flag-to-flag in Race 1

Andretti Autosport's Nico Jamin took his second win of the 2017 Indy Lights Presented by Cooper Tires season on Friday, leading every lap after securing the pole.
Jamin endured a brief challenge from teammate Colton Herta in the early laps, but quickly pulled away. Herta, meanwhile, suffered a cut tire after contact in the middle of the race, which forced him to make an unexpected pit stop and relegated him to 12th at the end.
Up front, Jamin led home Zachary Claman De Melo, who finished second after a fierce battle with Kyle Kaiser, who hung on for third.
Jamin couldn't help but be emotional after the race. "It is amazing emotions – I don't think it gets any better than winning at the Indianapolis Motor Speedway," said the 21-year-old. "I was nervous starting on pole. You're always happy to get the pole and the check but I saw in USF2000 here two years ago that the guys behind you can really get a good run into Turn One. I knew I had to get a good jump and I did, though I didn't want to look in my mirror because I knew it would be a mess."
Despite leading every lap, Jamin explained that he was pressured throughout the race, which made his victory anything but easy. "I pushed hard in the beginning to get away from Colton, who was on his push-to-pass, but then Zach was a rocketship at the end and was catching up," he explained. "The guys were yelling on the radio for me to push harder, but I couldn't. But I'm very happy to have gotten the pole and the win for the DuraMAX guys, who have joined me this month."
Race 1 results are below. Of note: Juan Piedrahita crashed in practice and Team Pelfrey, for whom he drives, was unable to repair the car in time for the race.
Pro Mazda: Franzoni outduels Martin for First Career Win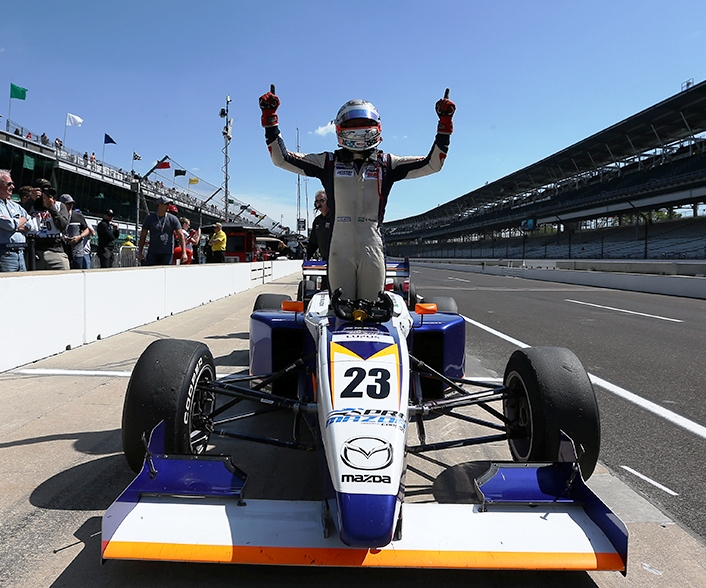 The Pro Mazda Championship Presented by Cooper Tires returned to action after a two-month break following the opening rounds on the streets of St. Petersburg, Florida. Victor Franzoni started Race 1 on the pole, but it was Anthony Martin who emerged in the lead after the green flag flew. Martin made his move around the outside entering turn 1, but he could not shake Franzoni, who quickly regrouped and mounted a challenge.
After five laps of stalking Martin, Franzoni made his move, also doing so around the outside entering turn 1, and cleared Martin for the lead. Franzoni ran the rest of the way unchallenged and won by just over five seconds. Martin, who swept the races at St. Petersburg, hung on for second, with TJ Fischer rounding out the podium.
The victory is the first of Franzoni's Pro Mazda career. "It's unbelievable to get my first win in Pro Mazda and my first win at Indianapolis," said an elated Franzoni. "This track is amazing; everything here is about racing so to win here is totally different than winning anywhere else."
Franzoni was gracious in victory and gave credit to Martin for a hard-fought and clean battle. "Anthony made a better start than me but he didn't have anywhere to go, so he was pushing me. I've raced Anthony for three years now on the Mazda Road to Indy so we respect each other – and we know that if we do something bad for each other, it will be bad for the championship."
Race 1 results are below.
USF2000: Askew Continues Dominating Run
Oliver Askew continued his winning ways on Friday by taking Race 1, his fourth win in a row in the 2017 Cooper Tires USF2000 Championship Powered by Mazda season.
Askew started on pole and led every lap, the third consecutive race he has done so, and again led Kaylen Frederick to the finish. Frederick again finished an impressive second, his third second-place in a row, while Calvin Ming rounded out the podium. However, Frederick and Team Pelfrey teammate Robert Megennis were later disqualified per Rule 14.28.9, which is uprights per the USF2000 rulebook. That vaulted Ming to second and Ricky Donison to third.
A jubilant Askew was beside himself after winning at the Indianapolis Motor Speedway. "I tried not to think about winning here, because I didn't want to jinx myself," Askew quipped afterward. "The place has so much history and it's what INDYCAR is. That's where I want to be in the future so to win here is really cool. But this whole year hasn't sunk in yet; I don't feel as though it's real."
The race had somewhat of a messy beginning. The initial was waved off when the pole sitting Askew was not the first car to cross the start/finish line, and an accident involving Kory Enders and Kris Wright shortly after the green flag flew forced a full course caution before a green flag lap was ever completed.
However, Askew was able to quickly scoot away from Frederick when the green flag came back out. "I just had to make sure I got a good jump at the start," Askew said of the effort. "Having a yellow start throws everyone off, but you have to regroup and figure out how to restart the race. I had the plan of where to accelerate, how to warm up the tires and where to get the jump by the time the green came out."
Race 1 results are below. (Note: these do not reflect the penalties levied on Frederick and Megennis).
Saturday sees Race 2 for all three series, with Pro Mazda kicking things off at 8:15 a.m. ET, followed by USF2000 at 10:05 a.m., and Indy Lights at 1:15 p.m. ET.
Follow Kyle Lavigne.