Indy Lights: Kyle Kaiser Rolls to Victory in Race 2, Takes Points Lead

Kyle Kaiser took his first victory of the 2017 Indy Lights Presented by Cooper Tires season. Kaiser led every lap on his way to victory, leading second-place Santi Urrutia by more than six seconds."It was unreal. I started getting emotional when the team told me there were five laps to go, thinking about the podium. I had to really keep myself in check until the checkered flag, and then I was just euphoric," said a jubilant Kaiser afterward.
Despite leading every lap, he explained that the win had its share of challenges, especially at the start. "It is super hard to start from the pole here," he explained. "I had to get a good jump and try to keep Colton behind me going into Turn One – especially because we were so close in the points. From then on, it was a matter of keeping Santi behind me, which was hard because he had a really good car."
Matheus Leist rounded out the podium after a fierce battle with teammate Neil Alberico in the final laps. Alberico came out of the battle wounded after contact between the two damaged his front wing with two laps remaining. He nursed the car home to finish sixth.
Meanwhile, Colton Herta endured more troubles n Race 2 after electrical issues surfaced about halfway through. He and the Andretti-Steinbrenner team were eventually able to fix the issues after the team advised Herta to recycle the system, however the damage was already done. He soldiered home in tenth.
Results are below. The Indy Lights race will air on NBCSN at 5/21 at 2:00 a.m. ET.
Pro Mazda: Franzoni the New Points Leader After a Weekend Sweep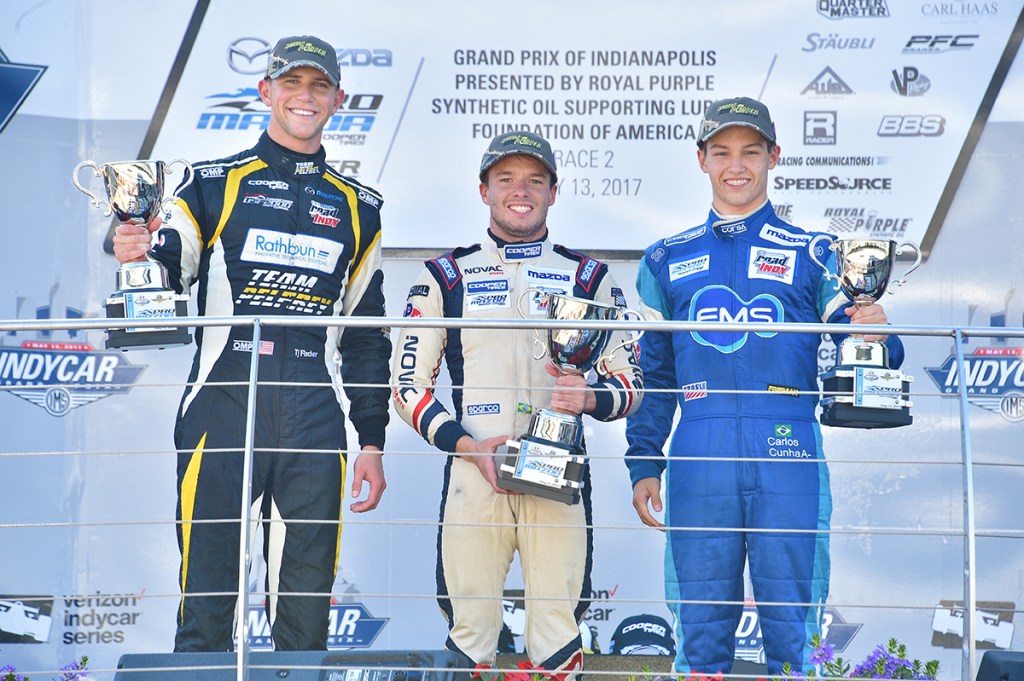 Victor Franzoni completed a weekend sweep of the Pro Mazda Championship Presented by Cooper Tires after he ran away with Race 2 at the Indianapolis Motor Speedway Road Course. The Brazilian driver rocketed away after starting on pole and was never challenged, eventually winning by more than 12 seconds over second place TJ Fischer.
Fischer, to his credit, completed a strong weekend where he finished on the podium in both races (third in Race 1, and second in Race 2). Carlos Cunha rounded out the Race 2 podium.
"It was a perfect weekend," said an elated Franzoni. "I knew the Juncos team would have a really good setup here so it was important for us to be ready – and it was the best car ever. It was a machine; it was so easy to drive. All I had to do was focus and drive fast."
The last time Franzoni swept a weekend like this came last year in his USF2000 campaign last year. "This happened at the end of last year in USF2000 where I had a perfect weekend, and now to get it here means so much," Franzoni added. "I so appreciate the opportunity Juncos has given me, and the car they gave me today. I hope we can keep this going."
Franzoni now leads Anthony Martin by six points. Race 2 results are below.
USF2000: Five in a Row for Askew

Oliver Askew continued his dominant run by winning Race 2, his fifth win in succession in the 2017 Cooper Tires USF2000 Championship Powered by Mazda. It is his second consecutive weekend sweep (he won both races at Barber Motorsports Park), and Askew ran unchallenged at the head of the field.
"Our pace here is fantastic; the Cape team gave me a great car," Askew said of the team's performance. "I tried not to look in my mirrors, especially at the start – I just went to Turn One as deep as I could and tried not to get hit from behind, because that's the only way that I could get passed. But like I said yesterday, it's surreal. I'm just living in the present and doing my job the best that I can, and that's working out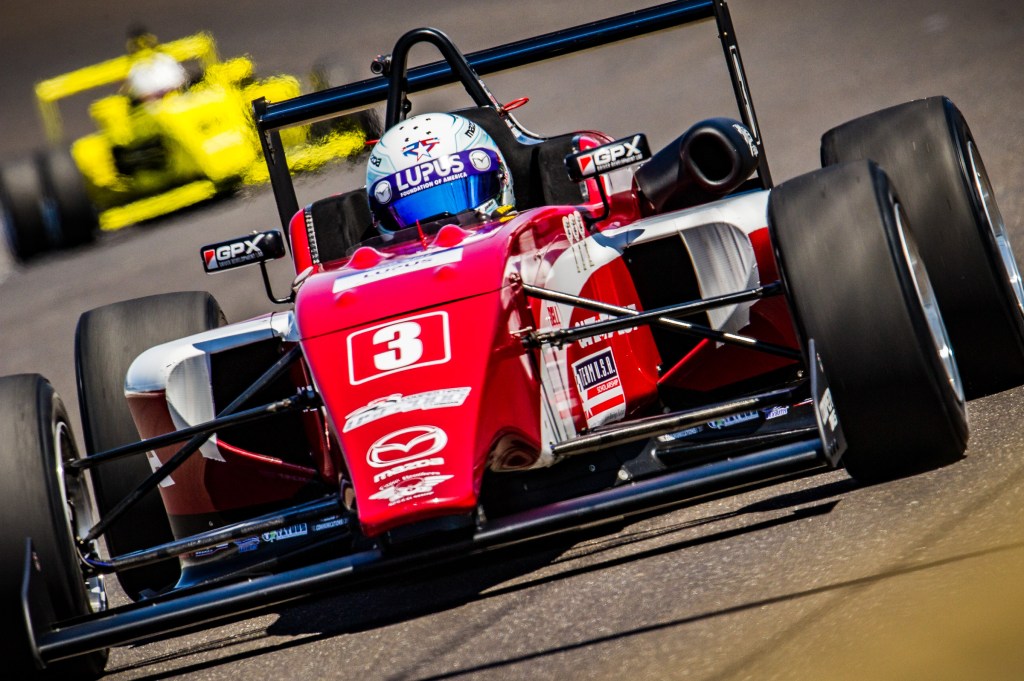 Behind Askew, however, chaos reigned. The initial start saw a pileup that collected Dev Gore, Colin Kaminsky, Ricky Donison, Calvin Ming, and Bruna Tomaselli (Gore and Kaminsky dropped out after suffering too much damage to continue). Their incident brought out a full course caution barely two turns into the race.
When racing resumed, Rinus Van Kalmthout fended off a challenge from Kaylen Frederick for second (Van Kalmthout had passed Frederick during the brief green flag period before the early caution). Frederick endured a difficult race that saw him fall back as far as seventh before he was able to work his way back forward.
The finish took a surprising turn when Callan O'Keefe stalled in turn seven in the final minutes, forcing a second full-course caution.
The race restarted for one final green flag lap, and while Askew and Van Kalmthout scooted away, Dakota Dickerson and Robert Megennis tangled in a battle for third and went off course exiting turn two. That allowed Frederick, running fifth at the time, back up to third. He hung on from there to claim the final spot on the podium behind Askew and Van Kalmthout.
Results are below.