INDIANAPOLIS – Saturday's INDYCAR Grand Prix at the Indianapolis Motor Speedway saw the established, north of 30-year-old veterans finish in the top five positions, but the young guns that finished in spots six to nine made a big impression behind them.
Will Power, Scott Dixon, Ryan Hunter-Reay, Simon Pagenaud and Helio Castroneves are all at least 32 and have been part of the IndyCar fabric for at least a decade since making their debuts; in Castroneves' case, two decades since his rookie season of 1998.
From sixth on back though were guys you hope will be here at least a decade further, if not longer.
Yes Graham Rahal debuted in 2007, but he's still only 28 years old. Then with Max Chilton (26), Alexander Rossi (25) and Spencer Pigot (23) in the next three positions thereafter, it was a day for the young guns to showcase themselves too.
Rahal and Chilton both translated poor qualifying performances into great opportunities on Saturday. From 20th and 14th on the grid respectively, they started on Firestone's black primary tires and carved their way through the field being on the softer, red alternate tires the rest of the day up to sixth and seventh. For both Rahal and Chilton, it was their best races of the season and in Chilton's case, one he called the best of his IndyCar career.
For Pigot and Rossi, the opposite results happened compared to hopes – and weirdly, for a second consecutive INDYCAR Grand Prix they could afford to be disappointed with results not as good as was possible.
On the scoreboard Rossi started ninth and finished eighth, while Pigot started 16th and finished ninth, but top-fives for both drivers were possible.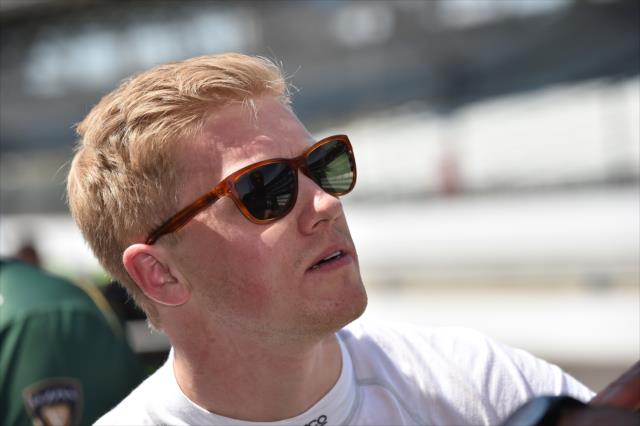 Pigot, driver of the No. 20 Fuzzy's Vodka Chevrolet, was perhaps the star of the race as he vaulted from 16th up to sixth early on, notably after gaining six positions just on the first lap alone. But a stall after his first pit stop dropped him down the order to 15th, a big loss of both valuable track time and positions.
The result is still Pigot's second top-10 this year – he was eighth at Long Beach.
But there's been points left on the table, often through no fault of his own. A fiery brake disc explosion at St. Petersburg ruined a star drive there, and a spin at Barber from another strong run into the top-10 means there's been some solid points left on the table.
"You never really know. Hopefully we could have ended up there as well," Pigot told reporters post-race. "Something happened the first launch out of the stops. Today, we're P9 knowing we could have been in the top five, not finishing a lucky P9, by getting a big break or a lucky yellow. I can't say we're totally 100 percent satisfied. But some stuff will go well later this year.
"A lot today depended on the tires. But we seemed to be really good in the second half of track, (Turns) 7 to 13, we used the overtake (button) to get runs. I could brake pretty deep into 1. This track produces great racing and lots of passing zones. We just have to see what happened with the stall."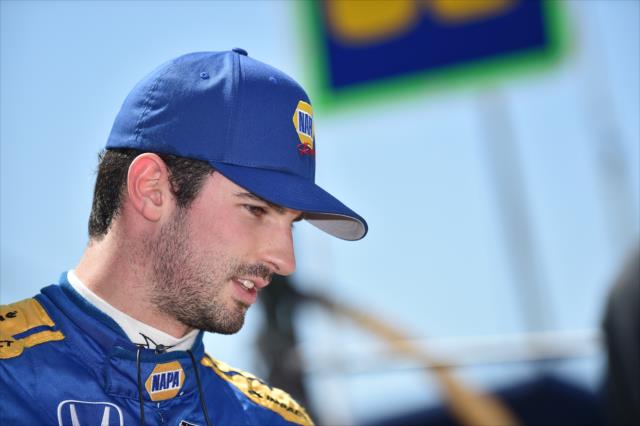 Rossi launched up to sixth after the start in the No. 98 NAPA Auto Parts/Curb Honda but cited a bad call in pre-race downforce selection as hampering his ultimate potential.
"I think we chose the wrong downforce levels. The first stint really killed us. It was all about recovery from that point forward," Rossi told NBC Sports post-race. "A top-five was possible. I'm pretty happy for Ryan (Hunter-Reay); it's great for the team to be on the podium.
"But our pre-race decision setup wise hurt us on (Firestone) reds. We got the balance tuned in for the last stint. That was pretty strong.
"This year, we've had pace and we haven't put a weekend together yet, which is frustrating. But we're way ahead of where we are from last year. Indy was our strong suit last year, so we'll look forward for that on Monday."
Josef Newgarden, the six-year veteran who's still only 26, was poised for his third top-five finish in five starts since joining Team Penske as well. But back-to-back pit lane speeding violations were traced to an electronics glitch and resigned him to 11th after running fourth or fifth most of the race.
Of the other sub-30-year-old young guns today, Conor Daly advanced from 15th into the top 10 early but struggled on pit stops and on blacks, Carlos Munoz never seemed a factor, Ed Jones got caught up Marco Andretti and Tony Kanaan's first lap contact and never recovered in what was his worst day in IndyCar thus far (finished 19th) and JR Hildebrand (still only 29) progressed from 21st to 14th but never seemed at ease with the car all weekend.
Last year's Indianapolis 500 featured Rossi and Munoz, both then 24, and Newgarden, at 25, in the top three positions. And given the prodigious talent of the under-30 crowd in IndyCar now, it was nice to see these guys have success today – and additionally good to know there were even better results possible for Rossi, Pigot and Newgarden had the ball bounced differently.
Rising Star Racing-supported driver Pigot switches to Juncos Racing for the rest of the month, in that team's Indianapolis 500 debut.