INDIANAPOLIS – Fernando Alonso's had quite a 24-to-48-hour period.
He's gone from qualifying in seventh place for the Spanish Grand Prix to finally finishing his first race of the season a day later, to then flying to Indianapolis and beginning the now two-week odyssey in this year's 101st Indianapolis 500 presented by PennGrade Motor Oil.
And as for how long it took to re-acclimate from his McLaren Honda Formula 1 chassis to his No. 29 McLaren Honda Andretti IndyCar?
"It took one corner," Alonso deadpanned, to a media center full of amused onlookers.
Alonso only completed 55 laps today – 35 in the two-hour Rookie Orientation Program/refresher program and 20 in the afternoon session – and later explained that he was not able to complete his full program owing to rear suspension issues. He ran more than 100 in his first day in the car on May 3.
That meant that in "happy hour" – the last hour of practice where conditions start to cool and are generally ideal for race preparation – Alonso's car was back in the garage and he was unable to get much running in traffic.
Nonetheless, lack of traffic running aside, Alonso said that knowing what to expect from his Dallara DW12 chassis and Honda aero kit and power unit was comforting on a day when conditions were different.
It was significantly warmer today than it was on May 3, by more than 20 degrees ambient and similar range in track temperatures. It was also windier today.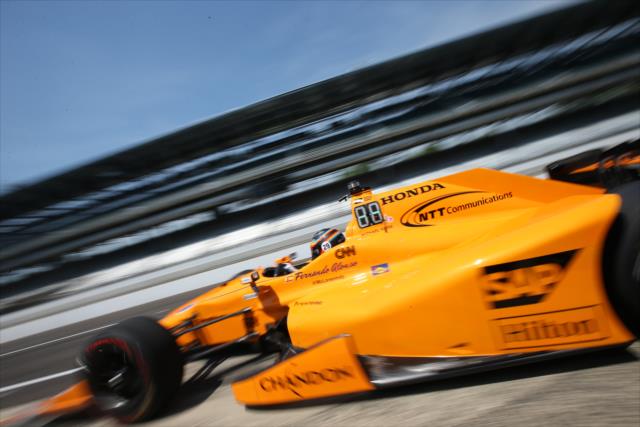 Alonso explained the differences.
"I was a little bit concerned about the conditions, about the temperature, much hotter today than the test we did here on the 3rd. But no, the car felt good, felt as good as in the test, and I was able to make some setup changes, yeah, without, as I said, losing the confidence in the car. Everything went very smooth," Alonso said.
"The last half an hour maybe we had some issues with the rear suspension, and we could not complete the program that we was planning to run a little bit in traffic at the end of the day, so we missed that part, but overall it was an amazing day.
"Happier than the first day with the car because I was able to feel some of the setup changes that we were planning in the morning, and yeah, I feel good.
"Not much running in traffic, so still the thing that I need to go through in the next couple of days, so that is something we need to chase tomorrow in the program. But I did two or three laps behind some cars that were going out of pit lane, and it was good fun, so I'm looking forward, and running along is enough."
Despite the long travels to Indianapolis, and then meeting fans at both the airport and outside his garage in Gasoline Alley, Alonso was immediately reacquainted with his IndyCar once he was back behind the wheel.
"You jump in the car, you are in that sitting position that is different compared to Formula 1. You have this headrest that you have the padding here, so you have no movement at all to look right, left.
"You just remind yourself exactly what you were driving two weeks ago, so you go flat out and you know what is going to happen. So it took really no time to switch on from one to another."
Alonso also had time to debrief with Mario Andretti, and what was originally just a quick chat then turned into more than an hour worth of conversation.
"Yeah, well, he went to the pit lane just to say hello, but he was — he knew that we were testing at that point, so it was just a formal hello," Alonso said.
"But later in the garage, lunchtime, we were talking for more than one hour and a half, so we went through many, many things, from Formula 1 to talk about the tires here, how they perform, to talk about the tires in Formula 1.
"We were talking about the two-seater that he will run on Monday he said, and he's preparing that run in a proper way, so if I was one of the guests, I will be worried because he will push to the limit that car!
"He's an amazing person and a true legend in motorsports, so every comment, every word that he says is obviously very, very important for all of us, and inside the team we are extremely proud and happy to work with him."
Lastly, Alonso seems set to focus on race setup this week, and whether he qualifies higher up the grid or not is not as important as ensuring he has the best possible car in traffic for the race.
"Yeah, it's completely right. I think in my case, qualifying is not very important," he said. "Obviously, you know, when you are out there, you want to be fast. You want to feel fast, as well, so it's a question of enjoyment, not only the position, the final position.
"But yeah, I think all the priority for us in my garage is to set up the car for the race, to feel comfortable in traffic, to learn as much as I can, you know, the way to overtake, the place to overtake, how you lose the minimum time possible in those maneuvers."
Alonso remains humble to the task as he continues the learning process.
"You know, many things that I don't know now and I need to learn quickly. So yeah, let's see what we can do in qualifying, but definitely the race preparation will be the first priority."