INDIANAPOLIS – Monday's first day of 101st Indianapolis 500 presented by PennGrade Motor Oil practice was still busy, but down significantly in lap count this year compared to last year.
Admittedly, conditions were warmer today and with teams on different stages of programs, it was always going to be unfair to expect the first day to be as busy as it was last year.
Last year, there were 498 laps turned among 10 drivers in the Rookie Orientation Program/refresher program, followed by 1,474 laps in the full first practice among all 33 drivers later in the day, and a total of 1,972 laps.
This year that number dwindled a bit, to 195 laps among 13 drivers in the ROP/refresher and 1,306 among 32 drivers in the first full practice, for a total of 1,501 laps, 471 fewer than last year.
The two busiest drivers in the first official practice were Americans Charlie Kimball and JR Hildebrand, two members who are inextricably linked from the 2011 rookie class, with 75 and 74 laps completed apiece.
Meanwhile at the bottom of the charts, Zach Veach, Jack Harvey and Gabby Chaves – Veach and Chaves are close friends, regular IndyCar two-seater drivers and recent Indy Lights race winners and graduates – turned in only 23, 14 and 6 laps on the day.
Harvey completed the first phase of his ROP before his incident at Turn 2 took him out of action for the rest of the day. Veach also completed his first phase near the end of the day, as he only ran three laps in the ROP portion and 23 this afternoon as the team was putting together its third chassis.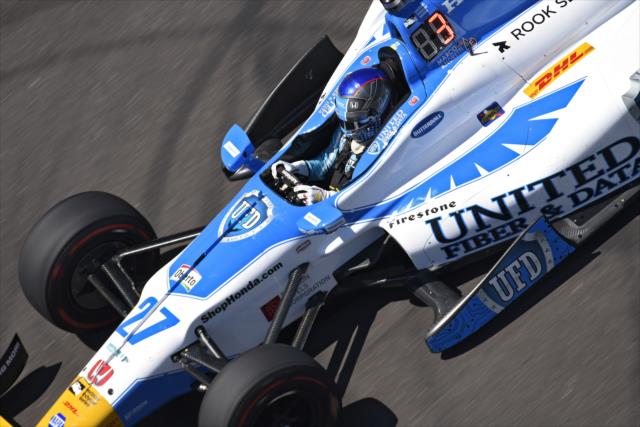 For Marco Andretti, who also led last year's first day of practice, the goal today was to get the car as dialed in from a race setup standpoint as possible.
Andretti has had a number of extra race teammates at Indianapolis over the years. Extra drivers in recent years, prior to this year, include NBCSN IndyCar analyst Townsend Bell (2016), Simona de Silvestro and the late Justin Wilson (2015), NASCAR champion Kurt Busch (2014), then-Indy Lights driver Carlos Munoz (2013) and fellow Indy Lights graduates Sebastian Saavedra and Ana Beatriz (2012) since the introduction of the Dallara DW12 chassis.
This year, Andretti is assisting with Fernando Alonso's high-profile addition under the McLaren Honda Andretti banner, and Harvey joined up as well in the Michael Shank Racing with Andretti Autosport car.
"I don't know if I get them up to speed, but honestly, the way that they do is I just focus on my program and try to pioneer the way if we're able to do that setup-wise, and then every day they get out on the track, they can put a more and more comfortable setup on. That's my goal," Marco Andretti said.
"That means I'm doing a good job, too. Probably just setup wise, I think just trying to get the most comfortable car possible."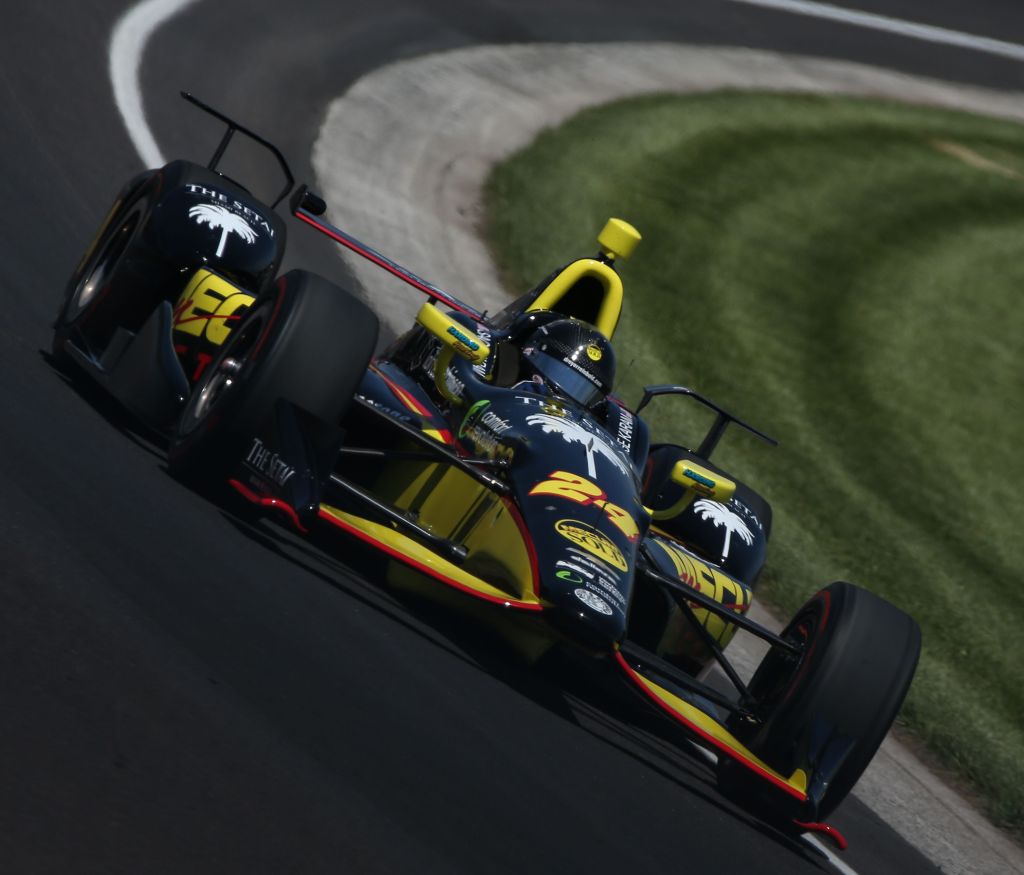 Other notes from the field today:
Ed Carpenter was the top Chevrolet behind Andretti and Scott Dixon's pair of Hondas, third place at 224.969 mph.
Per Trackside Online, the top-10 no-tow speeds were all Hondas, led by Tony Kanaan at 223.554 mph. Bell led the no-tow speeds this day last year, at 223.940 mph. Seven of the top-10 no-tow speeds last year were Hondas.
Alexander Rossi was 13th in his first day of practice as defending Indianapolis 500 champion, albeit only fourth of the six Andretti Autosport Hondas (Andretti was first, Ryan Hunter-Reay fifth, Takuma Sato 10th).
Mikhail Aleshin was ninth and James Hinchcliffe 25th on a slightly odd day for Schmidt Peterson Motorsports; Jay Howard was 23rd in the team's third car, after making 64 laps.
Graham Rahal sustained an engine issue in his No. 15 Steak 'n Shake Rahal Letterman Lanigan Racing Honda, with Honda officials still diagnosing the extent of the issue. "Obviously, to lose an engine is frustrating but I know the Honda guys are pushing these things as hard as they can. I would have liked to be a little better but we are struggling a little bit in traffic but its early days and we can't panic. She's in one piece, we going to change the engine and fire it up

tomorrow," Rahal said.

Team Penske appears to have not shown its full hand. Will Power was seventh with Juan Pablo Montoya 12th, Simon Pagenaud 16th, Josef Newgarden 24th and Helio Castroneves 26th. Castroneves premiered his new white and gold Shell Fuel Rewards livery, to considerably less fanfare than other special Indianapolis liveries in recent years.
Having their first official days in an IndyCar for 2017: Oriol Servia (11th), Sage Karam (14th), Sebastian Saavedra (21st), Pippa Mann (27th) and Jack Harvey (31st). Other one-off entries Alonso, Jay Howard, Juan Pablo Montoya, Zach Veach and Gabby Chaves have tested or raced at least once thus far in 2017, and Buddy Lazier's team seems set to hit the track mid-week as he was here, the car was here, but was being assembled.
Our NBCSports.com blogger for the month, Sage Karam, seemed very pleased with his first day back. The No. 24 DRR Mecum Auctions Chevrolet was locked into a conservative setup but even so, Karam was fourth among the 14 Chevrolets in 14th place today, at a best speed of 223.398 mph. Said the 22-year-old who is still the youngest driver in the field in his fourth Indy 500, "I just wanted to get in the car. I was really nervous this morning and had a lot of emotions going through me. Once you go through one practice run, all the emotions go away and it feels good to go flat (on the throttle) around here again." Team owner Dennis Reinbold added, "It was a good solid day. We had a good balance in the car where Sage liked it. We got in some situations with traffic and the car responded. We didn't get as many laps as we would have liked, but we made gains. We were a little conservative today, and we plan to be more aggressive

tomorrow

. We got through a lot on our checklist today."
Juncos Racing made its debut in rather fine form, with Sebastian Saavedra ending 21st after 39 laps and Spencer Pigot ending 29th after 36 laps, giving the team 75 solid laps of running in its first day in IndyCar. More is here from the team release. There were another 23 done in the ROP program earlier, for a total of 98 laps.
Juncos' busy first day was put in contrast as the McLaren Honda Andretti entry ran a combined 55 laps, the Michael Shank Racing with Andretti entry ran a combined 29 laps, and the Harding Racing entry ran just 6.
Additional Monday posts from Indianapolis are below:
Tuesday practice runs from noon to 6 p.m. ET.