Juncos Racing rolled out of the gate with 75 laps complete in the first official practice on Monday afternoon at the Indianapolis Motor Speedway, following on from 23 banked in the Rookie Orientation Program/refresher program.
Drivers Spencer Pigot (No. 11 Oceanfront Recovery Chevrolet) and Sebastian Saavedra (No. 17 AFS Chevrolet) had solid days of work, to make Ricardo Juncos' debut day in the Verizon IndyCar Series a good one.
The full team release is below.
—
Juncos Racing made its Indianapolis Motor Speedway debut in the Verizon IndyCar Series today during the first day of practice in preparation for the 101st running of the Indianapolis 500 set for May, 28, 2017.
Spencer Pigot in the No. 11 Juncos Racing Dallara/Chevrolet//Firestone car was the first Juncos Racing driver to turn a lap on the fabled 2.5-mile oval. He went out at noon today for an installation lap checking the car to make sure all the systems were functioning properly.
Shortly thereafter, Sebastian Saavedra, in the No. 17 AFS/Juncos Racing Dallara/Chevrolet/Firestone car, turned the first laps at speed while doing a "refresher course" (for drivers who have not driven at the Speedway recently), prior to full practice.
Commenting on making his IndyCar debut at the Brickyard Juncos Racing owner Ricardo Juncos said, "It is a honor and a privilege to be here racing IndyCars at the greatest race track in the world. I have so many people to thank for making this dream come true. Mark Miles and everyone at the Speedway as well as Jay Frye and all the staff at IndyCar have been so helpful guiding us through the process. Chevrolet for supplying the power, and most of all the all the drivers, engineers, crew and everyone at Juncos Racing who have worked so hard to get to this point. This is something very special and I am so proud."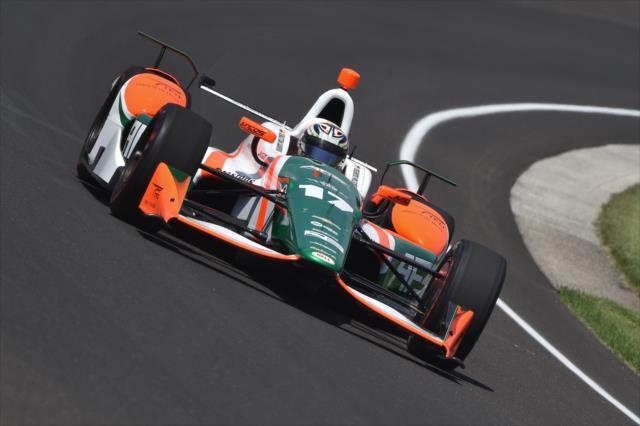 During the full practice Saavedra, who is making his sixth Indianapolis 500 appearance, led the team with a lap of 222.593 mph placing him 21st on the speed charts for the day. His fastest lap of the day came of the 36th of the 39 laps he turned on the first day of practice.
"Altogether a very positive first day for AFS Juncos No. 17 car," Saavedra said. "I felt as if I was a riding a bike. It came back to me quickly. I had to mentality ease through it, not put any pressure on myself which allowed us to get the small things out of the way. We focused on the initial setup and I started connecting with my engineer. It's been awhile since we worked together, so it was good to get to have this time together. It was also good to work back with my teammate Spencer Pigot. That is going to be crucial for us to have a good month of May. So, overall a very positive first day of testing. I'm very pleased."
Pigot, who is contesting just his second Indy 500, did not run in traffic during any of his 49 laps. His fastest speed, 218.065 mph, came on lap 39 which put him 29th on the speed charts.
"Yeah, it was a good first day," Pigot said. "We didn't really have any issues and that's what we wanted. We didn't do a huge amount of laps. We just did a few runs to make sure everything was working well and just kind of did our own thing today. As the week goes on we'll get more aggressive and start running in traffic a bit more, find some people to get tows and go a little bit quicker. Today the goal was to make sure everything ran okay and we did that"
Juncos Racing has previously competed at IMS 17 times in both the Pro Mazda and Indy Lights Series. The team has made seven starts on the road course (four in Pro Mazda and three in Indy Lights) and three starts on the oval in the Freedom 100 Indy Lights race. Juncos Racing has four total victories at the Speedway all on the road course (three in Pro Mazda and one in Indy Lights) over five years (2012, 2014-2017). Three of the victories came last weekend when the team captured both the Pro Mazda events and the Indy Lights race.
Saavedra is a veteran of 61 Verizon IndyCar starts. In his five previous Indy 500 starts he has a best finish of 15th in 2014. The 2017 Indy 500 marks Saavedra's return to Verizon IndyCar competition after a one year hiatus. The 26-year-old native of Bogota, Colombia made his first IndyCar start at the Indianapolis 500 for Bryan Herta Autosport. He has also competed in the Indy 500 for Andretti Autosport, 2012, Dragon Racing, 2013, KV Racing, 2014 (also captured the pole for the inaugural Indy Grand Prix) and Chip Ganassi, 2015
Pigot, the 2014 Pro Mazda and 2015 Indy Lights Champion (both with Juncos Racing) has made 15 Verizon IndyCar starts over the last two years including his first Indy 500 (qualified 29th and finished 25th) last year Rahal Letterman Lanigan Racing. The 23-year-old from Orlando, Florida is scheduled to contest all Verizon IndyCar road and street course events for Ed Carpenter Racing in 2017. He has already notched two top-10 showings in his first four events this year (an eighth place showing at Long Beach and a ninth place finish last weekend in the Indy Grand Prix). .