INDIANAPOLIS – This one is admittedly a bit late after the weekend's three Mazda Road to Indy presented by Cooper Tires races took place Friday and Saturday, but it was an interesting weekend for the three series at the Mazda Road to Indy Grand Prix Presented by Royal Purple Supporting the Lupus Foundation of America weekend on the Indianapolis Motor Speedway road course.
Notes and reflections from the weekend are below (Kyle Lavigne's weekend notebooks linked here: Friday, Saturday).
Assertive weekends from Kaiser, Franzoni for Juncos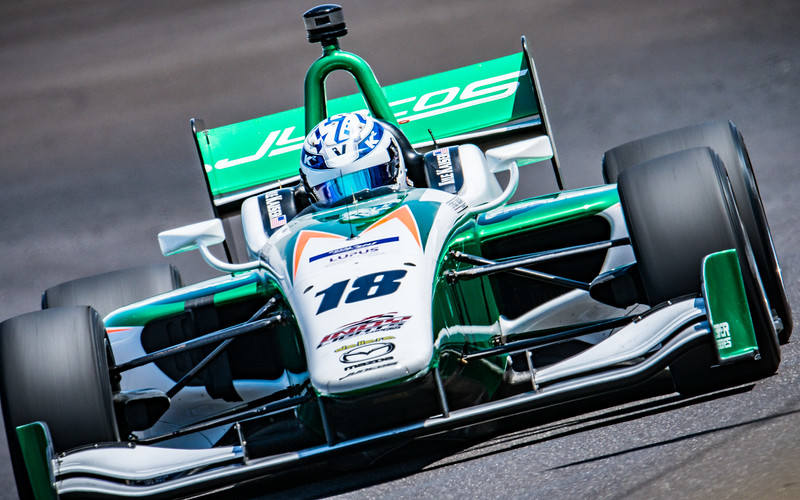 Both Kyle Kaiser and Victor Franzoni are longtime drivers in the Mazda Road to Indy presented by Cooper Tires, having been here for at least four seasons (and in Kaiser's case, five), and are two of the most talented drivers who have not yet won a championship.
However, both positioned themselves well after assertive drives in the pair of Indy Lights Presented by Cooper Tires and Pro Mazda Championship Presented by Cooper Tires races, and have now moved into the points lead in each series – and they both drive for the same team, Juncos Racing.
Kaiser, now 21, had a controlled drive to third in Friday's first race despite losing second to the aggressive Zachary Claman De Melo. But on Saturday, despite temporarily losing the lead to Santiago Urrutia in Turn 1, Kaiser fought back, repassed him and moved away from the rest of the field.
If the Friday drive continued Kaiser's smart start to the year where he was consistent if not dominant – he'd now finished second through sixth in each of the first five races – then Saturday was the race where he put an authoritative stamp on his Indy Lights title pursuit this year. Kaiser won in Phoenix and Monterey last year, but this could be considered his best drive yet in the series.
"I thought this was one of the hardest fought victories I've had," Kaiser told NBC Sports. "Especially the early laps. I temporarily lost the lead for one corner, but after I got it back, I was capable of defending and holding the lead which was nice."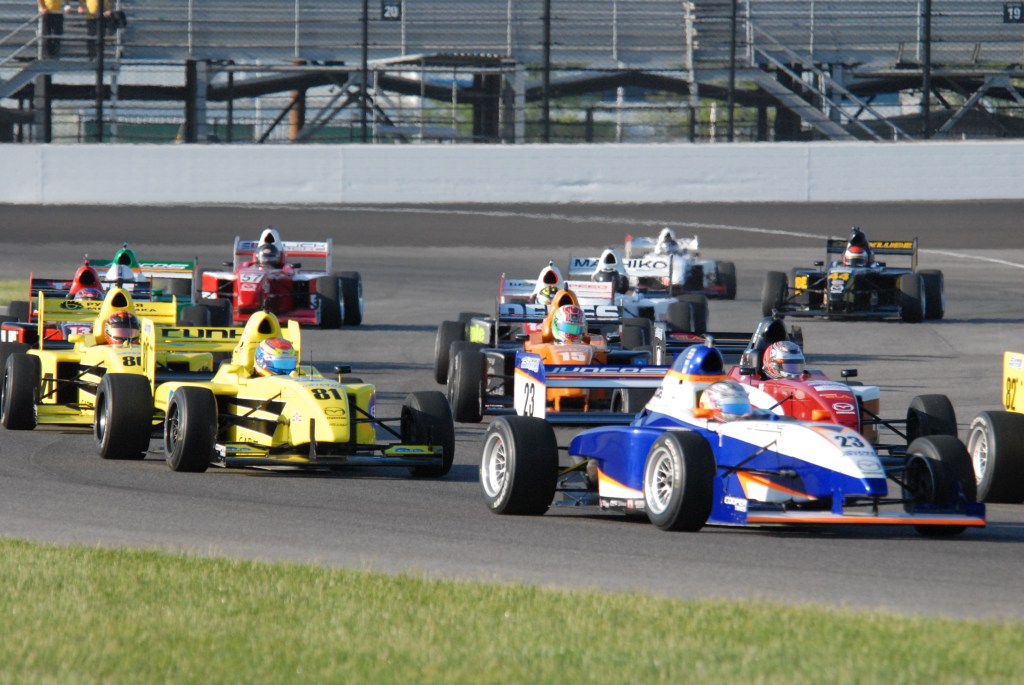 Franzoni, meanwhile, dominated both Pro Mazda races for his first two wins in that series. After falling to fourth early in race one, Franzoni recovered to catch, then pass longtime sparring partner Anthony Martin for the lead after a side-by-side scrap. Saturday's race never looked in doubt with Franzoni winning by more than 13 seconds.
"It's really good. We did a really good job here," he told NBC Sports. "We tested, which was super important. We don't have anymore tests planned. So it'll be difficult here to the end of season. This was my second race with Juncos Racing. We need this for the championship. Now it'll be easier for them to understand what you need. I hope I can have more like this!
"Yeah this start was much better. Yesterday was terrible! At least now I'm learning, and everything worked really good in this race. Didn't have so much emotion."
Kaiser, who's driven for Juncos for four straight years – in Pro Mazda in 2014 and then in Indy Lights from 2015 to now – and Franzoni, who's new to Juncos this year, hailed the camaraderie and effort Ricardo Juncos puts into his program.
"I've always had huge confidence in the team. I have a ton of faith in their ability," Kaiser said. "We're never satisfied. The first two years, we struggled a lot here. We said we'd figure it out. This year, we were pretty quick the whole weekend. I love their drive and passion to get better, wherever we are. This will be a huge month for the team."
Franzoni added, "It shows I made a good decision, putting it with Juncos Racing. Also, because they'll race the 500, it's great to have victory two weeks before! I'm so happy for the team, so I hope they are happy with me!"
Kaiser has the Freedom 100 to prepare for, and not an additional debut with Juncos in the Indianapolis 500. Kaiser told NBC Sports he planned and was working towards the drive, but a sponsor fell through, and it also helped refocus him on his primary goal of winning this year's Indy Lights title – which guarantees the '500 among three races for the following year.
"You gather it up and remember the objective – it's to win the Indy Lights championship. I wanted to, but it didn't all line up, so it's not the right time," Kaiser explained. "But I'm so happy to get a close look, shadowing them this year. Spencer (Pigot) is one of my best friends. Get a good luck at running the race. If we do it next year, I hope we do, I'll be ready."
Kaiser now leads Nico Jamin by 13 points (139-126) and Colton Herta by 18 (121) with the Freedom 100 later this month. Meanwhile while a month break until Road America, Franzoni now leads Martin by six (116-110) in Pro Mazda.
Askew's authority rolls through IMS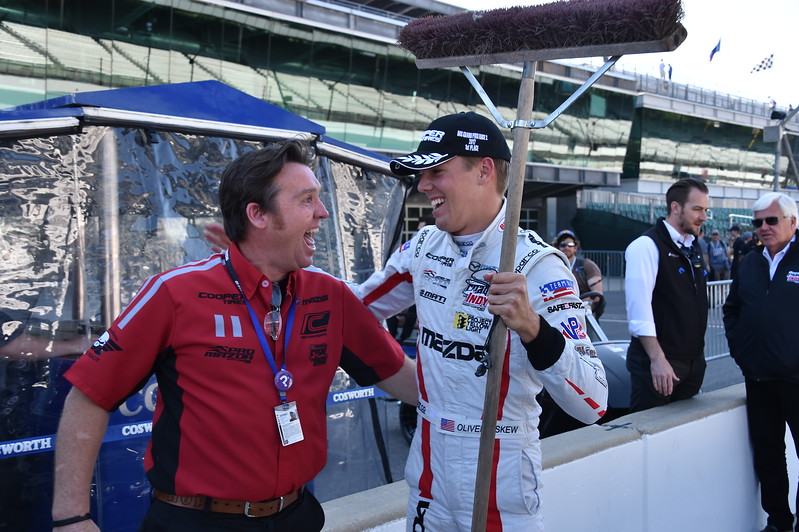 Two races, two wins for Mazda scholarship driver Oliver Askew in the Cooper Tires USF2000 Championship Powered by Mazda. It's been written before, and it will likely be written again.
In this occasion, Askew's victories came after a one-lap shootout (Saturday) and a more conventional win (Friday). In both races, Askew's restart prowess in his Cape Motorsports Tatuus USF-17 Mazda was fun to watch.
"I've been taught well, and am trying to prepare for these situations," Askew told NBC Sports. "I definitely didn't want full course cautions. I saw a car parked Turn 7 (for Saturday's race). So I wasn't sure and then the caution came out. I tried to, on that warmup lap, think of a plan and execute the plan, and work to break the draft. If you do that, I thought, 'there's no way they can catch me,' because the pace was so good."
Askew entered the weekend with a 34-point lead and leaves it with a 60-point lead, after a disqualification in Friday's race knocked second place points away from his closest competitor, Team Pelfrey's Kaylen Frederick.
It's only May, but Askew's got slightly more than a loose grip on the USF2000 title.
Sneakily good Fischer banks two more podiums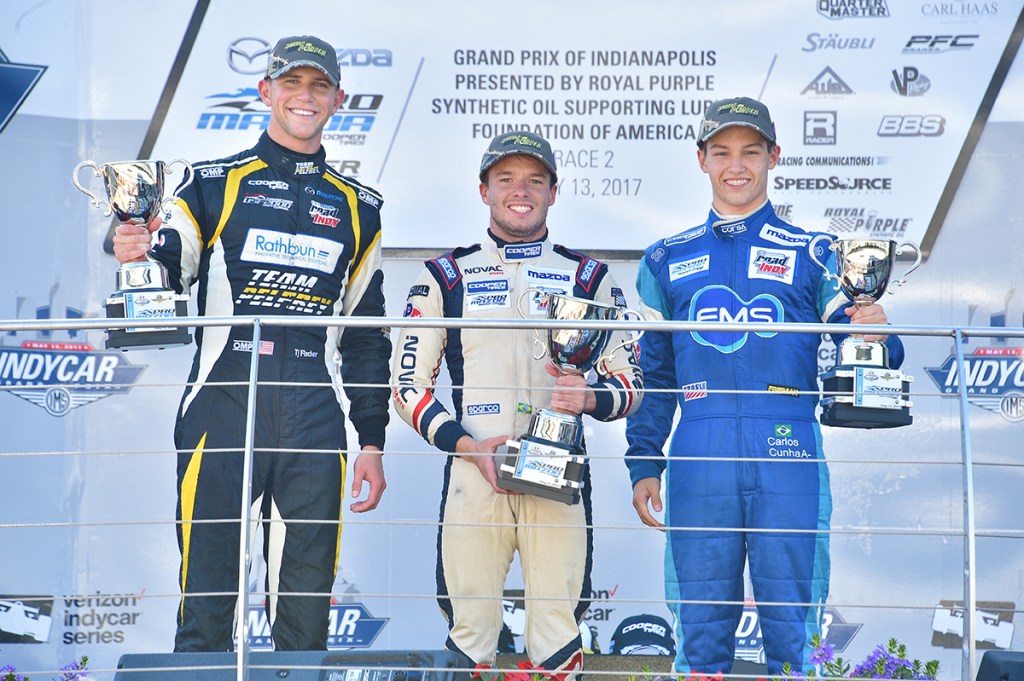 The maturation of Californian TJ Fischer into Team Pelfrey's Pro Mazda team leader has been one of the welcome surprises of 2017. With four podiums in four races at tracks new to him in a Pro Mazda chassis, Fischer's picked up the positions where Franzoni and Martin haven't.
Fischer came into the weekend off a big climb for Project O2's #Race2TheRescue in Los Angeles, and then delivered his second double podium weekend.
"Man you've gotta like train for 63 flights of stairs. I came out for it trying to run, and that's the worst mistake," Fischer laughed. "They have the floors delineated … when you make it to the top you're like, woah!"
This race last year was where Fischer's USF2000 season came to a premature end before his Pro Mazda debut.
"We had a terrible weekend here last year. I blew the checkered flag and started dead last in both races, and nothing good came of it," reflected Fischer, who also hosts the I Hate Racing Radio podcast.
"But it evolved that way. It was good to get solid footing, working with Tom Knapp, Tom Dyer, and to learn from Aaron (Telitz) and Pato (O'Ward) – to see what they were doing. Pato was the championship leader but might finish fourth. And Aaron didn't win every race.
"So the mental side, in seeing how they responded from how they didn't win, I have to keep that in mind because that will help me for next year," he said.
Other weekend notes
Colton Herta's boom-or-bust season rolls on. After two wins and a second in the first four races to lead the points, the Andretti/Steinbrenner Racing driver had a miserable weekend where a slow puncture (Friday) and electrical issue (Saturday) resigned him to 12th and 10th place finishes. He's lost the points lead but the question is how he recovers mentally from here; the 17-year-old is mature beyond his years, but this weekend may have quieted the hype train a bit.
Nico Jamin may have moved ahead in the Andretti quartet. While Herta's start has generated deserved praise and headlines, the more experienced Jamin is starting to show his hand. First and fourth were two more good results. Rob Edwards, Andretti chief operating officer, explained how the Andretti Lights program has improved since last year: "It was a definite focus to have the right elements this year. We were able to get Doug Zister back on board (for Herta). It's not the engineers last year were missing anything, but this was more a reassurance of someone who'd been there and had success to see we were doing. Candidly, Doug looked at some things to help us, and that made us stronger. Colton and Nico are both fast and pushing each other, Dalton (Kellett) and Ryan (Norman) are improving, and that moves the whole program and makes it stronger."
Belardi endures rare tough weekend. Santiago Urrutia's podium in race two not withstanding, it was a nightmare weekend for the Uruguayan and teammates Aaron Telitz and Shelby Blackstock, none even threatening the top-five and with potential car issues. Said Urrutia of the team's inconsistent form: "We have been struggling a lot as a team. We were good at the beginning, but got hit St. Pete race one. We're so far away in the championship. As a team we have to figure out where the pace is. I was fourth (on the grid) but they were ninth and 13th. Yeah it was good points, but we have a long way to go."
Carlin sees two new podium finishers, and Alberico's consistency. While Zachary Claman De Melo and Matheus Leist nabbed their first podiums in Indy Lights, Neil Alberico kept up his run of consistent results with fourth and sixth places. We'll have more on Alberico in a separate piece to come this month.
Martin loses a step in Pro Mazda. Anthony Martin's second and fourth places for Cape seemed to speak to the team not having the best setup here compared to St. Pete, although it's been a place the team has traditionally struggled in the past.
Cunha's enthusiasm through the roof. It seemed hard to wipe the smile off Carlos Cunha's face after the Brazilian teenager scored his first podium finish in Pro Mazda for Team Pelfrey.
Solid weekends for DE Force, Donison. Two entries that impressed this weekend were DE Force Racing and Ricky Donison of Cape Motorsports. Kory Enders secured DE Force's first top five and Donison had his first podium, although only via the disqualification to the Pelfrey drivers.
Exclusive Autosport seemed to struggle this weekend. A perplexed quartet of drivers emerged from the Michael Duncalfe-led Canadian team; Parker Thompson and Luke Gabin couldn't quite put their finger on the pulse of the struggles here.
The Freedom 100 is next up for Indy Lights while the Pro Mazda and USF2000 series resume at Road America.