INDIANAPOLIS – The thing that's so exciting to think about for Alexander Rossi as he prepares to defend his title in the 101st Indianapolis 500 presented by PennGrade Motor Oil is that he wants to be even better than he was as a rookie in his sophomore year for the entirety of the month.
Rossi's win in last year's 100th running from 11th on the grid has been written about to death, almost, and he's been paraded through so many events and availabilities in the year since that's almost hard to remember the preceding days that led up to race day and then-strategist Bryan Herta's now-famous "clutch and coast" radio call.
Items such as Rossi not even having a primary sponsor on his No. 98 NAPA Auto Parts/Curb Honda until the Friday before qualifying, then Rossi getting knocked out of the Fast Nine shootout right at the end of Saturday, and his practice pace throughout the month are things that got overlooked.
For year two, while Rossi has enjoyed the accolades – and now has a proper sense of what he achieved and how his name and drive fit into all-time Indianapolis lore – the drive to improve upon the things he struggled with last year is a huge motivating factor.
"As much fun as it is to talk about last year, it's time to regroup ourselves and prove ourselves once again," Rossi told NBC Sports. "And there's a lot of work we have to do to accomplish that, and be able to embrace the little things more.
"I'm now looking forward to a much different experience. One thing I'll definitely keep in focus is Sunday morning itself, and just look at it as another race."
By that line, Rossi noted the sheer magnitude of all 300,000-plus fans in attendance when walking out to the grid on race morning. That can be overwhelming and it definitely made an impact on Rossi's viewing of the race, and understanding its scale in the greater sphere of the racing world.
When asked whether he wanted to be even better in traffic and qualifying, Rossi laughed and agreed as quickly as humanly possible.
"It's all of that," he said. "Now I know how qualifying works, so I guarantee I can do a second run. I still lose sleep over that because we had a Fast Nine car, and we should have been in the Fast Nine. I definitely want to make sure that's the case come Sunday.
"I need to be better in traffic. It's still something that's uncomfortable to me.
"We were at the Texas test a couple weeks ago. The track has changed so much. And my engineer (Jeremy Milless) was like, 'Dude it's OK, it's your fifth oval.' And it's weird.
"Because going into Phoenix, that was just my fifth or sixth oval race. Pocono we challenged for a win, Iowa we were strong, Indy obviously, but overall it's still so super new for me.
"So it's things like pit in and how aggressive I come in, needs to be better. I'm happy to have the amount of practice we do."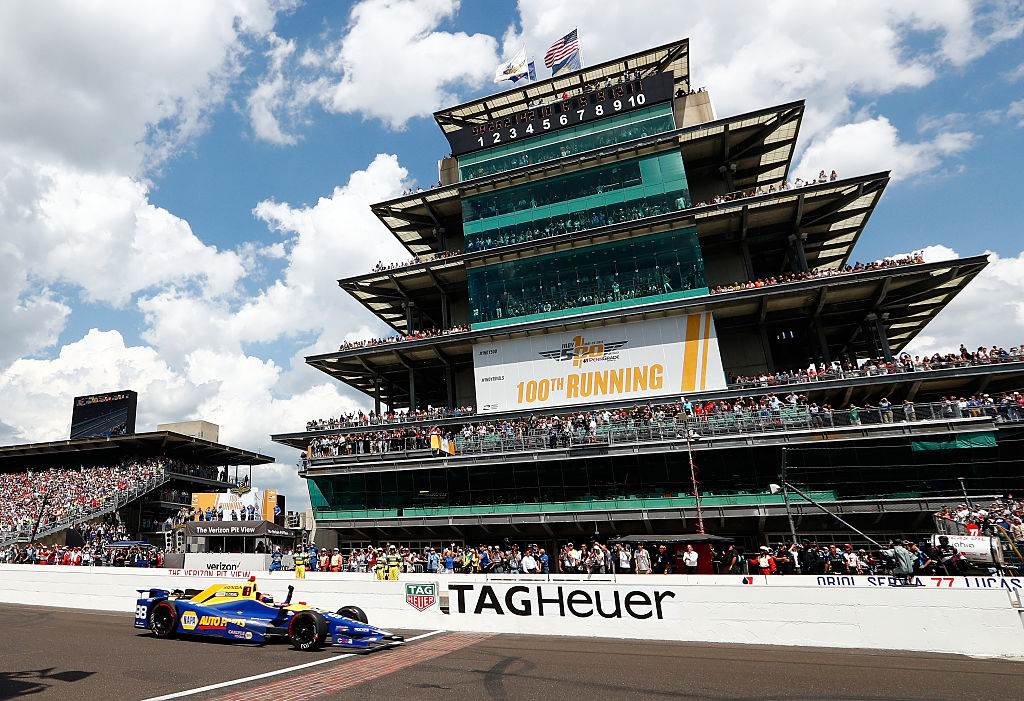 Rossi's race title defense sees the notable changes of Herta to Rob Edwards, Andretti chief operating officer, as race strategist and Milless replacing Tom German as race engineer. Although Herta isn't directly on the box for Rossi, he is still a co-entrant of the No. 98 car, which means he's still an invaluable resource.
"It's down in hour-by-hour decision-making, car direction and such as he's on the 27 car," Rossi explained. "But whether there's good or bad things to note, or things I need advice on, he's in the same truck. He's literally an earshot away from answering any question."
Edwards elaborated on how much more cohesive the Andretti and Herta team partnership is now this May, compared to when they were only four or five races into their combined program this time last year.
"Yes we've moved some pieces around. But particularly in early races, the Rossi/Herta merger was so new and close to the start of the year, we didn't maximize the benefits of both," Edwards told NBC Sports.
"The chemistry is there as we had the offseason to mesh. We could hit the ground running. With the continuity, we had the right pieces to move around. It wasn't wholesale. It was good changes we've made."
Edwards said Rossi had to endure a tougher learning curve last year because of that merger process, and he excelled in spite of that.
"I think last year was his education. Overall we weren't as competitive, and it meant his learning curve was more difficult because of that," he explained.
"Generally with his program, every race now we think we've got a legitimate chance of winning and being on the podium.
"Last year he developed off the radar because of how the season went. This year is a chance to realize what he learned last year."
Rossi has the benefit of his five Andretti Autosport teammates to work with, in fellow winner Ryan Hunter-Reay, two near winners in Marco Andretti and Takuma Sato, and two rookies in Fernando Alonso and Jack Harvey. Rossi's thoughts on Alonso are linked here.
Andretti Autosport is renowned for its "mini races" in practice with all five of its cars. Rossi described that process.
"No one wants to be in front – it won't help because you burn more fuel," said Rossi, whose final stint of 36 laps was as surprising as it was impressive last year.
"We all run to the back. We do a rotation, and each guys takes a couple laps. Inevitably then you'll get passed.
"It's funny now because other teams have latched onto it. Now with six cars and more, it'll be a mini little race!
"Qualifying is wonderful, but it doesn't matter where you qualify. Being with as many cars as you can provides the opportunity to be able to experiment."
Rossi reflected on the whirlwind last year it's been for him – from not having a ride as his Formula 1 dreams were put on pause, to the last-minute Andretti-Herta deal, to the '500 win, and how his life has changed as a result.
"For a year, I've been talking about something I'm truly passionate about – and that's OK," Rossi said.
"I so much love this race, and I'm so looking forward to going back. In 2017, we can talk about the 101st running and doing it again."