After Andretti Autosport hogged the headlines of opening practice for the 101st Indianapolis 500 Presented by PennGrade Motor Oil, it was Team Penske's turn to steal the show on Day 2. The Penske duo of Will Power and Helio Castroneves turned the two quickest laps of the day, both clearing 224 mph for average speeds around the 2.5-mile oval.
In fact, they were the only drivers to clear the 224 mph barrier, as speeds continue to be down in comparison to last year at this time. As Power indicated, this is both down to the weather (it has been well above 80 degrees ambient on both days of practice this week) and teams focusing on race setups in the early days of running.
"(The heat) has definitely made the track greasy. But it all has to do with whether people want to practice qualifying. That's when you start to see some bigger speeds, and we don't get the boost until Friday that we're running qualifying and probably not practice qualifying until Thursday. So these first three days — which being hot, yeah, it will make it slower," he asserted in a press conference afterward.
The speed charts also indicated a slight turn in favor of the Chevrolet teams after Honda dominated Day 1. In fact, four of the top five times on Day 2 came from Chevrolet teams, and Marco Andretti, who led opening practice for Honda and Andretti Autosport, ranked 25th at the end of Day 2.
However, as Castroneves indicated, this could be down to gamesmanship between the manufacturers, and even hinted that the Honda teams aren't showing their speed in reaction to mechanical failures suffered on Day 1. The most notable of these was Graham Rahal, who saw a plume of smoke billow from his No. 15 Steak 'n Shake Honda for Rahal Letterman Lanigan Racing during opening practice.
"I can only speculate that they don't want to keep blowing up the engines now," Castroneves explained. "They've got to wait until Saturday so that they can finish the qualifying and then put the race engine in, otherwise they're going to have to do something like that. Right now it's the name of the game. We've just got to focus on our work."
Castroneves later quipped, "You saw what they did yesterday: (226 mph) and today Marco was (221 mph). So for sure, five miles an hour: it's not the setup."
All told, Power and Castroneves remain focused on their own programs, and their focus is made all the more imperative given the presence of Roger Penske. "Roger definitely just puts everything into this race," Power said of his influence. "Yep, as a team, I think we did a lot of homework in the off-season for this race, and we tested here twice, so you know, we're getting the most out of our package."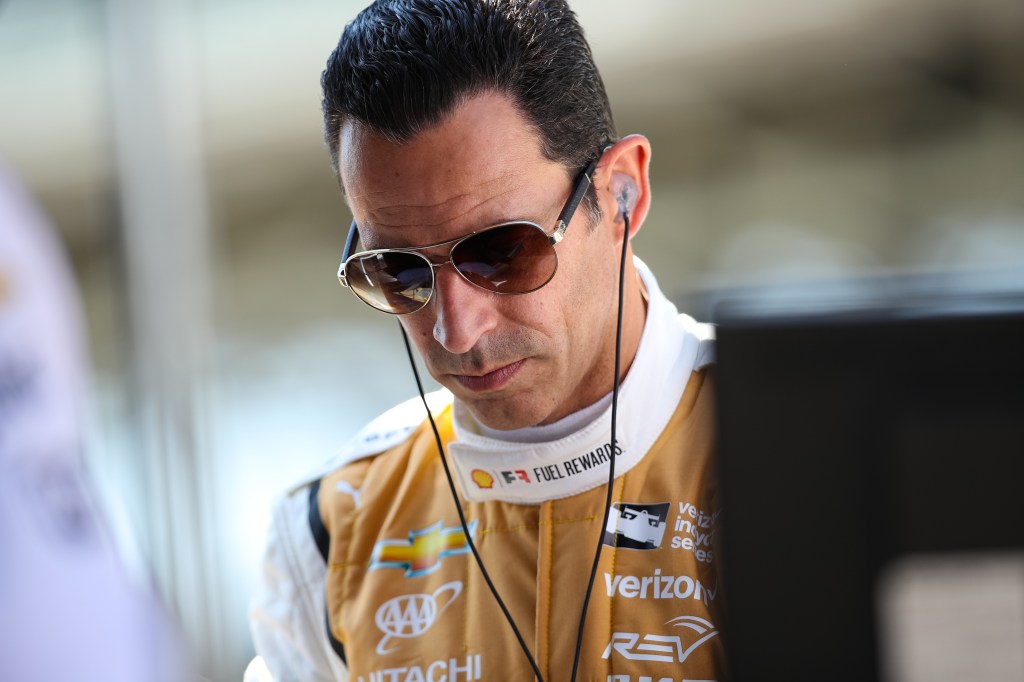 Castroneves added, "I'll tell you what: obviously Roger is my strategy. For him to leave his day job, which is a pretty busy schedule, I took him over here on Tuesday, actually he's staying here all week: (it) shows the commitment that he has and it shows what he wants."
Practice for the 101st Indianapolis 500 Presented by PennGrade Motor Oil continues tomorrow at 12:00 p.m. ET.
Follow Kyle Lavigne.