INDIANAPOLIS – The contrast was stark on the dais among all six Andretti Autosport drivers set to compete in this year's 101st Indianapolis 500 presented by PennGrade Motor Oil.
There were the four full-season Andretti drivers, plus rookie Jack Harvey in black, standard Andretti polos with the appropriate partner logos.
On the far right of the stage, or far left for the onlooking media, was Fernando Alonso – seemingly resplendent sitting in a white polo with his McLaren Honda Andretti colors, this year's theoretical "white knight in shining armor" in among the other 32 cars in the race.
Seeing Alonso there on the same stage with these other five drivers, though, provided a good glimpse at the divide between Alonso and the rest of the field in visual form.
It was also a reminder that while Alonso is the worldwide star interloper in this year's race, he enters into a team where the results achieved by the other four veterans should be more noteworthy than they are.
—
Ryan Hunter-Reay and Alexander Rossi are the lone American champions of the Indianapolis 500 in the last 11 years, Hunter-Reay having snapped an eight-year drought since Sam Hornish Jr. edged Marco Andretti in 2006. And Rossi's famous fuel strategy-inspired victory last year has become the latest chapter in this race's lore.
Andretti himself? That eternal wait for victory number one here began when he came up so short as a rookie. He's never been that close since.
Meanwhile Takuma Sato provided one of the race's best moments in recent years as well, perhaps overlooked in the grand scheme of things. In 2012 he dove to Dario Franchitti's inside into Turn 1, but with Franchitti's smart and sneaky race craft having coaxed Sato into a mistake, the likable and talented Japanese driver's "no attack, no chance" mentality bit him as he came up short.
Harvey – again fitting into the "overlooked" department – has a record that none of his other teammates can boast. He's the only driver who can say he's won on both the IMS road course and the IMS oval, having done both in the same year in the 2015 Indy Lights season.
The other five drivers have all raced on the IMS road course, and Sato scored his lone Formula 1 podium there in 2004, but none has won in non-'500 races except for Andretti in 2005, in Indy Lights.
—
Hunter-Reay is Andretti's most successful driver in IndyCar, the most successful active American driver in the series. He's one of only four drivers in the field (Scott Dixon, Tony Kanaan and Juan Pablo Montoya) who have both an Indianapolis 500 victory and a full-season IndyCar title, which proves how hard it is to do both.
Yet the desire for win number two here at Indy, especially after coming up short last year, burns brightest.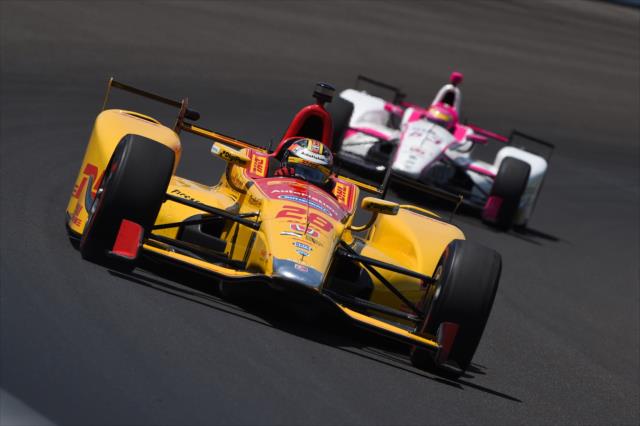 "I think every year I come back here I want it more and more," Hunter-Reay said. "That probably has something to do with the hard times I had earlier on here. It's just one of those places that becomes more and more important to you the further you get in your career. You just realize how much it means.
"But I know it means that much to every other driver in the field, too. So everybody's going to be fighting for it. Like Fernando said, we're all working together. We have six cars now, so it's a lot of data to pull from, a lot of opinions and perspectives to put into play. I think we all work very well as a team. We'll be trying to use that as a strength."
—
Rossi's been asked a lot about winning last year and how it changed his life, so much so he needs to keep thinking of refreshing answers. Again though it's the desire to go back-to-back that drives him.
"I think just the appreciation for this race and the desire to win it. Like Ryan talked about earlier, every year you come back, it's greater. I think there was a point brought up in terms of once you've done it once, the desire to do it again is much increased," he said.
"It's an amazing experience that happens for the year afterwards. I had no idea it was as detailed and involved as it actually is.
"But it gives you that desire to do it again because you don't really want to give it up. So definitely coming into this with the goal of trying to do it again. We'll do everything we can to make that happen."
—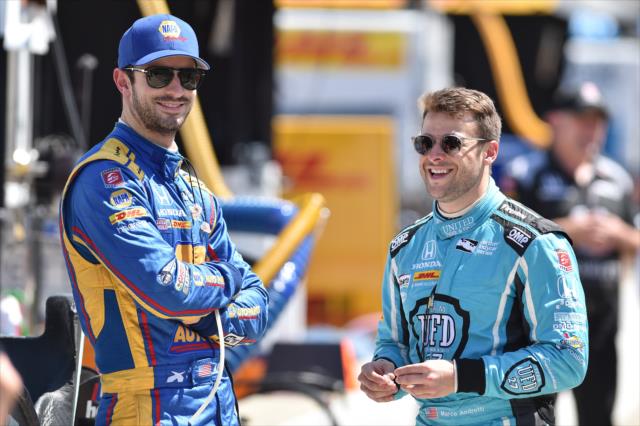 Andretti's not come as close to winning as he did in 2006. It seems hard to believe this is already his 12th Indianapolis 500 and he's only just turned 30 years old. While Andretti's been solid in practice nearly every event this year, getting his car good in race trim has been a challenge. That remains his goal this month.
"I'm as pleased as I've been with the car right now in race trim. No complaints there," he said. "Now it's just about keeping it there, you know, which is very tricky at this place. Every day seems to throw you some sort of a curve ball. The better you react I think the better you'll be in the end."
—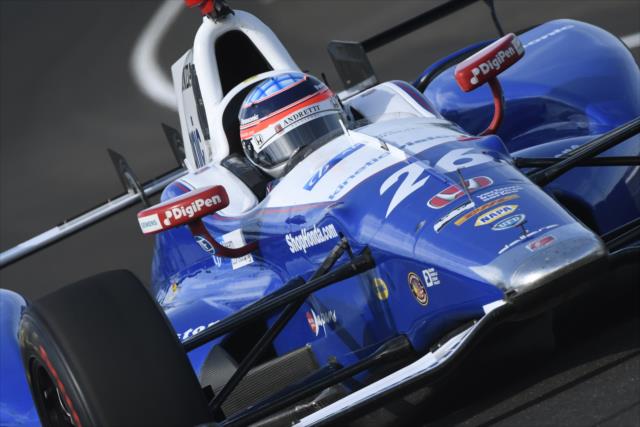 For Sato, it's about having the opportunity to be part of a team that is at least double anything he's ever been in before. Sato's been in one, two and three-car teams at the Speedway – and come close to winning with all of them – and being part of a "six-pack" of entries is quite a chance.
"It's been 'almost' success," Sato laughed. "I know how the race gets competitive and tight towards the end of the race, which is pretty different. This year experience you never know. That's good to know.
"Obviously coming to join the team, it's a new experience for me again. I never have been around kind of like a group in the past, until really after the qualifying. It's a whole new experience; trying to get more out of the car and learning how the team operates every single day."
—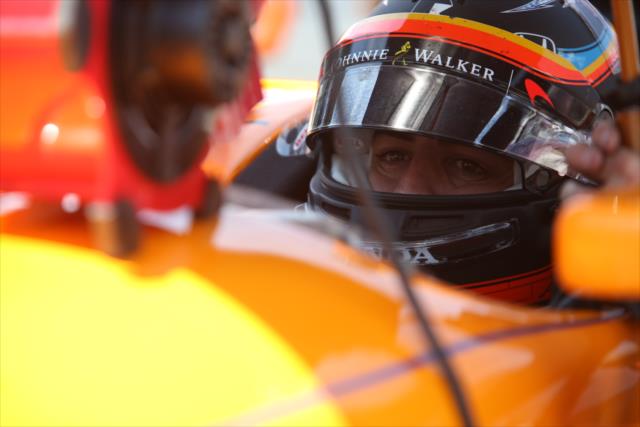 Lastly there's the rookies, each of whom are here in wildly contrasting situations. Alonso's story has been covered quite a bit while Harvey's debut is one of the more intriguing ones. Both have new team principals presents – McLaren's Zak Brown and Michael Shank in partnership with Andretti – and they have different goals.
One area worth asking Alonso about, beyond the on-track activity, was how he is experiencing the Indianapolis experience.
"I was expecting more activities off the track. Probably I will think differently when I arrive next Sunday!" Alonso said. "But right now, you know, it's still more or less okay. Yeah, the biggest surprise is to see the fans out of the garage or even on the pit lane. That's completely new thing for us, for me.
"But apart of that, you know, we are quite busy. Being two weeks, I think everything is spread a little bit, day after day. When we go to the Formula One events, it's just Thursday, Friday, Saturday and Sunday, so everything is compressed in four days. Here we have a very tight schedule, as well."
As for Harvey, it's been a roller coaster week thus far, but the past Indy Lights race winner is rolling with the challenges.
"I think more likely (Michael Shank's) helping me realize my dream of running at the Indy 500," he said. "Honestly the whole rookie experience at this point has gone about as far from what I've expected it to as possible. Honestly I ended up yesterday pretty good, way better than the timing sheet showed. Hopefully it's just a platform to have a great month and keep building off that."
—
For the team, ensuring the group runs maximize data gathering for the race has been key to success in past years, as explained by Andretti chief operating officer Rob Edwards.
"When you look at the whole event, it's in two parts. There's qualifying and with points, that's important. But come race day it's three hours in traffic, so the best way to set up to be successful is to learn as much about the cars as possible," Edwards told NBC Sports.
"The ultimate advantage is controlling specific advantages to do that, and trying different things within those runs. As you say, historically, it's been part of the Andretti approach. I think we'll continue to do that. With six cars there's more opportunity."
And as for managing six cars, something only a handful of other teams (notably Team Scandia's seven in 1996 and Dick Simon Racing's five-plus in the past) have ever done?
Michael Andretti said he hasn't had as many sleepless nights as one would assume given the whirlwind he's had the last couple months.
"I sleep really well actually!" Andretti laughed. "We have such a great organization. It's scary to be honest because between the Fernando thing with McLaren and bringing them in, then with Michael (Shank) and Jack, on paper it should be a nightmare but it's scarily good. It's been fun.
"Everyone on face of it acknowledges that it's a lot of work, but it's a lot of fun work."
Will that fun work pay off in Andretti Autosport's fifth Indianapolis 500 win, after others in 2005, 2007, 2014 and 2016? Only time will tell.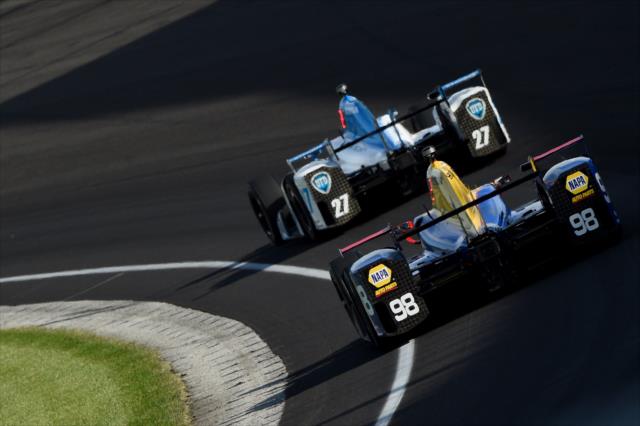 —
Entry names:
Takuma Sato, No. 26 Andretti Autosport Honda
Marco Andretti, No. 27 United Fiber & Data Honda
Ryan Hunter-Reay, No. 28 DHL Honda
Fernando Alonso, No. 29 McLaren Honda Andretti
Jack Harvey, No. 50 Michael Shank Racing w/Andretti Autosport Honda
Alexander Rossi, No. 98 NAPA AUTO PARTS / Curb Honda