Heavy winds saw limited running during Day 3 of practice for the 101st Indianapolis 500 presented by PennGrade Motor Oil. However, the Ed Carpenter Racing duo of Ed Carpenter and JR Hildebrand still managed to stay busy, with each driver turning more than 50 laps in total on the day (Hildebrand did 54 while Carpenter did 52).
As Carpenter noted, even though the wind made conditions far from ideal, there was still valuable information to be had. "The wind was very, very gusty, (and) variable. And to me, if you can go out and get comfortable in conditions like that, I think it bodes well for the car, the race car and how comfortable you can be. And you never know, it could be this windy on race day. So I thought it was important to go out and run," Carpenter explained.
Hildebrand echoed those sentiments, explaining that running in difficult conditions produces extra data regarding how sensitive the cars can be. "It helps to be able to increase your understanding of how variability like this affects the car. And that allows for you to make better decisions later on, because you know some of those things a little bit better rather than just having to kind of guess," he asserted.
Both drivers have been quick all week, even turning the first (Carpenter) and third (Hildebrand) fastest no-tow laps during Tuesday practice.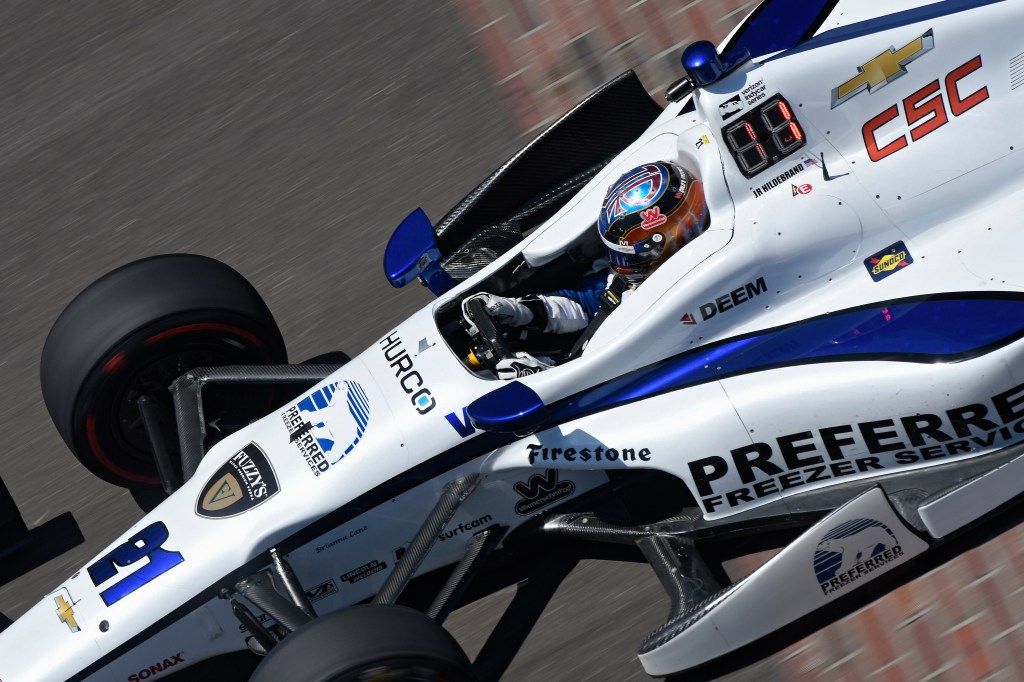 As Hildebrand detailed, even though the speed charts don't always tell the whole story, they can be a good indication of who will be a threat come race day. "I think if you look at the stackup during practice over the last handful of years, the cars that are running in the top 10 frequently tend to actually be the cars, one way or the other, that are running in the top 10 during the race."
Further, counting today's results, the ECR teammates have turned the most laps out of the 33 entrants. As of writing, Hildebrand has completed 212 laps with Carpenter completing 182. For Hildebrand, the track also helps his engineer Justin Taylor, in his first season in the Verizon IndyCar Series after working on Audi's dominant LMP1 sports car program, gain IndyCar experience.
"I think Justin comes into this, you know, with a very open mind, obviously, knowing that the team's done a lot of really good work here to sort of develop the cars to where they are, where we start," Hildebrand said of Taylor. "So there's a little bit of comfort in knowing that these guys have been here, either with Ed and (his engineer Matt Barnes), they've run together here for a long time."
Practice continues tomorrow at 12:00 p.m. ET.
Follow Kyle Lavigne.