As he prepares to race in the Pirelli World Challenge SprintX races at Canadian Tire Motorsport Park this weekend, it's a welcome relief for 27-year-old Toronto native Daniel Morad that he's rolling with opportunities that a few years ago seemed remote at best.
Morad and fellow open-wheel convert Ryan Dalziel share the No. 2 CRP Racing Mercedes-AMG GT3 in the GT Pro/Pro division of the championship, which are 60-minute races with a mandatory driver stop.
How Morad even got the ride was a bit surprising to begin with – he beat out numerous talented others in consideration – and then he beat one of Mercedes, and sports car racing's most talented drivers in Jeroen Bleekemolen in identical equipment to secure his first win in his first weekend.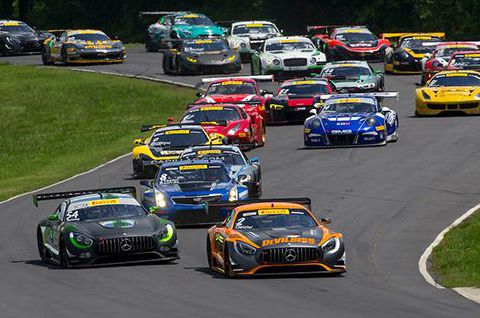 "CRP and I had talked for months; Ron Fellows had recommended me to the team after Daytona," Morad told NBC Sports. "I told Nick Short, the team owner, I was so prepared to do my best if I got the job. We'd had about two hours worth of talking and that was all we went on, but it must have been a good impression!
"Between Ron endorsing me and Dave Empringham also having a say, I got the call Friday before the race and it was 'Hey, the ride's yours.'
"So I get announced Monday on my birthday… then Tuesday or Wednesday I'm already doing media with the car, having not driven it! It was pretty cool the fact my name was on top of the car."
Morad and Dalziel were unfortunate to lose a win in the first SprintX race of the weekend, owing to a pit lane timing infraction that also caught six other GT class cars out.
As a recompense because of confusion about how so many teams were caught out by the 60-second combined pit lane time between the 30-second mandatory pit stop time and additional 30-seconds on pit lane, PWC series officials added a two-second joker time to ensure there wouldn't be infractions in the second race.
"Saturday for us was strange and disjointed," Morad explained. "Initially the pro/pro class was going to have an open pit time, and that would have been a bit dangerous if some teams did 25-second stops versus 15 seconds – you'll never make that up.
"And some cars are easier to get in and out of than others. Bentley, for instance, is right-hand drive so it can go straight in. The Ferrari looked easy. Cadillac? They had to take the wheel off. For us it's a tight greenhouse and entry point. The Porsche, by contrast, had a sliding seat. So since every car is unique, the only way to police it was a 30-second pit stop plus a 30-second delta. But it only took 23 for the pit lane!
"On Saturday, we had an 11-second lead before a safety car. I started opening up the gap to (Jorg) Bergmeister, then we had a drive-through because we didn't stop long enough… and so did seven or eight other cars. It was heat of the moment and without a proper system yet determined, it ruined a lot of team's races."
Morad bounced back in a big way on Sunday with a star drive as he led Bleekemolen and the rest of the field in his stint.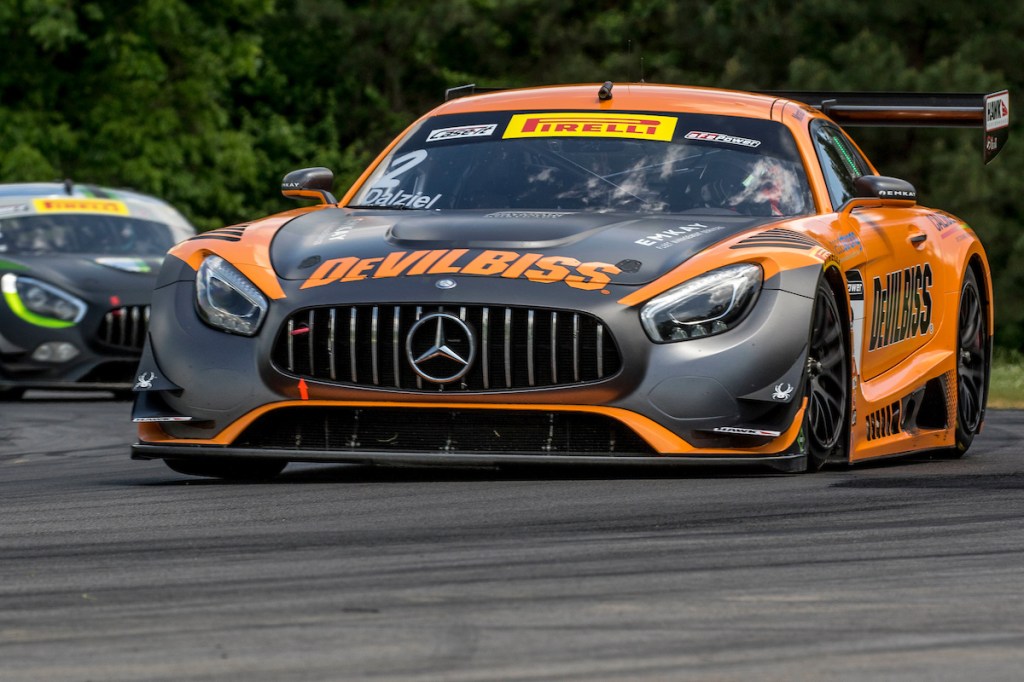 "Sunday we rectified by winning convincingly," he said. "I had a few tenths in the bag if not more (over Jeroen). Our car was so hooked up that day! Not only is the platform is great but balance is perfect. Jeroen was pushing really hard and I was not… so it looked closer than it was.
"For me personally it was a great chance to show that I can drive as well as anyone could out there. I was managing my tires, I drove the pace I needed to drive and to give Ryan the best car. I didn't want to burn the tires before a safety car. I left everyone by 1.5 seconds afterwards. That's what I wanted to say; the best way to silence any critics is to put the right foot down."
Morad and Dalziel come from similar backgrounds in that they were talents on the open-wheel ladder before shifting to sports cars. Morad's was a circuitous route after winning the 2007 Formula BMW Americas championship – ahead of Esteban Gutierrez and Alexander Rossi among others – through GP3, Atlantics, A1GP (below, in 2009) and Indy Lights, but timing and budget never presented itself for more.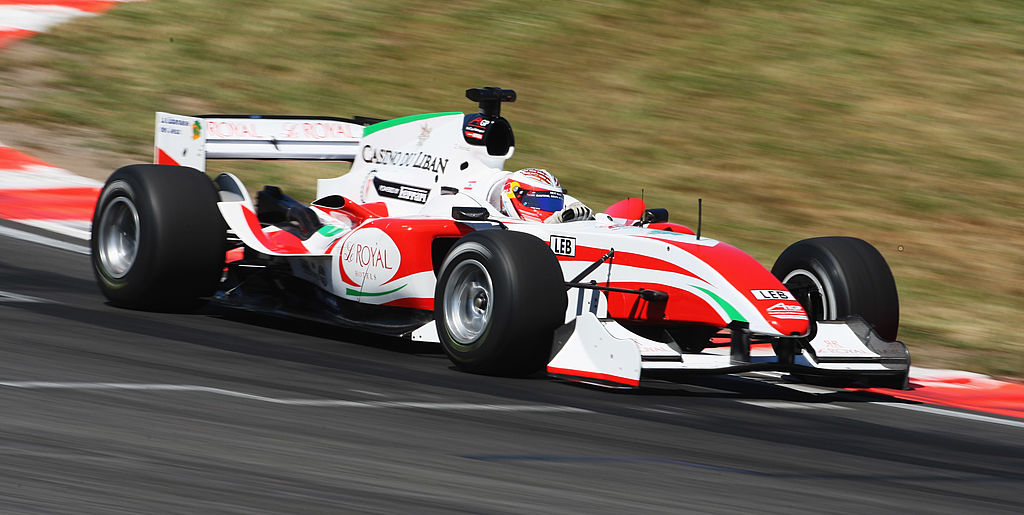 Dalziel's timing was similar. Talented enough to make it to Champ Car, Dalziel won races in Atlantics for several years but again fell victim to timing more than anything. So Morad always witnessed Dalziel's development and success on track, but only has gotten to know him recently.
"Ryan is such a good teammate," Morad said of the Florida-based Scot. "We'd crossed paths in the past but I'd never rally spoken to Ryan. He's not much older – he's 35 to my 27 – so he's 8 years older.
"But it's enough to the point, when he was in Champ Car, I was in FBMW. He did a really good job.
"I really respected him. When I heard I'd potentially drive with him I was stoked; you want to drive with the best and learn as much as you can. Ryan is one of the best out there. He's such a good ambassador of the sport. He welcomed me with open arms, and he didn't make me feel an outsider. You can see why he's one of the best in the sport."
On the whole, it was a call from Carlos de Quesada that Morad him back from the brink after a roughly four-year hiatus from racing and provided him an opportunity to race Porsches, where Morad has since starred. Between championships in single-make Porsche Cup series and a win at this year's Rolex 24 at Daytona with a Porsche 911 GT3 R, Morad has been the driver that de Quesada has built his team around.
Morad's season is IMSA is evolving on a race-to-race basis – the team plans to race for at least another couple events before determining whether it can grow into a full season – but in PWC, he's set for the four remaining SprintX weekends with Dalziel.
Coming to CTMP this weekend, it's a chance for him to race on home soil. Morad has hailed Fellows and Empringham as mentors among others, and now he's also joined his open-wheel rising stars James Hinchcliffe and Robert Wickens in making it years later after coming up through the ranks.
"Ron Fellows has been one of the biggest mentors for me," he explained. "He guided me in Formula BMW and helped to suggest the sports car stuff in GT3 Cup. Scott Goodyear as well has been amazing. I worked with him at the Audi driving experience (in Canada); he was chief driving instructor. I learned more from him off the track, in how to be a professional; he's the ultimate professional. He's so polished.
"As Canadians, we're all such a tight-knit community. We all stay in touch.
"Hinch and I are friends. Wickens and I though, it's funny, we've grown up racing each other since we were 9. We had sleepovers when we were kids! He was in Guelph, an hour and a bit from Toronto. He'd play EA Sports NASCAR games or play hockey in the winter… because it's Canada. We still stay in touch; I watch his DTM races when I can."
And then there's Morad's other emerging passion – he's a DJ, and quickly becoming better known for that along with his driving within the sports car paddock.
What started as a quick 10-hat pre-run at Daytona, wearing a standard hat with a stylized "M" logo, has now grown into a new brand to coincide with the DJ tracks he puts together on Soundcloud, after those 10 sold out quickly. There's now more styles to the hat. Morad credits his girlfriend for her work ethic and dedication and helping this side of his career grow.
Morad joins Giancarlo Fisichella and Raul Boesel among other notable drivers who've added this component of work to their day jobs, and explained the inspiration.
"I started DJing when I was 19, as I got into it through a friend," Morad explained. "It's funny because I don't like the party scene per se – or crowds – people stepping on foot or drinks!
"But DJing is such a thrill. There's a lot of pressure to perform. If you don't perform… the whole night revolves around you. But if you don't do a good job, the night's bad for people. I like the challenge of making a good show."
For Morad on track though, making a good show has been one of the fun story lines to watch in the sports car world in 2017, and he'll look to keep it rolling on home soil this weekend.