Editor's note: Providing a behind the scenes take during his 2017 Red Bull Global Rallycross (GRC) season, Scott Speed, driver of the No. 41 Oberto Circle K Beetle GRC for Volkswagen Andretti Rallycross (VARX), will contribute to NBCSports.com, giving readers his view from behind the visor.
In his second blog installment, Speed looks back at winning the season opener at Memphis, while having the target on his back after winning the last two series championships. His first blog is linked here. 
Round 2 takes over Louisville May 20-21, with coverage of Global Rallycross' Supercar Final airing live on NBC, Sunday, May 21, at 1 p.m. ET.
—
The first race is a big tell tale of how the offseason has gone. After the Memphis weekend is said and done, we've got the biggest advantage we've had yet, which is a great position to be in. That said, there's added pressure for me. I know that the team has given me a superior car, we saw that at Memphis in Round 1. It's my job not to mess it up when we're running that good.
With the added pressure, I'm in a position to play defense now, staying out of trouble and keeping clean. That's a lot different of an approach than pushing every single corner and attacking every single lap in the Oberto Circle K Beetle GRC. During the break, we're analyzing what risks we can take where, including the rough track sections or corners.
Where we're at, it's different but it's a good mindset to be in.
Leaving Memphis, I definitely feel the target on my back is growing. The competition's gunning for us. I know every time I hit the track, everybody's out there with stopwatches and video to try and pick up what we're doing. We're "that car." Obviously being in that position, we're doing something right.
Eventually they're going to catch on and the things we're doing right, they're going to get noticed and others will improve. Everybody has a good idea about the cars around them, and other teams are going to work hard after the first race, just as we continue to do at Volkswagen Andretti Rallycross.
There's no doubt that everyone's going to get better and faster as the season progresses. We may see some changes to minimum weight requirements come from the series, and I expect the gap to be closed dramatically if it does. I'm anxious to see the gap close in the next race. We have to take that as it is, and hopefully we will still have an advantage over others.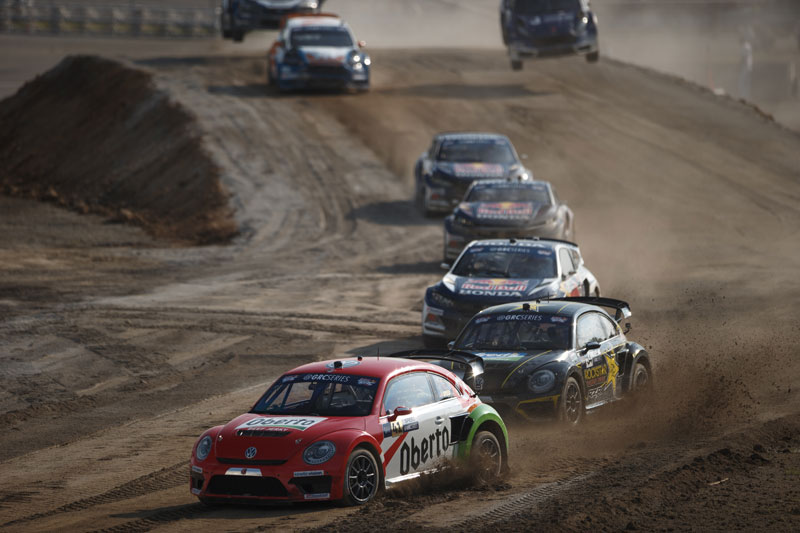 Heading into Round 2, we have to have the mindset that we know it's going to be more competitive. That the bar is raised. One mistake in a heat could cost us seven points, and we don't have a lead in the points standings enough to afford the loss after one event. Survival is key, collecting points as much as we can. With the new format this year, you don't have to be the fastest car to do that, which is unfortunate for us being in the position we're in. We may have come away from Memphis with the win and leading the points championship, but it's not a very big lead and it's still extremely competitive.
Leaving Memphis though, it feels great to get the win. Starting off the season atop the podium with Oberto and Circle K on board is great. I'm now the winningest driving in GRC history, which is a cool stat to have. But, it's also a championship and one race won't make or break it.
Going forward, we have to focus on consistency and risk management, not necessarily just being the fastest car on the track. Being fast is important, but what's more important is being consistently good and finishing well in heat races under the new format. We're always working on the car, working to step up our game. Whether from a handling standpoint or something on-track, there's always room for improvement. We're going to Louisville business as usual, so every time the car comes off the track, there are ways we can make it better. That's what we're focused on.