Editor's note: Sage Karam, 3GT Racing Lexus driver in IMSA, a past Indy Lights and USF2000 champion and Verizon IndyCar Series podium finisher, will file a series of blogs for NBCSports.com this month for a second straight year (2016 archive here).
Here's his third entry, as he recaps practice week and prepares for qualifying. You can read his first and second blogs of 2017 here. He'll run the No. 24 Mecum Auctions Chevrolet for Dreyer & Reinbold Racing, in partnership with Kingdom Racing. 
—
Hi everyone, Sage Karam again. It's been a busy week here at the Indianapolis Motor Speedway.
I have been waiting over 11 months to come back and race at the world's greatest race track.
To be honest, I have been thinking about it almost every day since I left here last May. The Indy 500 is the race I dream about and want to win more than anything in my life.
Since I started racing karts at age four, I knew about the Indy 500. I lived down the street from the Andretti family and my dad, Jody, was Michael's trainer when Michael was racing. I have always thought of the Indy 500 as THE one race to win.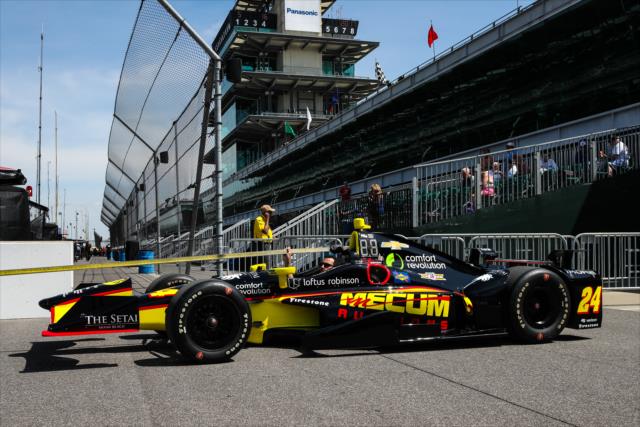 So, after waiting through the Grand Prix weekend, my Mecum Auctions Dreyer & Reinbold Racing team was ready to hit the famed Indy racing surface Monday with the pretty black, yellow and red Chevrolet Dallara machine.
Like last year, we worked exclusively on race-trim this week. It's that chassis and wing setup with more downforce like we would have in the race. We have the Chevrolet bodywork package as well as the wing package for the super speedways.
I was so excited to come back to Indy with this team and group of guys and gals after our performance last year. We came from 23rd to fourth in 93 laps and I have always felt that we had a car to win in 2016. I wanted to lead the Indy 500 so badly and I probably was just too anxious to get to the front.
I know I have learned my lesson from last year's race. A driver doesn't have the kind of race car that I had last year very often in his career. It was a race-winning 500 machine. And I knew I could pass other cars almost anywhere on the track. So, I have been thinking about that race for nearly a year.
After looking at the 2017 Indy 500 rules package, we believed we can put together another strong effort in this year's 101st 500. The rules are similar to last year's and we know how to set up the car for the race.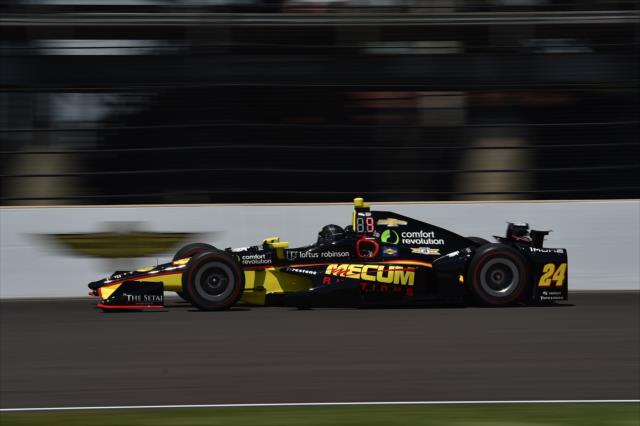 To be honest, we want to qualify better this time around. I'd like to make it easier to move in the May 28 race this time. So, we'll work harder to have a faster qualifying performance.
Overall this week, I have been very pleased how the car and the team have performed. We have really worked hard on the race setup and I think it shows. People know that our Mecum DDR Chevy can be a factor in the race after last year and this week's practice rounds.
The wind has been a little tricky at IMS and we sat out Wednesday's practice due to the heavy winds. We just worked on pit stops that day.
Now, it's time to prepare for Saturday and Sunday qualifying attempts and I will be honest with you. Those are not always fun. You are on the ragged edge for four straight laps and your mind is a little used up when you get out of the car.
Then you have to do it again on Sunday. It's not an easy thing to run Saturday and Sunday with the car on a knife edge. Any little mistake, gust of wind or a setup problem can be a disaster and put you in the wall. So, it's really a team effort in qualifying just like the race. Everyone looks at the downforce numbers, the weight balance and the tire temps for that perfect combination that can get you a fast four-lap average.
But I just want to concentrate on preparing the best qualifying car as possible. If we don't hit the number just right, it is not the end of the world. Because I'm confident about our race car setup.
Entering Saturday's qualifying, we have had to trim out the car as best as possible and test the track for the strongest "no tow" laps in practice. Once we test our setup on Saturday morning in practice, we'll roll the Mecum DDR Chevy into the qualifying line and give it our best shot.
Of course, weather is always an issue at Indy. It has been hot and windy for much of the practice days and now rain storms are predicted for the weekend. That can throw a curveball at a driver and his team after a week of practicing in much different conditions.
But our team engineer, Jeff Britton, and most of our crew are veterans at the Speedway and have been through every scenario here. While I will be the youngest driver in the 33-car field, I know my team is experienced and this year will be fourth appearance in the 500. As I said before, I fell I have matured in the cockpit and can the proper decisions behind the wheel.
We'll see how qualifying shakes out this weekend and locks down a position in the Indy 500 field. After that, it's back to the race setup. The key to winning the world's biggest race.
Talk to you next week.