Sebastian Eriksson and Honda Red Bull Olsbergs MSE are on the board in Red Bull Global Rallycross, following a thrilling battle in today's second round of the season from Louisville's Kentucky Exposition Center.
In a photo finish as he edged Loenbro Motorsports' Steve Arpin by just 0.071 of a second, Eriksson scored his and the Honda Civic Coupe's first series victories.
WATCH: Full Louisville event replay on NBC
Meanwhile, Volkswagen Andretti Rallycross driver Scott Speed, an NBCSports.com blogger in 2017, finished third.
The series' full recap is below:
—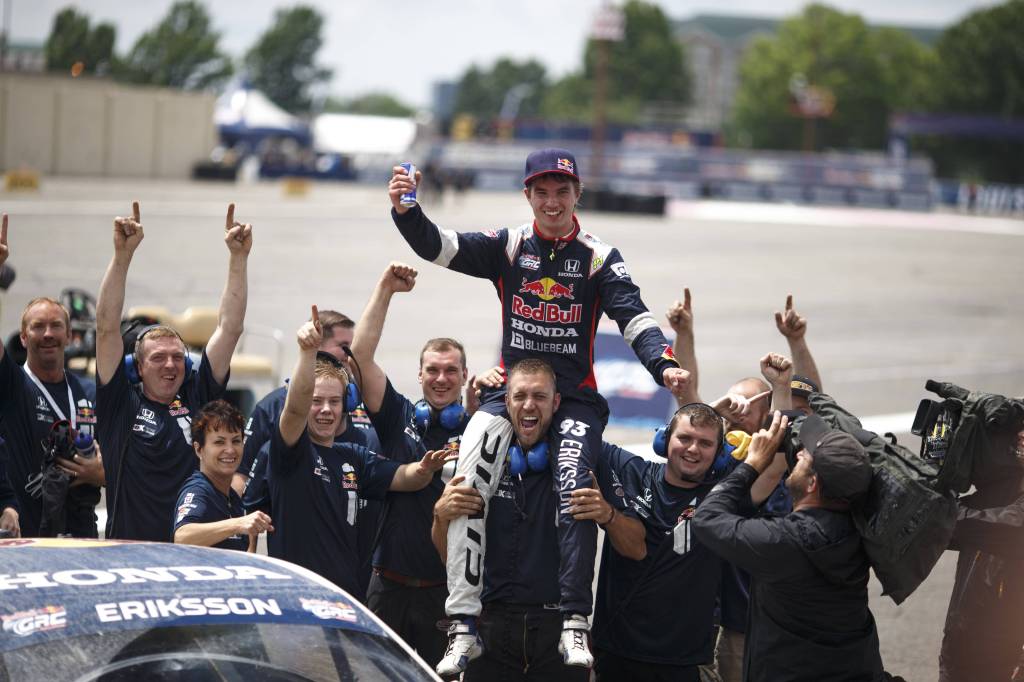 Honda Red Bull Olsbergs MSE driver Sebastian Eriksson nipped Loenbro Motorsports' Steve Arpin by .071 seconds to win Sunday's Red Bull Global Rallycross Louisville final at the Kentucky Exposition Center. It was Eriksson's second career victory and the first for Honda since joining the sport at the beginning of last season.
"It was a great race for us," said Eriksson. "I was up in the lead for a few laps, but then I fell back to fourth, so it was crazy. But it was so much fun! The team has worked so hard for this over the past year and a half, and finally we've been able to win a race. It feels great, but we can't stop working hard and trying to secure more victories this year."
Though much of the day saw action take place in dry conditions, the wet weather came just in time for the 10-lap Supercar final. Four drivers—Eriksson, Arpin, and Volkswagen Andretti Rallycross teammates Scott Speed and Tanner Foust—spent much of the final running nose to tail, with the Joker Lap and a slippery dirt surface shuffling the order throughout. Arpin nearly got past Eriksson in the final corner, setting up a drag race to the finish, but wasn't quite able to make the pass. All told, the top four drivers finished within one second of each other.
In GRC Lites, Dreyer & Reinbold Racing driver Christian Brooks scored his first career main event win, sweeping all of his race sessions on Sunday. Brooks led Olsbergs MSE X Forces driver Cyril Raymond for much of the final, until Raymond clipped a curb and rolled over; he was unhurt in the incident. Memphis winner Conner Martell took second, while Gustavo Yacaman earned third place in his rallycross debut.
Official Supercar final results from Red Bull Global Rallycross Louisville are as follows:
Sebastian Eriksson, #93 Honda Red Bull Olsbergs MSE
Steve Arpin, #00 Loenbro Motorsports
Scott Speed, #41 Volkswagen Andretti Rallycross
Tanner Foust, #34 Volkswagen Andretti Rallycross
Mitchell deJong, #24 Honda Red Bull Olsbergs MSE
Austin Dyne, #14 Rahal Letterman Lanigan Racing*
Oliver Eriksson, #16 Honda Red Bull Olsbergs MSE
Cabot Bigham, #2 Bryan Herta Rallysport
*Car 14 reinstated to sixth place after technical issue with transponder
The 2017 Red Bull Global Rallycross season continues on June 3-4 with the first doubleheader of the season at Thompson Speedway Motorsports Park. Tickets are available at redbullglobalrallycross.com/tickets. The Supercar finals can be seen on NBC on Saturday, June 3 and Sunday, June 4, both airing at 5PM ET.