INDIANAPOLIS – There's something about Neil Alberico in his second year in a Mazda Road to Indy presented by Cooper Tires series that brings out the best for the 24-year-old out of Los Gatos, Calif. who now lives in San Clemente.
Alberico, the Rising Star Racing-supported driver, always seems to improve in year two and has done so throughout his now six years in the MRTI.
In the Cooper Tires USF2000 Championship Powered by Mazda, Alberico switched from JDC Motorsports as a rookie to Cape Motorsports as a sophomore from 2012 to 2013. He improved from seventh in points to second, and won six races that second year.
The same story applied on the next rung in Pro Mazda Championship Presented by Cooper Tires, although he stayed with Cape for both seasons. Third without a win in 2014 ceded to four wins and second place in 2015.
Arguably the best driver who has not yet won a championship in those series, Alberico has positioned himself nicely for the Indy Lights Presented by Cooper Tires title this year as Carlin's emerging lead driver following a solid first few weekends of the year, as he now seeks his first win in Indy Lights to keep the career trend going.
Entering Friday's Freedom 100, the marquee race of the Indy Lights season (live, 12:30 p.m. ET, NBCSN), Alberico has opened his 2017 account in the No. 22 Dallara IL-15 Mazda with two thirds, two fourths and a sixth place thus far in six races. He sits fourth in points with 103, 36 back of points leader and fellow Californian Kyle Kaiser. For reference, persistent and continual mechanical issues and engine changes stunted a miserable debut season in 2016, and Alberico only had two top-six finishes all season, and left him 11th in points.
Now though Alberico has ascended to the team leader role at the Trevor Carlin-owned, Colin Hale-managed squad. He drives alongside Zachary Claman De Melo, who switched from Juncos Racing, and rookies Matheus Leist and Garth Rickards. All but Rickards have at least one podium this season as the new-look lineup finds its footing.
"Playing the leadership role in a team, I'm used to it," Alberico told NBC Sports. "I'm comfortable doing what I can do. And that's your job as a teammate. You have to be fast yourself, but there's driver and team championships that exist – and we want to win them both."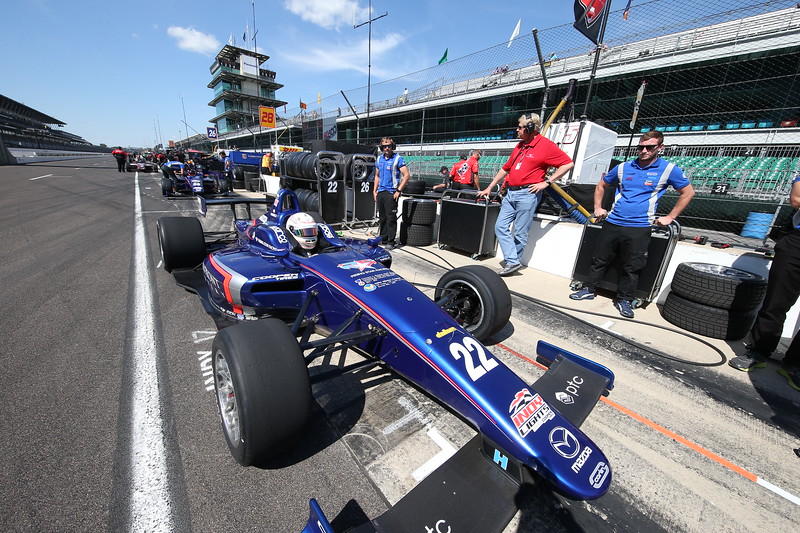 Alberico credits a healthy offseason program where he undertook a lot of private testing and a year's worth experience both in these cars and with a team that has led to his growth. He also feels more comfortable with the Indy Lights-specification of Cooper Tires, as he struggled to maximize their pace on an optimal lap in qualifying last year.
"Every year you adapt to new challenges as a driver. Last year as a rookie the tire was a big part of that challenge that I needed to learn," he said. "But it's now gone more to my favor – or more what I'm used to.
"Going into the offseason, it's been nice to have a lot of private test time. When you have a private test, there's driving stuff you can work on, being good on cold tires, or having new tires to work on. It's the small little details. When you have private time to work on yourself, that's the most productive."
While Alberico is serious about the task at hand, he's not afraid to have fun and laugh it off at the track. That humor involves his engineer, Geoff Fickling, team manager, Hale, and his supporters in Rising Star Racing.
Alberico and Fickling, a renowned and championship-winning engineer in multiple rungs of the MRTI (Ed Jones with Carlin last year and Gabby Chaves with Belardi in 2014 in Indy Lights, plus Jack Hawksworth with Pelfrey in 2012 in Pro Mazda), live not far apart in San Clemente, and at times, almost spend too much time together.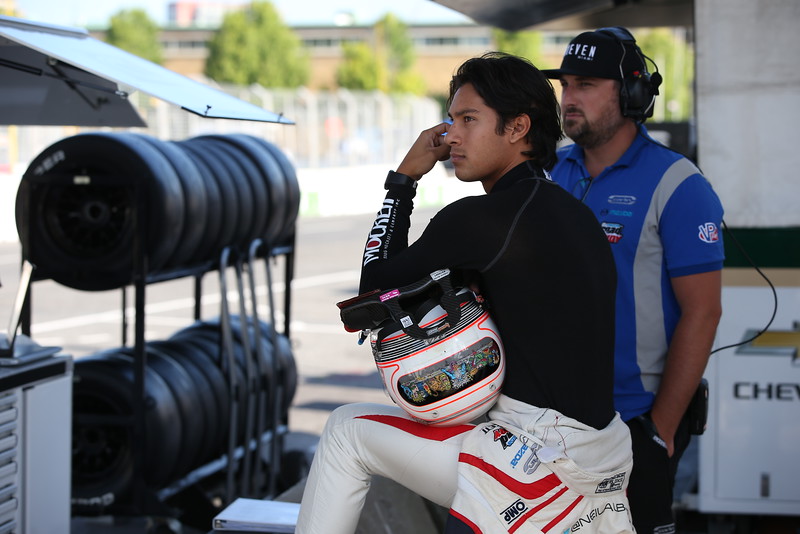 "Geoff and I get along great on a personal level. But sometimes he hates when I'm at his house looking for data – he's gotta be like, 'I want to get away, and I can't get away from my driver!'" Alberico laughed. "But he's very thorough. He'll go the extra mile to teach me more what I need to learn."
Alberico has also started making his Instagram videos must-see-content for the rather hilarious interaction between the laid-back Californian and the focused, often intently serious Hale, who has made Carlin a championship-winner in Indy Lights in just its second season. There's a confidence Alberico has in providing humor here that may not have existed last year given the struggles that were out of his, or the team's control.
And then there's the fact Alberico was the one responsible for bringing in the most out-of-left-field IndyCar sponsor this year, which was awesome, in Loki the Wolfdog. We'll let Neil take it from here…
"Rising Star Racing is, for those that don't know, such an awesome initiative through MRTI into IndyCar," Alberico said. "Spencer Pigot and I have been part of that program, which does a lot for young drivers.
"The Loki deal is just basically a friend of mine with a really famous Instagram dog. Social media has become a huge part of the sport the last several years, and I think sponsor and teams need to adapt at those times."
Loki was on site at Long Beach and met Pigot there for the first time, thanks to the connection between the Rising Star Racing teammates. It's not been the only partner Alberico has brought in; Laguna Beach-based modern drug addiction and alcoholism treatment center Oceanfront Recovery is on both Alberico's Indy Lights car and Pigot's No. 11 Juncos Racing Chevrolet in the Indianapolis 500.
Pigot and Alberico have been Art Wilmes' two "primary" drivers for RSR over the years, but not the only ones RSR has supported.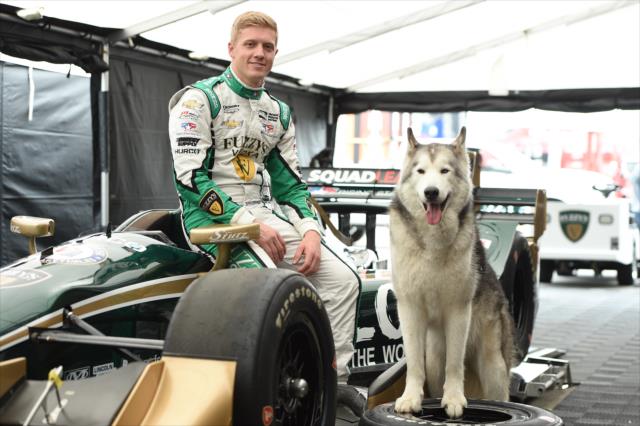 There's others such as last year's Pro Mazda champion, Indy Lights rookie Aaron Telitz (who actually won on his debut at St. Petersburg and has been overlooked from a media perspective) and another MRTI veteran Jake Eidson in the RSR roster. RSR is set to formally add Oliver Askew, who's off to a stellar start in USF2000, rather soon.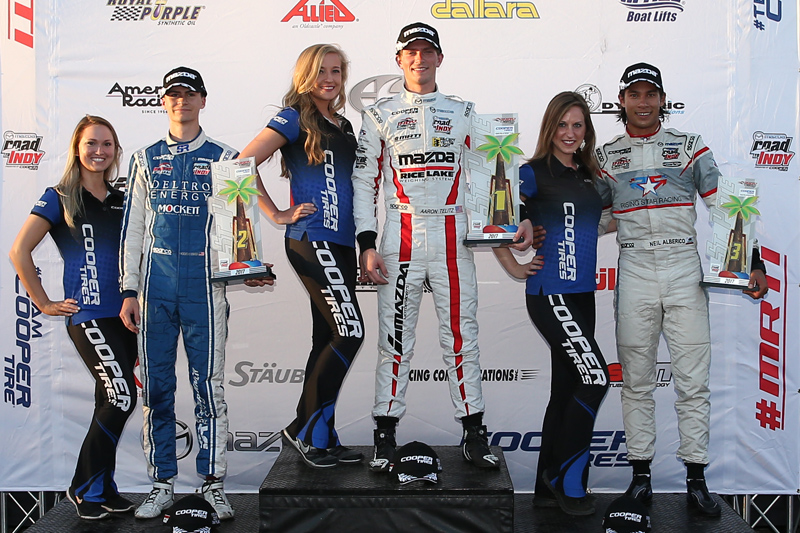 As Alberico heads to the Freedom 100 this weekend, he's got the continuity from a team and engineering standpoint, and determined to secure his breakthrough win in a year when Telitz, Colton Herta and Nico Jamin have all become Indy Lights race winners.
"I like staying with the same team. When you gel with team mechanics, engineers, you don't want to go through the new process again," Alberico said. "That's why you do better in your second year, and in the third year even more so.
"At the IndyCar level it's about those 10-plus year relationships – and that's hard to create as a rookie! So you have to learn and adapt with those with 10-year relationships.
"Here, the wind is a bigger factor. But we have the race lap record! We're not slow. We like this place. Let's put ourselves in position to win the race."
Alberico, who mentioned the wind there, also had the chance to play weatherman for the local CBS affiliate (WTTV-4) here in Indianapolis last week. And that provided him and Telitz a chance to provide some competitive banter beyond what they've done on track.