This year more than any other in the last four or five years, there are more Indianapolis-only entries than normal as the full-season field is only 21 cars, leaving more than a third of the field for the Indianapolis 500 comprised of likely single-race entries. Once Sebastien Bourdais was hurt, it provided an opportunity in one of those cars as well.
Within these 13 drivers, there's two past Indianapolis 500 champions (Juan Pablo Montoya, Buddy Lazier), three of the four rookies including that one (Fernando Alonso, Jack Harvey, Zach Veach), the eternally savvy Oriol Servia, fan favorite Pippa Mann, young guns Spencer Pigot, Gabby Chaves and Sage Karam, and the driver making a comeback after six years in Jay Howard. And then, there was James Davison who got the call as Bourdais' injury replacement.
All of them have different goals and objectives for this year's race, given their respective team scenarios.
Here's a look at the dozen drivers who are competing either part-time this year or only at Indianapolis who look to play spoiler on Sunday. The best speeds for all except Davison were done with qualifying level boost (he only drove on Monday) and the lap counts are totaled prior to Friday's Carb Day activity.
29-Fernando Alonso
McLaren-Honda-Andretti Honda
Engineer: Eric Bretzman
Strategist: Michael Andretti
Best Speed this month: 231.827 (5th)
Total Laps: 452
Starts: 5th (231.300)
Indy 500 Record: Rookie
The man who has dominated the headlines this month since his shock announcement, Alonso's taken to the Brickyard rather well in all phases. On paper for the race, he's well positioned because he has been provided an all-star crew around him for a one-off entry. In Bretzman, he has the engineer who guided Scott Dixon to most of his career success; in Michael Andretti, he has a guy calling his race who is renowned for his calls; in Gil de Ferran, he has Andretti's answer to Rick Mears (Penske) and Dario Franchitti (Ganassi) as an Indianapolis driving sherpa of sorts.
Yet it will be things such as the rolling start, being in the middle of a three-wide launch, coming in for yellow flag pit stops, and aggression on restarts that will define his race. Quoting the old axiom, practice and qualifying is one thing, but how Alonso handles the magic – and the pressure – that comes with race day is his ultimate test, and the primary reason he signed up for this odyssey in the first place.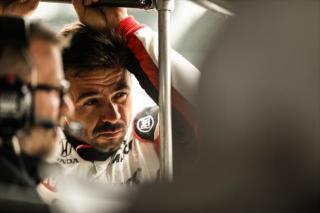 16-Oriol Servia
Manitowoc Honda
Rahal Letterman Lanigan Racing
Engineer: Tom German
Strategist: Tom German
Best Speed This Month: 230.997 (17th)
Laps: 271
Starts: 12th (230.309)
Indy 500 Record: 4th (2012) best finish in 8 prior starts
It seems we write this every year, but Servia is the safest and most consistent bet among the one-off entries. Yet in recent years, he hasn't had a result to show for it. Servia enters this year with the defending race-winning engineer in Tom German, and the team enters with the determination of bouncing back after a miserable month of May last year and a rough start to 2017. Other than an engine failure on Monday, it's been a typically smooth, under-the-radar month from the Catalan, who will be one to watch Sunday in his 200th career race start.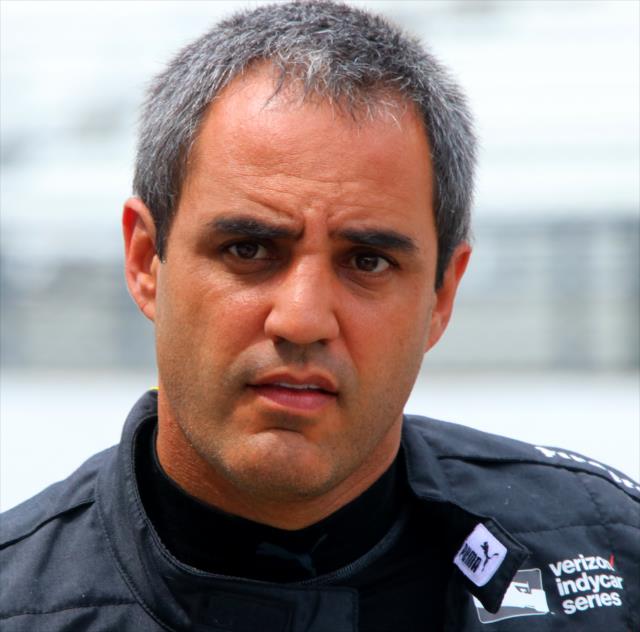 22-Juan Pablo Montoya
Fitzgerald Glider Kits Team Penske Chevrolet
Team Penske
Engineer: Raul Prados
Strategist: Ron Ruzewski
Best Speed This Month: 231.682 (7th)
Total Laps: 216
Starts: 18th (229.565)
Indy 500 Record: 2 wins (2000, 2015) from 4 prior starts
Going into the month, JPM was arguably the best positioned of the one-off entries, as this was announced late in 2016, with a driver who has nothing to lose in now his second start of the year. Additionally, unlike in each of the past three years, there were not multiple extra entries in the INDYCAR Grand Prix – this year, Montoya was the only extra car entered. That gave his crew a leg up among the other one-off crews, having had one extra race to get ready for Indy. While the usual "Penske perfect" and "effort equals results" mantras haven't yet produced big results, it'd be a shock if Penske – and JPM – aren't better on race day in traffic.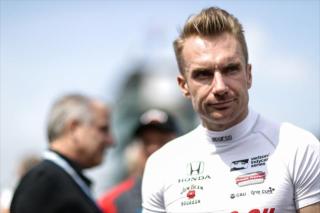 77-Jay Howard
Lucas Oil/Team One Cure Honda
Schmidt Peterson Motorsports with Team One Cure
Engineer: Chris Finch
Strategist: Chris Finch
Best Speed this month: 231.255 (11th)
Laps: 349
Starts: 20th (229.414)
Indy 500 Record: 30th (2011) best finish in 1 prior start
For Howard, coming back to the Speedway has gone respectably well to this point. SPM has again prepared a decent third car and Howard, despite being out of the game for six years, has reacclimatized better than perhaps anticipated. He's a longshot, but has impressed with both speed and patience to this point. Quite possibly, his first career IndyCar top-10 is an achievable result in the car that features Team One Cure support, and NASCAR and IndyCar legend Tony Stewart as part of the entry.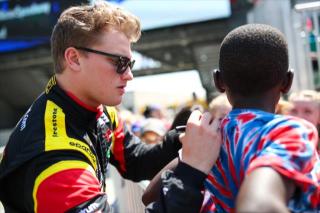 24-Sage Karam
DRR Mecum Auctions Chevrolet
Dreyer & Reinbold Racing
Engineer: Jeff Britton
Strategist: Dennis Reinbold
Best Speed this month: 230.134 (In Qualifying; Best Practice 228.159, 27th)
Total Laps: 317
Starts: 21st (229.380)
Indy 500 Record: 9th (2014) best finish in 3 prior starts
Perhaps the most polarizing driver in the field who could be IndyCar's version of Roy McAvoy, "Tin Cup," Karam boasts the combination of brash fearlessness, pure speed, and determination that often produces either big results or big repair bills. In 2014 he was lucky to get away with a spin on Carb Day without damage, then promptly starred in the pit stop competition and stormed from 31st to ninth in the race. He should have been at least co-rookie of the year, if not outright. But a devastating first lap crash followed in 2015 in a full Chip Ganassi Racing entry, and last year out of the spotlight back at DRR he carved from 23rd to fourth before colliding with another car and crashing out again. The team has opted to focus on race trim this year and Karam's car appears a rocket in traffic. He's more relaxed now, yet behind the wheel is so much fun to watch because of his unquestioned tenacity.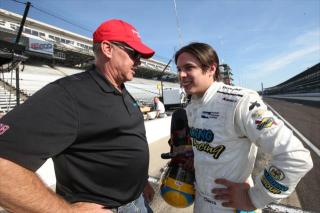 88-Gabby Chaves
Harding Racing Chevrolet
Engineer: Matt Curry
Strategist: Larry Curry
Best Speed this month: 229.033 (26th)
Total Laps: 322
Starts: 25th (226.921)
Indy 500 Record: 16th (2015) best finish in 2 prior starts
Chaves has a great chance this year that he didn't quite have last year. Whereas last year he was dumped from a ride he thought he had a fortnight before the season opener and was left scrambling to put a deal together for May with Dale Coyne Racing, Chaves has been working on this program for months and is the focal point around a new team that seems to have greater ambitions beyond just this May. Armed with a crew that includes team manager/competition director Larry Curry and son Matt Curry as engineer and two-time Indianapolis 500 champion Al Unser Jr. as team driving instructor, the sky is the limit here. As Harding is one of several teams making its Indianapolis 500 debut, finishing in one piece is the main goal but with nothing to lose. Chaves is a sneaky good, clean driver who will look to re-establish himself as a force within this series.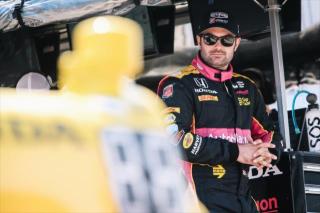 50-Jack Harvey
Michael Shank Racing with Andretti Autosport Honda
Engineer: Zach Eakin
Strategist: Tim Keene
Best Speed this month: 231.433
Total Laps: 379
Starts: 27th (225.742)
Indy 500 Record: Rookie
Andretti's "other rookie" has his own point to prove after a month where he has had nearly all but the kitchen sink thrown at him with contact, engine failure, and an almost-crash in qualifying he got away with. Harvey's got a past win on his resume at Indianapolis, with the Freedom 100 victory in 2015, and he knows enough now from the drafting practice he's had to get comfortable in an IndyCar. Paired with Indy debutantes Shank, the Englishman's big question is whether he's race rusty, having not raced anything since his final start in Indy Lights in September 2015, and not having been in an oval race since Iowa in July of the same year. If Alonso is Andretti's Kurt Busch, that would make Harvey hope to be Andretti's Alexander Rossi – or at the very minimum, a Carlos Munoz – at Indianapolis.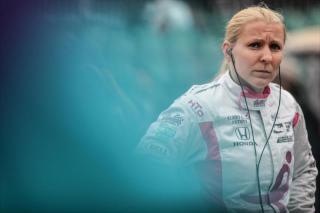 63-Pippa Mann
Susan G. Komen Honda
Dale Coyne Racing
Engineer: Rob Ridgely
Strategist: Rob Ridgely
Best Speed This Month: 230.103 (25th)
Total Laps: 247
Starts: 28th (225.008)
Indy 500 Record: 18th (2016) best finish in 5 prior starts
Mann's sustained Indianapolis 500 presence owes to her tireless work ethic year-round to make opportunities happen. Her fifth straight run with Coyne was set to feature no in-month changes in the driver lineup, but following Sebastien Bourdais' accident it saw the lead car's switch. Fortunately for Mann, she's paired with an engineer she knows and works with well in Ridgely. It's not been the easiest of months for her but as a consistent 500-mile race finisher in recent years, doing so again will be her now-annual typically solid performance.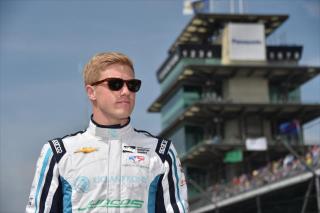 11-Spencer Pigot
Oceanfront Recovery Chevrolet
Juncos Racing
Engineer: Steve Newey
Strategist: Tom Brown
Best Speed This Month: 226.140 (32ndd)
Total Laps: 246
Starts: 29th (224.052)
Indy 500 Record: 25th (2016) best finish in 1 prior start
Pigot's Indianapolis 500 slot in 2017 wasn't meant to be here but winds up here nonetheless in a fortuitous, last minute reunion. The thinking when he signed on again to be Ed Carpenter Racing's road and street course driver for a second straight year was that Carpenter would run him in an extra car for the Indianapolis 500, as the team did for JR Hildebrand the last three years. But it was not to be, with Carpenter citing budgetary restrictions. Pigot, however, will get a one-off reunion with Ricardo Juncos as the two will now be on the grid together for Juncos' IndyCar debut. Pigot won two straight championships with Juncos on the Mazda Road to Indy presented by Cooper Tires, Pro Mazda in 2014 followed by Indy Lights in 2015, but winning is far from the goal this race. For Juncos, simply staying out of trouble will be key in its IndyCar race debut, and in Pigot, he has a usually safe pair of hands.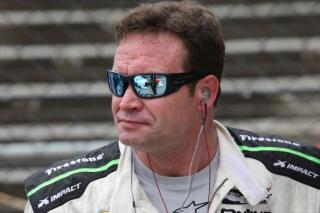 44-Buddy Lazier
Lazier Racing-Stalk It-Tivoli Chevrolet
Lazier Racing Partners
Engineer: Mitch Davis
Strategist: Mitch Davis
Best Speed This Month: 225.198 (33rd)
Total Laps: 85
Starts: 30th (223.417)
Indy 500 Record: 1 wins (1996) from 19 prior starts
The now-annual story of Buddy Lazier's family-run, shoestring budget, Indianapolis 500-only entry rolls on for a fifth straight year. This makes him both a throwback and the last link to a past generation, which is fun to write about. The 1996 Indianapolis 500 champion is racing against 12 drivers who were born in the 1990s in this year's field. Lazier is yet to finish a race since this team began in 2013, with early retirements in 2013 and 2014 before last year's pre-race failure to start then ceding to a loose tire while running dozens of laps down in the final 40 laps, setting up a caution that produced Alexander Rossi's magical run to the flag. It shouldn't be as simple as setting the goal of finishing the race, but for the likable, still fit, now-49-year-old, that's about the only realistic goal he and this small, Vail, Col.-based team can hope to achieve, with anything beyond that a bonus.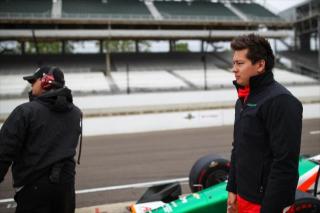 17-Sebastian Saavedra
AFS Chevrolet
Juncos Racing
Engineer: David Cripps
Strategist: David Cripps
Best Speed This Month: 227.889 (29th)
Total Laps: 236
Starts: 31st (221.142)
Indy 500 Record: 15th (2014) best finish in 5 prior starts
The likable Colombian with the spiky hair makes his sixth Indianapolis 500 start, with series debutantes Juncos joining Ganassi, KV, Dragon, Andretti and Herta as teams Saavedra has raced the '500 with – and this doesn't include Conquest, with whom he failed to qualify in 2011. The Herta parallel is an interesting one because that was a debut team as well. Saavedra is race experienced and as such will draw on that for a safe 500 miles of running.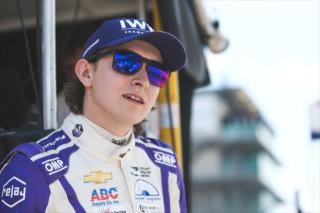 40-Zach Veach
Indy Women in Tech Championship presented by Guggenheim Chevrolet
AJ Foyt Racing
Engineer: Andy Brown
Strategist: Andy O'Gara
Best Speed this month: 227.082 (31st)
Total Laps: 293
Starts: 32nd (221.081)
Indy 500 Record: Rookie
Veach enters with an unexpected extra race under his belt thanks to his fill-in role for JR Hildebrand at Barber, but while that taught him pit stop practice and got him race ready, Barber and Indy could not be further apart as race tracks. And unfortunately, the same is true for these two events for how Veach has gone. After impressing at Barber, it's been a tough month for the 22-year-old from Stockdale, Ohio with a heavy pre-qualifying crash in practice providing a setback. Veach never starred in the Freedom 100; he made a mistake with a potential winning car here last year with Belardi Auto Racing and had two midfield finishes prior to that with Andretti Autosport. Realistically, a solid top-20 finish would be an excellent result for him, working with veteran engineer Andy Brown and Josef Newgarden's old strategist, Andy O'Gara.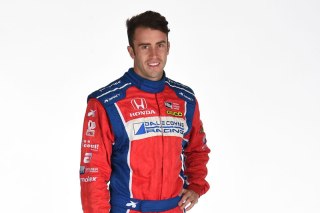 18-James Davison
GEICO Honda
Dale Coyne Racing
Engineers: Craig Hampson/Olivier Boisson
Strategist: Darren Crouser
Best Speed This Month: 223.670 (34th)
Total Laps: 88
Starts: 33rd (No Speed)
Indy 500 Record: 16th (2014) best finish in 2 prior starts
In a last-minute call-up under less than ideal circumstances, Davison will make his third Indianapolis 500 start for Coyne. Davison's been full-time in sports cars the last several seasons, but doesn't have a full-time opportunity this year. If he can stay out of trouble both he and his car have enough speed to move up the order.