INDIANAPOLIS – With the current crop of established veteran Verizon IndyCar Series drivers in their early 30s to early 40s, it's worth asking when the next generation of drivers will properly emerge in a "changing of the guard."
It took time for IndyCar to move on from the Andretti, Unser, Rahal, Foyt, Mears, Fittipaldi, Sullivan and more group of names, as most retired into the 1990s. In their place have come the Castroneves, Kanaan, Montoya, Dixon, Power, Hunter-Reay, Bourdais and Pagenauds of the world, having debuted between the late 1990s and mid-2000s.
There's a distinct feel this Indianapolis 500 though that the next verge of talent is on the horizon, if not this year then in the next two to three years to come.
The Mazda Road to Indy presented by Cooper Tires presence in this year's Indianapolis 500 is deep and detailed. Some 14 of the 33 drivers have raced in the series since its formal 2010 introduction, and others have raced in previous American open-wheel ladder championships (namely Formula Atlantic or Indy Lights in its prior iteration) and 24 Mazda Road to Indy alumni in the field all told.
It might, in fact, be easier to count the drivers racing Sunday who don't have any North American open-wheel ladder experience.
It's the recent grads though who have a good chance in this race, which for the moment is their only confirmed race of 2017, who otherwise have nothing to lose.
Five of the last six Indy Lights champions are in the field, dating to 2011. Josef Newgarden and Ed Jones are the two full-time drivers, Spencer Pigot races most events as road/street course driver for Ed Carpenter Racing while he's since switched to Juncos Racing for this race only, while past teammates and back-to-back champions Sage Karam and Gabby Chaves are looking to re-establish themselves as full-time IndyCar competitors after only having parts of one full season.
The others who've raced in the Road to Indy and graduated from 2010 to 2016 and are in this year's field include two rookies, Zach Veach and Jack Harvey, A.J. Foyt Enterprises teammates Conor Daly and Carlos Munoz, several-time IndyCar race winner James Hinchcliffe, Ganassi's Max Chilton and Charlie Kimball, Juncos' Sebastian Saavedra, and Dale Coyne Racing's Pippa Mann.
This list doesn't include two other notables in Matthew Brabham and RC Enerson, who impressed in limited 2016 IndyCar starts, but aren't in this year's Indianapolis 500 owing to lack of finances, not lack of talent.
—
ED JONES AND COYNE LEAD THE WAY FROM P11
It's been Jones who's been the underrated, and under-appreciated, star of the month. The Dubai-based Brit may be this year's only full-season rookie, but has been impressive from the off at Dale Coyne Racing. With several laps turned over 230 mph and both pace and patience in traffic, the defending Indy Lights champion and Mazda scholarship recipient is arguably the top darkhorse Sunday from P11 in the No. 19 Boy Scouts of America Honda. And it's not like a rookie started 11th and won last year's race or anything… (Alexander Rossi did, hence the setup).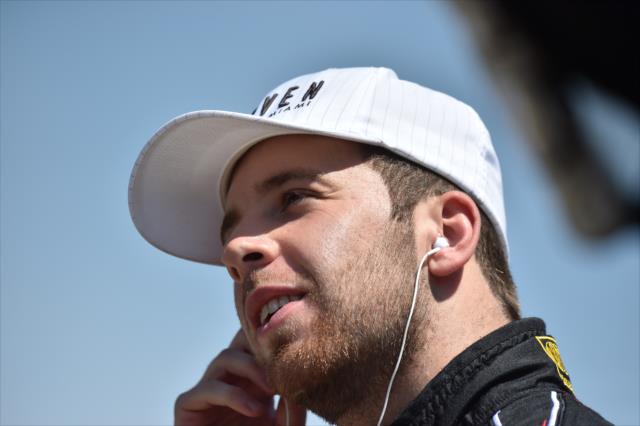 "I guess the heat made the car a bit more difficult to drive because this morning in practice we rolled out and did four laps and were like 'let's park it, that's the perfect car,'" Jones said after qualifying. "But nonetheless, it was a great job by the guys who made some changes from yesterday. Thanks to the team, Dale, my engineers.
"Obviously, it was a tough day yesterday, but the team spirit is so strong. It's great to be a part of this team. It's tough, like they say with racing you're always up and down. Especially around here, a place where you've got to treat it with respect. Any tiny mistake or any small difference can cost you a huge amount. I'm just proud to be representing this team, hopefully we can move further up in the race."
—
TWO MRTI LEGACY STARS REUNITE; PIGOT AND JUNCOS BACK TOGETHER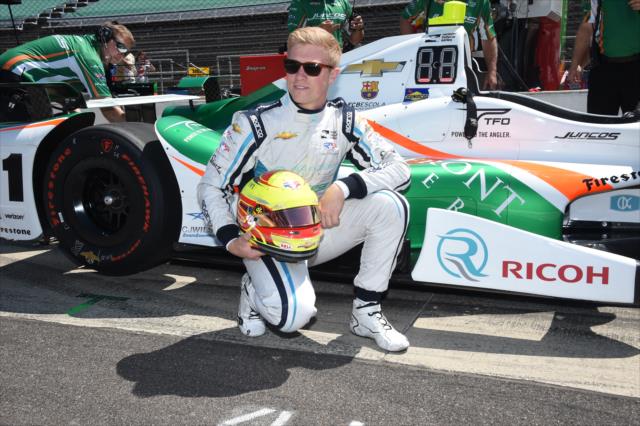 Rising Star Racing-supported driver Pigot, inadvertently, gets his start in this year's '500 with a MRTI graduate team in Juncos Racing, thus completing the journey for Argentine team owner Ricardo Juncos into IndyCar. Rarely, if ever, has a story been written where a driver began with a team in karting and the two grew together simultaneously to where now he's driving for Juncos in its debut. Despite a crash in practice, the spirit of the Juncos team shone through with a rebuild overnight, and Pigot's return in qualifying spoke volumes.
"I just got a little loose. I exited Turn 1. It was a shame, because we had a decent run going," Pigot said. "It might have been high-20s, which from Friday, I would've been all right with after that crash. All that matters is we're in the race, and I was able to save the car there in Turn 1. I've got to thank the guys. They've worked a lot of long hours to get me back out here."
"It's crazy! So 15 years ago, coming from Argentina, in karts and he's 9 years old," Juncos reflected. "Now we're living this dream. Without losing the focus on the task, we need to enjoy this, because it's a great story of the team, of Spencer, and of both of them together. For whatever reason, it's happening."
—
RECENT INDY LIGHTS CHAMPS, WINNERS LOOK TO MOVE UP FULLY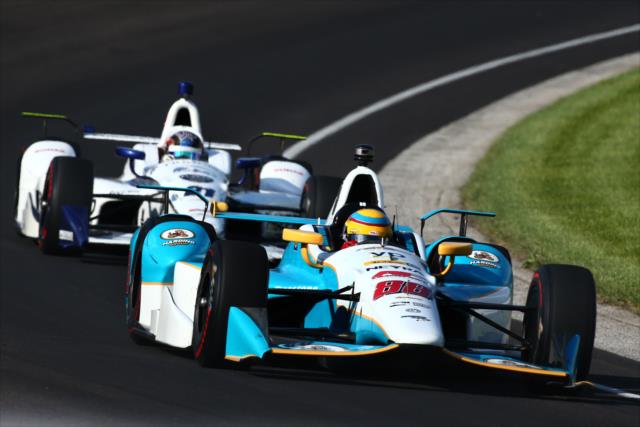 Chaves has the most official success in IndyCar among the champions from the last few years. The Colombian American parlayed the 2014 Indy Lights title into both the series and Indianapolis 500 rookie-of-the-year honors in 2015, and might have won at Pocono had it not been for an engine issue driving on a shoestring budget for Bryan Herta Autosport. But financial pitfalls hit before 2016, leaving him scrambling for a ride and then left to watch as Alexander Rossi won the Indy 500.
Now with series debutante Mike Harding, Chaves says this is another great opportunity for him to continue and show he – and the team – belong.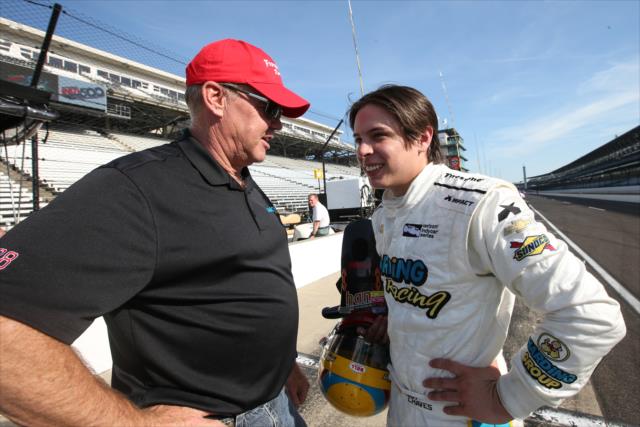 "It's huge… it's what it's all about, right?" Chaves said. "It's about keeping the sport going, getting some new faces in it. There are definitely a lot of guys who can stick around and be here for a while."
Veach, one of Chaves' closer friends and fellow IndyCar two-seater driver, makes his Indianapolis 500 debut in a third car for Foyt. The journey's been harder for him and Harvey, perhaps, as they didn't win an Indy Lights title and the Mazda advancement scholarship that goes with it. But it hasn't stopped him from pursuing his dream.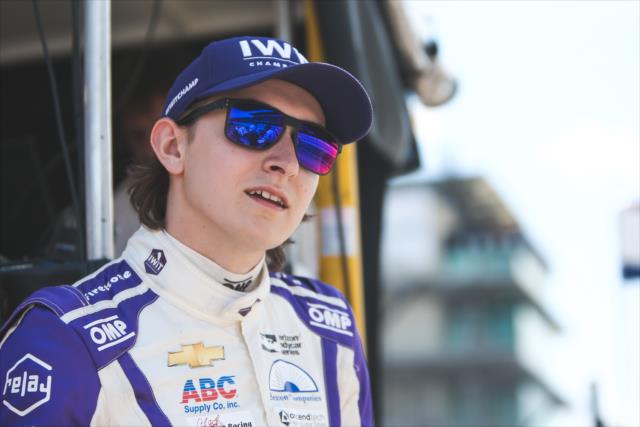 "When I talked to AJ Foyt Racing, one of the first things they mentioned was my drive at Road America last year, when I won with a car that wasn't handling that great, and my dominant win at Watkins Glen," Veach explained. "I think that showed them a spark of what I can do and that's what the Mazda Road to Indy has made easy. You have the confidence to walk up to teams because they're familiar with your past and your lifestyle."
Harvey, like Veach, came up just short of an Indy Lights title. Chaves beat him to the 2014 title on a tiebreak and then in 2015, Harvey's fast start faded down the stretch as Pigot and Jones closed stronger. Nonetheless, he's happy to be back in a seat after it's been nearly two years since his last start, in Michael Shank Racing with Andretti Autosport's car.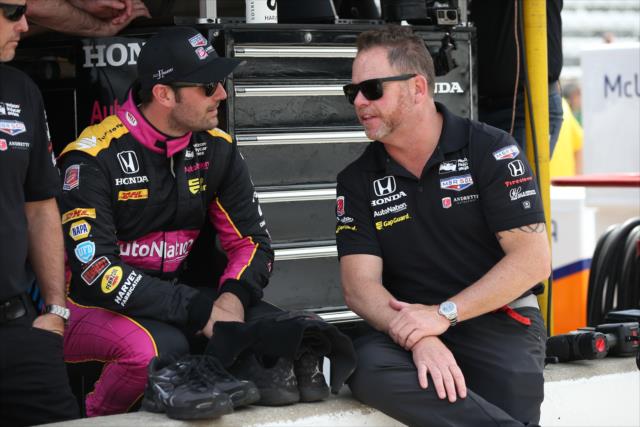 "The ladder we all know rewards winning," Harvey said. "For people like Zach and I especially, we did everything right to win, but the cards didn't fall our way. It reflects on us as people, how hard we've worked to get here. We've kept grinding and got the opportunities we have."
—
THE FACTORY SPORTS CAR STAR AND YOUNG CHARGER BACK AGAIN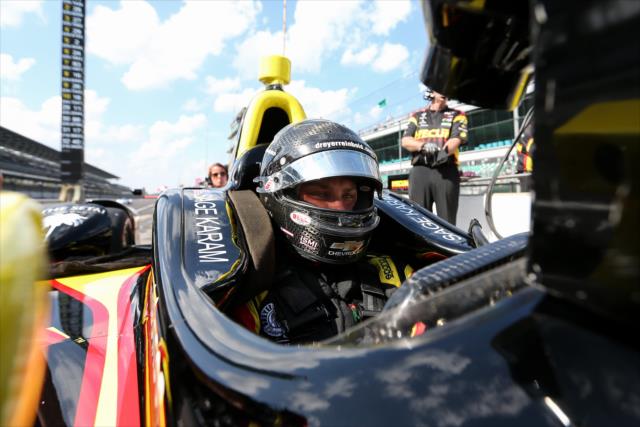 Karam won both the USF2000 and Indy Lights titles and has been trying to stick full-time in IndyCar for four years. Now a factory driver for the 3GT Racing Lexus RC F GT3 in the IMSA WeatherTech SportsCar Championship, Indianapolis is always a welcome comeback for the 22-year-old out of Nazareth, who prepares for his fourth '500 as the youngest driver in the field, with Dreyer & Reinbold Racing.
"It feels good to have some races under my belt with Lexus and Scott this year including the Daytona 24, Sebring, Long Beach and COTA," said Karam. "I feel that doing those races has made me more relaxed behind the wheel coming to Indy. Last year, without some racing before Indy, I thought I got too anxious in the 500 when I was towards the front. I really wanted to lead the race."
—
Many of the names mentioned in this piece aren't household names yet. But they are all drivers in their 20s who have potential staying power for years to come.
Supplanting the veterans isn't something that comes easily, but given what Josef Newgarden has accomplished with time, breaking into the top-five in points and winning multiple races as he's into his sixth season now, and has arrived at Team Penske at age 26.
None of the other recent graduates have more than three years experience in IndyCar. But they're working towards that point, and Sunday's race provides a great shot where an unheralded name or two emerges on a national stage.