INDIANAPOLIS – Persistent rain threatened to halted all track activity Thursday for the Indy Lights Presented by Cooper Tires, before efforts to dry the track came good later on Friday.
But once qualifying occurred, Matheus Leist secured the pole for the marquee race of the Indy Lights season, Friday's Freedom 100 (live, 12 p.m. ET, NBCSN).
The Freedom 100 has a knack for throwing up surprise polesitters – Ethan Ringel and Ken Losch immediately come to mind – and Leist, the Brazilian rookie in his first-ever oval start, now joins that list.
Leist, driver of the No. 26 Carlin Dallara IL-15 Mazda, looked a promising prospect after posting the first official lap over 200 mph in series history, a tow-assisted lap of 201.032 mph (44.7690 seconds), and also the best no-tow speed of 199.354.
He backed up with laps of 199.268 and 199.128, respectively, for a new two-lap record of 199.198 mph. The previous mark was held by Ringel, in the first year of the new car in 2015, at 197.684 mph.
Despite seven other drivers that took their shot to beat him, none did. Colton Herta came the closest with a two-lap average of 198.648 in the No. 98 Andretti/Steinbrenner Racing entry.
Two more of Herta's Andretti Autosport teammates posted excellent qualifying runs. Dalton Kellett, who was third here last year in what stands as his best Indy Lights finish to date, will roll off from the same position in his teal-and-white No. 28 car, while rookie Ryan Norman will start alongside in the No. 48 Andretti Autosport entry, keeping up his strong weekend.
Zachary Claman De Melo completed the top five in the second of four Carlin entries, while Aaron Telitz upheld Belardi Auto Racing's honor with sixth on the grid.
While Herta enters Friday's race third in points, 18 behind the top two, neither Kyle Kaiser (Juncos Racing) nor Nico Jamin (Andretti Autosport), had good qualifying runs.
With speeds of 196.058 (Kaiser) and 195.661 (Jamin), they'll roll off from positions 11 and 13 in the 14-car field.
Here are your qualifying speeds and provisional starting lineup for Friday.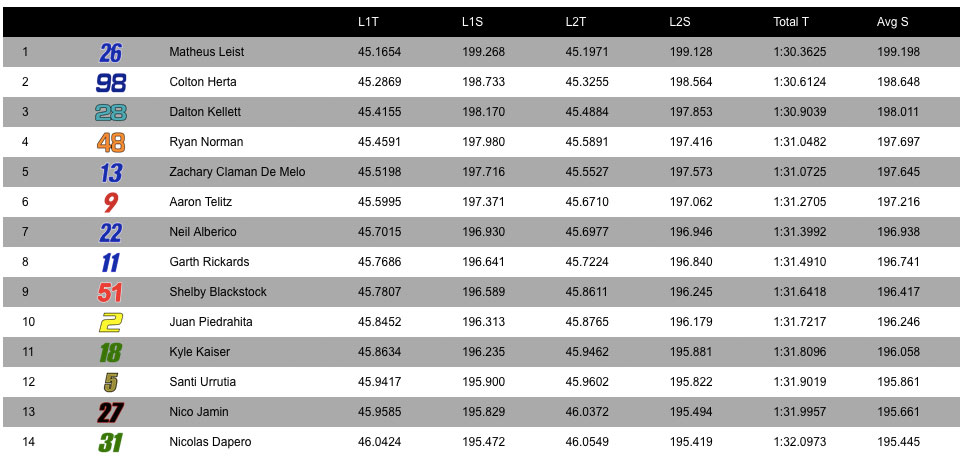 Prior to qualifying, the Indianapolis Motor Speedway crew got the track dry in time for a 20-minute practice, which Leist also led.
As you can see below, drivers spent the rain delay trying to make due of things.
The points standings heading into tomorrow's race are below:
1. 18-Kyle Kaiser, 139
2. 27-Nico Jamin, 126
3. 98-Colton Herta, 121
4. 22-Neil Alberico, 103
5. 9-Aaron Telitz, 97
6. 26-Matheus Leist, 89
7. 5-Santiago Urrutia, 87
8. 13-Zachary Claman De Melo, 87
9. 51-Shelby Blackstock, 80
10. 31-Nicolas Dapero, 75
11. 48-Ryan Norman, 71
12. 28-Dalton Kellett, 64
13. 2-Juan Piedrahita, 55
14. 11-Garth Rickards, 54