INDIANAPOLIS – Helio Castroneves has led the final one-hour practice session ahead of the 101st Indianapolis 500 presented by PennGrade Motor Oil, in the No. 3 Shell Fuel Rewards Team Penske Chevrolet, but it's a Honda that made the bigger news during the extended session.
Another Honda engine issue – at least the eighth this month between the INDYCAR Grand Prix, practice and qualifying – now struck James Hinchcliffe during the final 20 minutes of the session in the No. 5 Arrow Electronics Schmidt Peterson Motorsports Honda.
Heading into Turn 3, Hinchcliffe's gold and black car took on a distinctly white hue by contrast, as smoke billowed out the back of the car. It littered the track between Turns 3 and 4.
Yet as Hinchcliffe, the 2016 race polesitter explained to NBCSN's Katie Hargitt, the timing was as good as it could have been considering had it happened later it would have been in the race itself.
"I felt what the engineers would call a suboptimal rapid negative acceleration heading into Turn 3," Hinchcliffe told NBCSN. "We've had some issues across the Honda camp. It's less than ideal.
"I felt bad going into 3. I hope we weren't leaking too badly. I'm happy it didn't happen 20 minutes later, that would have been Lap 5 of the race. We'll get an engine, we'll put it in. But that was by far the best we've felt on the 5 car all month. Let's put this thing to bed. The car feels really good in traffic."
Hinchcliffe will start 17th on Sunday. He ended his truncated practice in 14th.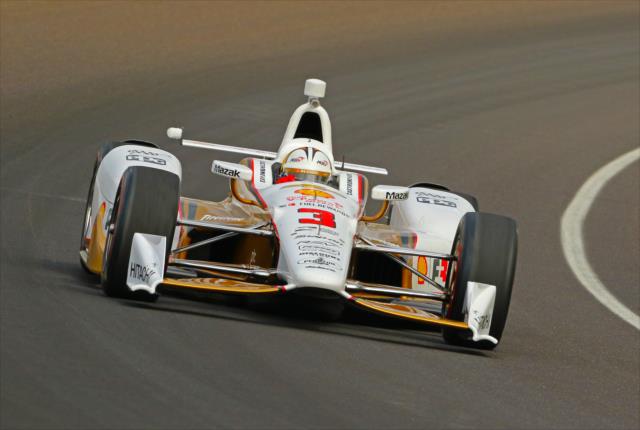 Behind another gold car – the gold-and-white No. 3 car of Castronves – Takuma Sato and Tony Kanaan completed the top three, with Scott Dixon and Fernando Alonso completing the top five.
Speeds are below.