A trio of new teams (Harding Racing, Juncos Racing, and Michael Shank Racing, in a joint effort with Andretti Autosport) debuted at the 101st Indianapolis 500 presented by PennGrade Motor Oil. Expectations for such outfits are usually humble and rarely do outsiders, or even insiders, predict such efforts to run up front.
And yet, at the checkered flag, one of those teams emerged in ninth place, a top-10 finish in its IndyCar debut.
Harding Racing's No. 88 Chevrolet, in the hands of Gabby Chaves, had never run a race before, let alone an IndyCar race, and let alone an Indianapolis 500. However, they survived the carnage and chaos that defined the day to finish in the top-10, dramatically exceeding expectations.
Chaves was competing in his third "500," two years after winning rookie-of-the-year honors with a 16th place for Bryan Herta Autosport. He labeled this race as mission: accomplished.
"I think we did our job. We took the race one lap at a time. We let the track and the conditions come to us and we dialed in the No. 88 Harding Racing Chevrolet car every stop," Chaves said. "We had a heck of a stint there. I think we were one of the only cars being able to make moves out there and got into a solid top ten for our first go as a team."
Fellow debutante Juncos Racing, too, excelled in their own right. While their runs to 15th (Sebastian Saavedra) and 18th (Spencer Pigot) were unspectacular, the reality is that both cars made it to the finish, with Saavedra finishing on the lead lap, a noteworthy performance for a team making its first IndyCar start.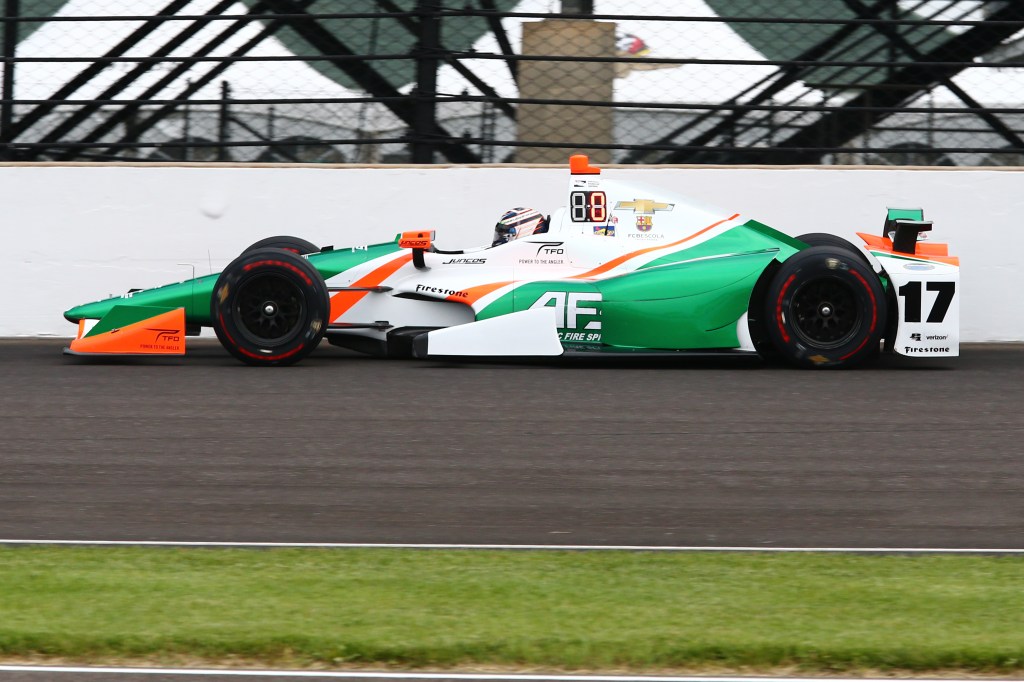 Saavedra, like Chaves, said the team accomplished everything it wanted to. "We accomplished the mission we started less than two months ago," he asserted. "To finish this first Indy 500 with both cars intact is a victory of its own. I'm very proud of the whole organization for putting in such a professional effort. It was rough out there. We were not as competitive as we wanted, but hey, that's something that is expected your first time out."
Teammate Spencer Pigot endured a more difficult race in his No. 11 Chevrolet, which the team scrambled to repair ahead of qualifying after a practice crash. As Pigot described, something was still off with the car (he was nearly lapped at the end of the opening stint) and he and the team were fighting it the entire day.
"I think there's still something I'm missing or something's gone away with the car since the (practice) crash. It never really felt right and it was just very difficult to drive, but we fought through a tough day. We didn't give up. The guys kept working hard and I can't thank them enough for the recovery and for putting this all together," Pigot detailed.
Michael Shank Racing, the third team making its Verizon IndyCar Series debut, endured the most challenging race of the three new teams. For them, it was a race that concluded a difficult month riddled with problems, which began with a foreboding and bizarre steering failure that resulted in wall contact during opening day practice for driver Jack Harvey.
Harvey and Michael Shank's No. 50 Honda team were enjoying a solid race until Conor Daly's lap 65 crash in Turn 3. Harvey hit debris from the accident and spun into the inside wall between Turns 3 and 4. It ended a difficult month for a driver and team who truly made a herculean effort to field an entry.
"It's a super disappointing day because we worked so hard to get here so to have the day end like this is heartbreaking," Harvey lamented afterward. "Everyone is trying to slow down so quickly and trying to then dodge the debris. I was slowing down and trying to avoid everything so I don't know what else I could have done at that point."
Still, Harvey was enthusiastic to simply have a chance to compete. "This was still the best experience I've ever had," he asserted. "The Indianapolis 500 represents so much in the state of Indiana and to the racing world, but it just didn't go the right way for us today."
Of those three, Harding Racing is the only one scheduled to run more IndyCar races this year. They will return for the Rainguard Water Sealers 600 at Texas Motor Speedway on June 10 and the ABC Supply 500 from Pocono Raceway on August 20.
Juncos Racing will continue with its efforts in the Mazda Road to Indy Presented by Cooper Tires, where it has drivers currently atop the championships in both Indy Lights (Kyle Kaiser) and Pro Mazda (Victor Franzoni).
Michael Shank Racing will continue its Acura NSX GT3 program in the GTD class of WeatherTech SportsCar Championship, resuming next weekend at Detroit.