Editor's note: Sage Karam, 3GT Racing Lexus driver in IMSA, a past Indy Lights and USF2000 champion and Verizon IndyCar Series podium finisher, will file a series of blogs for NBCSports.com this month for a second straight year (2016 archive here).
Here's his fifth and final entry, as he recaps Sunday's 101st Indianapolis 500 presented by PennGrade Motor Oil, where an alternator problem forced him into an early retirement.
You can read his first, second, third and fourth blogs of 2017 here. He'll run the No. 24 Mecum Auctions Chevrolet for Dreyer & Reinbold Racing, in partnership with Kingdom Racing. 
—
Hi again, it's Sage Karam after the running of the 101st Indianapolis 500.
Well, the race didn't go as we wanted Sunday at the greatest race track in the world.
I was hoping to get to the finish but our No. 24 Mecum Auctions DRR Chevy had an alternator let go and the engine just stopped on lap 125. Not much I or the Dreyer & Reinbold Racing team can do much about that. Just some tough luck.
This was my fourth Indy 500 and I was still the youngest driver in the field at age 22. But I felt so much calmer and not as anxious as in previous years. Don't get me wrong, it's the biggest race in the world and every driver is anxious for the start.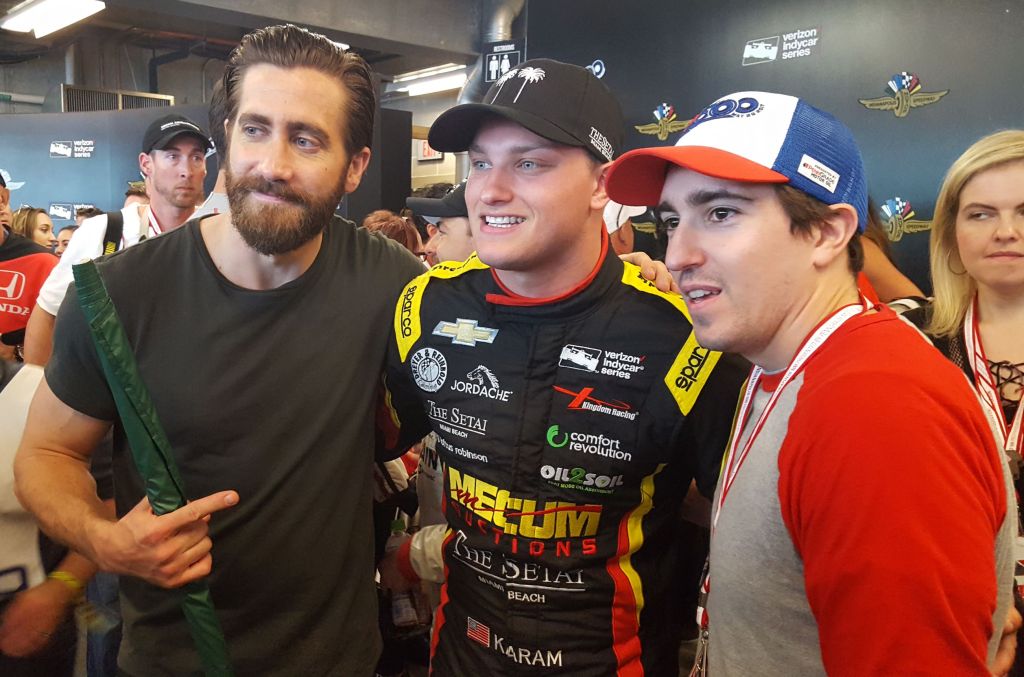 But I felt we would be more calculated with our strategy and my decision-making early in the race. And that is what happened for me. I wasn't going to put myself in a bad spot in the early portions of the race. I was more conservative than I had ever been in the 500.
Unfortunately, things started off a little rough for us when we had a radio problem. I could hear the pit box and the spotters in the corners but they couldn't hear me. So, we had to work on a code to communicate with each other on the fly. Just keying up the radio for yes or no and turning fuel mixture switch for more wing, less wing, rear wing and front wing. It was kind of sketchy out there but we were doing okay. We were running inside the top 15 and the top 10 shortly but something was killing the battery in the car and killed the radio.
So, an electrical gremlin put us out of this one. The car was really good all month. It's a shame – the DRR boys, Mecum Auto Auctions put together a great car this month. It's tough to see it go down like that. But that's racing. The beauty of this place is it makes you want to come back more and more because you go through all these hard times. You just want to win. So, after I get back to the DRR garage, I was cheering on Fernando Alonso because I'm a big fan of his. But he had trouble too.
With the alternator letting go, there is nothing we can do. It's unfortunate, but that's what happens here. These times are tough, but it'll make the triumph much better in the future. I thought we ran a smart race.
A lot of people were doing risky things out there. I backed out of about four or five situations that could have caused a big crash. My plan was to get into the top-10 by lap 150 or so. We were moving up the field and the race car was good.
To be honest, we didn't have the straightaway speed. I used hand signals during the yellow flag period to try to explain to the crew what I needed. I pointed to the back of the car to adjust the rear wing for my straight-line speed. I thought the race car was pretty good overall though. I could pass in several areas. But some of the guys were doing some wild moves.
I played it conservative around many of them. I'm not going to point out some of the them by name, but it was downright scary in certain places. I thought there were going to a bunch of big wrecks if that stuff continued.
Speaking of wrecks, I was so thrilled to see my friend Scott Dixon jump out his race car after that wild crash. Scott is one of the best drivers in IndyCar history and truly one of the nicest guys too. That was a scary wild for Dixey. I will be so glad to talk with him at the Indy 500 Awards banquet. And was so happy that Sebastian Bourdais was back at the track for the race too. His crash was so nasty and it could have been a lot worse.
As a racing driver, you know you have risks. And then you see those crashes and how the safety equipment on the cars and at the tracks save people. I'm proud of the safety developments which have been made in our sport. And you see crashes like Scott and Seb's and know those safety developments have made a big difference.
Well, I enjoyed this year's Indy 500 experience and just wish it could have finished up better. But that's racing. I'll plan to be back again in 2018. Now, it's off to the streets of Belle Isle for the IMSA WeatherTech Sports Car Championship race, I'll be racing in the Lexus sports car for 3GT Racing.
Thanks for reading my thoughts this month and we'll plan to do it again next May.