American Connor De Phillippi has claimed arguably his biggest win yet on an international stage, as part of Audi Sport Team Land's triumph Sunday in a chaotic and intense Nürburgring 24 Hours, as only the second American in the event's history to do so (Boris Said in 2005 with BMW).
De Phillippi joined with Christopher Mies, his fellow co-champion in last year's ADAC GT Masters, Audi veteran and ace Markus Winkelhock and Kelvin van der Linde to spring a surprise victory on the field after recovering from what appeared to be a victory-killing unscheduled pit stop in the 22nd hour thanks to a sensor problem on top of that also halted their progress, despite leading 125 laps.
But a late call to switch to rain tires with two laps to go on the full Nordschleife, so with more than 25-plus miles to go, proved an inspired one.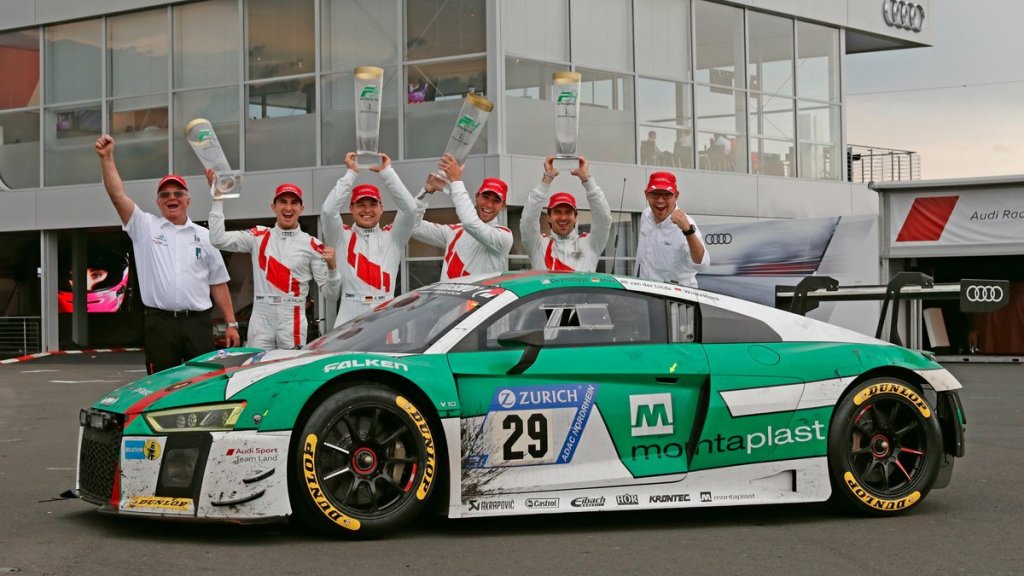 As van der Linde regained the lead on the wet track, it brought the No. 29 Audi R8 LMS back to the front of the field. This is De Phillippi and van der Linde's first Nürburgring win, the second for Mies and third for Winkelhock.
"As soon as I started checking my trusty little weather app, it started looking like there may be rain at the very end. So we put the rain tires in the tire warmers and I don't want to say prayed for rain,  but we were prepared for it," De Phillippi told Sportscar365's James Newbold; a further Double Stint Podcast featuring a longer interview with him is linked here.
De Phillippi added to DailySportscar's Stephen Kilbey, via RACER.com, "When you come to Europe, you're off the map for most of the U.S. media and motorsport press. They don't realize that there's a lot of big races over here. To pull this off is by far the biggest accomplishment of my career."
It's a major accomplishment for the 24-year-old out of San Clemente, Calif., who was one of open-wheel racing's more promising young drivers through 2012, and has since become one of the most successful Americans racing abroad in the five years since.
Nürburgring's 24 Hours, for comparative purposes, is the GT3 equivalent of the 24 Hours of Le Mans. A grueling test of endurance, strength and determination at the incredibly difficult track, mastering it is one of the hardest things you can do and winning makes it extra special.