Three race weekends are in the books for Pirelli World Challenge's SprintX format in 2017 and the results have been mixed, both on-track and procedurally, at times. The SprintX – for GT – serves as headlining act among all of PWC's classes, which also includes GTS and three Touring Car classes (TC, TCA, TCB).
In the last two weeks, the series has headed to Canadian Tire Motorsport Park and Lime Rock Park for what was meant to be two back-to-back doubleheaders.
However the second race at CTMP was scrapped owing to heavy rain and poor track conditions; a replacement round has not yet been scheduled, but there are still two more SprintX weekends to come at Utah Motorsports Campus (August 12-13) and Circuit of The Americas (Sept. 2-3). From a release:
—
Per PWC series chief steward Peter Roberts, the historic 2.458-mile, 10-turn road racing circuit had standing water around the racing surface including two sections of running water due to the constant rain system traveling through the Ontario area.
"The rain system was just too heavy to run the SprintX cars under safe conditions," said Greg Gill, CEO and president of WC Vision, producers of the Pirelli World Challenge. "We will determine the makeup date and location in the near future.  We want to thank the racing fans who came to CTMP this weekend for their support.  We look forward to returning to CTMP in 2018."
—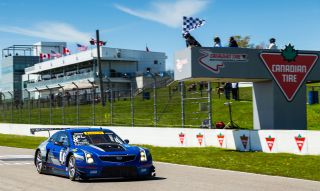 Alas, in the first CTMP race, Cadillac played a strategic spanner to perfection under yellow flag conditions. The No. 8 Cadillac Racing Cadillac ATS-V.R of Michael Cooper and Jordan Taylor pitted to switch drivers under a yellow, but where the pace car came out, it picked up the second placed No. 58 Wright Motorsports Porsche 911 GT3 R of Patrick Long and Joerg Bergmeister instead, and the Cadillac had nearly a lap lead as a result. PWC later updated the yellow flag protocol, per Sportscar365.
Lime Rock was a bit more straightforward with the Wright Porsche in the hands of Long and Marc Lieb, in at a one-off weekend with Bergmeister racing at the 24 Hours of Nürburgring, winning the first race in dominant fashion.
However in race two, that Porsche and the No. 2 CRP Racing Mercedes-AMG GT3 (Ryan Dalziel and Daniel Morad) got speared by the No. 31 TR3 Racing Ferrari 488 GT3 (Daniel Mancinelli and Niccolo Schiro) immediately after the start. That Ferrari has had a number of controversial incidents with other cars this season and this only continued that streak; this one triggered a stop-and-go penalty.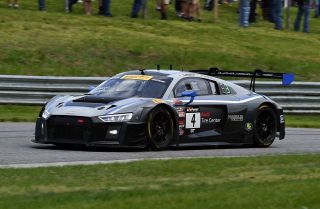 A second straight one-off lineup of Spencer Pumpelly and Dane Cameron delivered Magnus Racing a popular victory on Saturday in their No. 4 Audi R8 LMS, and for Cameron, completed a day where he won two races in two classes. Cameron also returned to his former team Turner Motorsport and won a TC race in a BMW 235i. He was with Magnus, and subbed for Pierre Kaffer, also on Nürburgring duty. John Potter's Magnus team has had a number of heartbreaks at Lime Rock over the years but won in IMSA GTD there last year, and now has a PWC win at the track on its record.
So in five SprintX races, there have been five different overall winners from five different manufacturers, with three of those five lineups not competing in the full season:
VIR: Race 1: 31-Mancinelli/Montermini (TR3 Ferrari)*; Race 2: 2-Dalziel/Morad (CRP Mercedes)
CTMP: Race 1: 8-Cooper/J. Taylor (Cadillac)
Lime Rock: Race 1: 58-Long/Lieb (Wright Porsche)*; Race 2: 4-Pumpelly/Cameron (Magnus Audi)*
*Montermini only raced VIR; Lieb and Cameron only scheduled to race Lime Rock
The provisional SprintX GT points are linked here. The Sprint points, since the last race at Long Beach, are linked here.
Elsewhere in PWC:
Rodrigo Baptista delivered the new-look Porsche Cayman GT4 MR its first two wins in PWC with Flying Lizard Motorsports at Lime Rock, in GTS. The first one came after edging the impressive Ian James in the new Panoz Esperante Avezzano by 0.178 seconds, while the second came after James incurred an engine failure. Baptista's wins extend the legacy of the team at the track, who note: "From 2004 to 2013, Flying Lizard never finished outside the podium, earning six wins in the ten races. With drivers Rodrigo "Digo" Baptista and Nate Stacy, the Lizards celebrated two more wins and an additional podium finish to add to the record, marking the first Pirelli World Challenge GTS win for the California-based team."
Baptista's is the fourth straight weekend sweep in GTS to kick off the year, in the fourth different type of car, for the fourth different team. Jade Buford swept the GTS weekend for Jon Mirachi's Racers Edge Motorsports in the SIN R1 GT4 at CTMP last week. Prior to that, Nico Jamin swept at VIR in Alain Nadal's ANSA Motorsports KTM X-BOW GT4, and sports car veteran Andrew Aquilante swept St. Petersburg for his small, family-run Phoenix Performance team in the venerable Ford Mustang Boss 302. Oddly, it's been Blackdog Speed Shop's new Chevrolet Camaro GT4.R that is yet to break through and join the GTS winners group.
Standard sprint races weekends come next, at Road America and Mid-Ohio in the next couple months. SprintX is off until Utah in August.