A four-race and two three-race win streaks are on the line heading into this weekend's Chevrolet Sports Car Classic, Round 5 (for Prototype and GT Daytona) and 4 (Prototype Challenge) of the 2017 IMSA WeatherTech SportsCar Championship season in the second of two knock-down, drag-out, 100-minute street fights this season.
For IMSA, which produced a barnburner of a Saturday afternoon in Long Beach a little more than a month ago where nearly all of the 35 cars entered had a ridiculous story to tell the last time the series hit the streets, going for a cleaner race Saturday must be the goal.
Meanwhile last-time out at Circuit of The Americas, other than a catastrophic first corner that took out most of the GT Le Mans class field, it was a pretty straightforward race that ended with similar winners – the No. 10 Konica Minolta Cadillac DPi-V.R, No. 38 Performance Tech Motorsports Oreca FLM09 and the No. 33 Riley Motorsports-Team AMG Mercedes AMG-GT3 in the P, PC and GTD classes.
It's those three cars that will be under the microscope this weekend on the streets of Detroit, as they look to extend their streaks, or finally got toppled.
The Taylor brothers, Jordan and Ricky Taylor, have enjoyed a stratospheric and amazing start to the season with four wins in four completely different types of races – the Rolex 24 at Daytona, Mobil 1 Twelve Hours of Sebring, BUBBA burger Sports Car Grand Prix and Advance Auto Parts SportsCar Showdown – at race lengths of 24 hours, 12 hours, 100 minutes and the standard two hours, 40 minutes.
All the while, they've done this thanks to incredible preparation from the Wayne Taylor Racing crew, and in spite of several Balance of Performance adjustments assessed by IMSA that have been designed to level the playing field. The Cadillacs got hit again going into Detroit this weekend, with a 0.6mm smaller air restrictor and 2-liter reduction in fuel capacity with other aero reductions also outlined.
It may not matter. The Taylors are riding a ridiculous amount of form both this season and in street course races in IMSA.
At Detroit alone, the Taylors have won in 2016 and 2014, and with Long Beach wins in 2015, 2016 and 2017, their street setup has clearly been dialed in despite this year's switch from the now retired Corvette DP to the Cadillac DPi-V.R.
With the four-for-four start to the year, the Taylors also hold a 22-point lead over Christian Fittipaldi and Joao Barbosa, the past champions in the No. 5 Mustang Sampling Racing Cadillac who have looked fractionally off by comparison to the Taylors this year. Either they, or defending champions No. 31 Whelen Engineering Racing with Dane Cameron and Eric Curran, will look to get the Action Express team on the board this year, this weekend. Cameron and Curran scored their first win as teammates here in miserable conditions in 2015.
Among the others in Prototype, the No. 85 JDC-Miller Motorsports Oreca 07 Gibson has thoroughly impressed with the pro/am driver pairing of Stephen Simpson and Misha Goikhberg. On the strength of four top-fives in as many races, there's been a shift in goals here for the new team in Prototype class – podiums are now the goal rather than a dream as might have been thought earlier this year. A year ago here, the team combined its own PC chassis with one from BAR1 Motorsports to even make the race and score points; they must be hoping for a simpler outing this weekend.
The Mazdas also have a story to uphold, having scored podiums in its last two street races. The previous generation Lola Multimatic based chassis scored the Mazda Motorsports' team's first Prototype podium in Detroit last year and the new Mazda RT24-P scored its first podium at Long Beach earlier this year.
The pair of Tequila Patron ESM Nissan Onroak DPis, No. 90 VISIT FLORIDA Racing Riley Mk. 30 Gibson and No. 52 PR1/Mathiasen Motorsports Ligier JS P217 Gibson cars, the latter with Tom Kimber-Smith listed to return after missing COTA, complete the grid.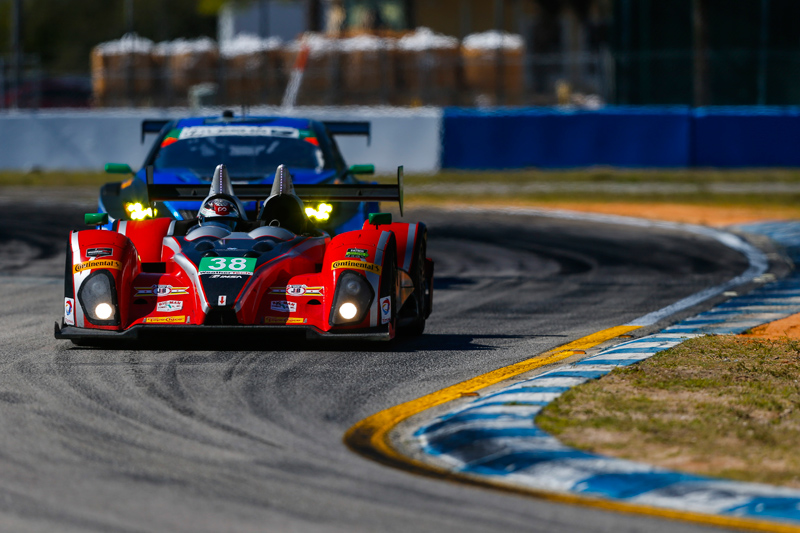 Performance Tech's wins with the young pairing of James French and Pato O'Ward have been perhaps overshadowed. Like the Taylors, they've won at Daytona, Sebring and COTA, and now head to their shortest race of the year. Against the pair of BAR1 cars, it's hard to see Performance Tech losing its grip on the top – although strange things can happen on these streets.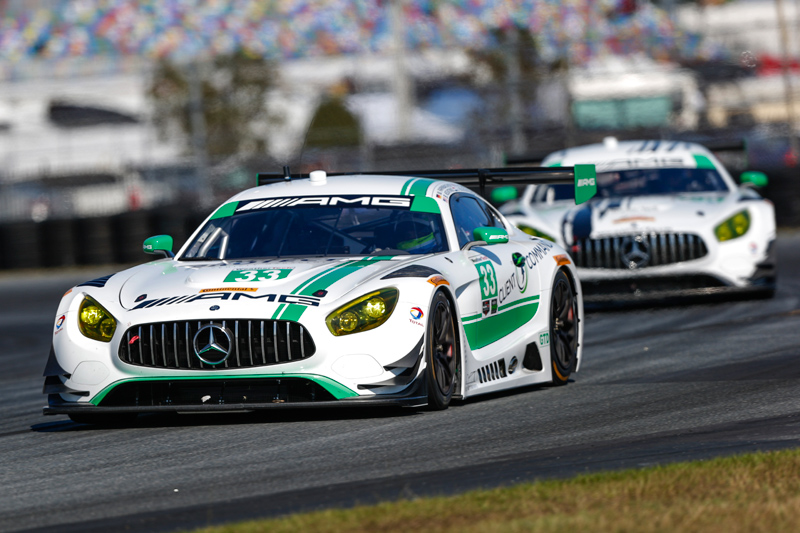 In GTD, the Riley Mercedes of Jeroen Bleekemolen and Ben Keating has won two of the last three races with teammates Cooper MacNeil and Gunnar Jeannette having played a strategic spanner to perfection in Long Beach making it three in a row for the Mercedes-AMG GT3.
With a weight increase and an air restrictor decrease assessed going into Detroit, however, Mercedes will have work on its hands to keep that streak alive with either its No. 33 or 50 cars, or the No. 75 SunEnergy1 Racing Mercedes-AMG GT3, led by Tristan Vautier, who's done well at the track in IndyCar.
Scuderia Corsa has been on the podium three straight races but not yet won this year; the engine issue that struck Christina Nielsen and Alessandro Balzan at Daytona looms large. But knowing this is the defending champion entry, the No. 63 Ferrari 488 GT3 should be one to watch. They enter this weekend 24 points behind Bleekemolen and Keating in the championship.
Daniel Morad is also entered with Mathieu Jaminet in the No. 28 Alegra Motorsports Porsche 911 GT3 R, in what remains a race-by-race program. At third in the points, this is a pivotal weekend for Morad to get a big result and justify the expense to continue. Right now, the program is confirmed through Watkins Glen but a question mark from there.
Michael Shank Racing, of note, comes to Detroit after its maiden Indianapolis 500 voyage with Andretti Autosport and Jack Harvey. They're back to work on their usual Acura NSX GT3s and a year after they were teammates here in a Prototype, Ozz Negri and Katherine Legge are split. Sage Karam, too, comes to Detroit after Indianapolis, back in his 3GT Racing Lexus RC F GT3.