If you don't make it in racing as a driver, there are plenty of other ways to stay involved with the sport. Many drivers who went from karting up the open-wheel ladder but made it short of IndyCar work in coaching and others have business ventures that see them in several layers of the sport.
The "layer" pun here is intentional to introduce Steve Welk, who was a star karter and a promising young driver out of Wisconsin. After moving out of driving, Welk's carved a successful career in apparel with Styled Aesthetic (outfits and apparel in both the open-wheel and sports car worlds) and as a driver coach (Linear Sport) and spotter, working most notably with fellow Wisconsinite Aaron Telitz.
Telitz won last year's Pro Mazda Championship Presented by Cooper Tires title with Team Pelfrey, and the two have moved up the ladder into Indy Lights Presented by Cooper Tires this year thanks to support from Mazda. Welk also spots annually for Pippa Mann at the Indianapolis 500. This year, Telitz finished second in the Freedom 100, and Mann had her best result in six '500s of 17th in the 33-car field, moving forward from 28th in the No. 63 Susan G. Komen Honda for Dale Coyne Racing.
We caught up with Welk – also jokingly known as "Swelk" when the Steve and Welk are combined – for a look into his life in the racing world. Similar behind-the-scenes business of racing stories we've chronicled in 2017 are linked here (JJRD on coaching, Speed Group on racing business development).
—
MotorSportsTalk: Explain the idea and build process behind doing an apparel company. Since you have a racing background, how important is it to 'look the part' from a branding and style standpoint?
Steve Welk: "The creation of Styled Aesthetic was about a year long process between myself and my best friend and now business partner Kyle Werra. Kyle had been screen printing in his basement for pub crawls and family events for about 3 years when we started talking about making that into a proper business. This was in 2008 and I had started to see the writing on the wall that my racing career was not going to go the way I had hoped. In August that year I decided to quit driving and that is when our planning really started accelerating. In November of 2008 we started working with our first race team and we officially incorporated in January of 2009 as Styled Aesthetic.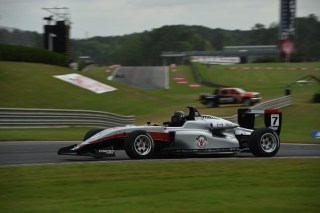 "My racing background plays a huge roll in how we approached our company. While I was still active as a driver I had managed a kart team and later worked with ArmsUp Motorsports (one of our first clients, see right with driver Devin Wojcik) as their marketing person. Those two roles allowed me to spend a lot of time working on the branding of race teams and trying to make sure they had a proper look and how hard it was to maintain that look.
"With motorsports being a very visual sport, having a coherent brand is massive. As we were planning the company we knew Kyle's immense art talent and my branding experience would allow us to come up with really good programs for the race teams and other clients we would eventually work with."
MST: How do you grow a small company through sales/marketing? Is it primarily word of mouth or how do you get the word out a bit more?
SW: "Our sales and marketing approach has always been based on word of mouth and personal sales, especially in the motorsports community. When we first started the company, I sent a blanket email to pretty much every motorsports contact I had in my email list and we rolled from there. The customers that we have developed in motorsports have almost all been from relationships built with people at the track. There are times when I have specific goals in mind of teams to talk to, and other customers have come out of just random conversations I have with people at the track, or now other people recommending us.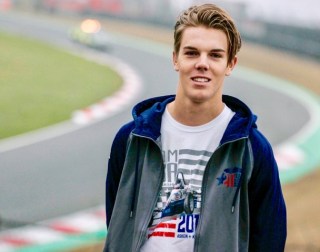 "We have done some very targeted sponsorships as well to help expand our client base. One of my favorite programs is our position as the official apparel provider for the Team USA Scholarship (see last year's one of two winners, Oliver Askew, right). It's a great program to support, as well as helps us make contacts with a lot of the other great companies that support the program. For us, it's all about being at the track and being involved.
"I also learned pretty early on, that if you provide what the client asks for, when they ask for it, you are going to be welcomed back. Knowing the industry like we do, we know when our teams race, where they race, when the test days are and so forth. When we are discussing orders they appreciate we are speaking their language which allows us to follow through on tight deadlines, for the right series at the right events. Through my race coaching and spotting, I am at the racetrack a lot and I am able to talk with our clients on a regular basis so I am able to keep track of what they are doing and what they may need next.
"So short answer is word of mouth, but it ends up being a lot of communication and paying attention to what our teams our doing so we can be ready when they need apparel."
MST: What's your rough number of clients for apparel and your rough number of clients you'll coach for?
SW: "Throughout the motorsports industry we probably have 25-35 teams and motorsports related companies that we work with.
"Our clients span most of the IMSA paddock from the Porsche GT3 Cup (see Wright Motorsports, right) to the IMSA WeatherTech SportsCar Championship. Over the last two years we have expanded to running at-track retail sale programs for four IMSA teams (Tequila Patron ESM, Michael Shank Racing, Stevenson Motorsports and JDC-Miller Motorsports).
"The retail program is managed by my sister Heidi. She joined Styled to run that program, so it's been a lot of fun traveling to races with her again like we did when we were kids going to my kart races.
"In open-wheel we cover the entire Mazda Road to Indy where we supply teams in all three levels. ArmsUp motorsports has been with us since day one, Gregg Borland is a good friend and was a big supporter of idea when Kyle and I first began planning the company, along with Team Pelfrey, Pabst Racing, Exclusive Autosport amongst others.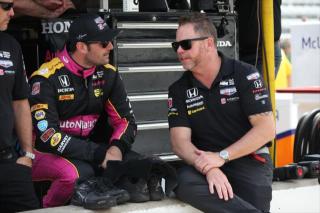 "We had our first IndyCar presence with a team in the Indy 500 this year. Our sports car relationship with Mike Shank allowed us to produce some of his MSR-500 crew apparel. As open wheel has always been my passion, having an Indy 500 team wearing apparel we produced is a pretty cool thing.
"On the coaching side, I currently have about 5-6 clients that I work with throughout the year. I like to keep the number of clients concise to keep me from losing my mind a bit.
"My lead client is Aaron Telitz in the Indy Lights series. Aaron and I started working together at his first car race ever in Skip Barber over 5 years ago. As he has climbed the MRTI or relationship as evolved, so I now act as his manager as well as coach.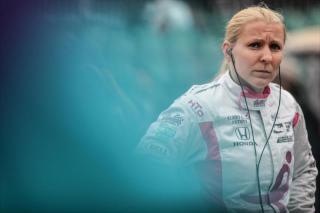 "This year I began working with Team Pelfrey as their Pro Mazda team coach. I was involved with them last year when Aaron won the Pro Mazda Championship and when they moved some people around in their organization and the spot opened up I jumped at the chance to continue to work with the great group of people they have.
"On the sports-car side I work with Wright Motorsports' GT3-Cup team as a consultant on their 5-car program and with the Stevenson Motorsports team as their spotter for the NAEC and any other rounds I can attend.
"And last but not least I came back to the Indy 500 spotting for Pippa Mann for the fourth straight year (right), which I am always excited about."
MST: How do you balance working in so many different series? What are the positives from a business standpoint of open-wheel and sports car worlds?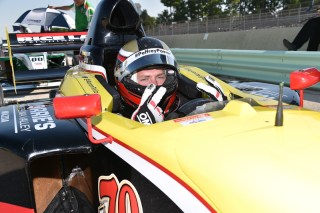 SW: "Running back and forth between all the series is mostly about managing expectations and time. On MRTI weekends when Lights and Pro Mazda are running together, it's all about keeping track of time and prioritizing schedules and which fires need the most attention. On those weekends, it's pretty manic keeping up with it all, but I really like the challenge of working on multiple programs and still doing quality work.
"The teams I work with know that I have different schedules and as long as we are on the same page that way it works out really well.
"Keeping my schedule straight at Styled is probably the most challenging thing. I am on the road for a solid 20-25 weekends, so Kyle takes on a lot of work at the shop to keep up with the demand. As we have grown as a company, that has been our biggest challenge is keeping up with the work load. It seems to be our constant battle, but we have continued to make improvements and we always look how to be better as a company.
"Being involved in both the open wheel and sports car worlds just provide more potential for clients. For Styled, if we keep producing solid work that the teams like, it just allows us to grow our brand through the two different worlds."
MST: After your driving career ended, what piqued your interest in then coaching and apparel afterwards?
SW: "Like most race drivers, I started working as a coach at Skip Barber to pay some bills while I wasn't getting paid to drive race cars. That experience at Skip lead to coaching gigs in karting then back to cars. I look back at it now, had I not tried to coach so much maybe I would have been more cut throat in making it as a driver. At the end of the day I really enjoyed coaching and showed some proficiency at it. When I decided to quit driving and change my focus to coaching it was a seamless transition for me as I had that plan in mind for a few years.
"My interest in apparel grew out of my love of the visuals of racing. Since I was a kid, I always loved looking at the new liveries on the cars when they were released so now working on helping teams finish their branding is pretty rewarding for me.
"The other reason I went this route was my understanding of how fickle working in the racing industry can be. It is a tough sport to make a living at, and having some varied source of income is key to surviving in it. The final reason I wanted to go into this business was the opportunity to have a business partner who was my best friend involved. The joke about Kyle and I is that our skills combined almost make one person and without his artistic ability and our shared drive to make this a success, there is no Styled Aesthetic."
MST: What have been some of your best business successes so far via Styled Aesthetic and Linear Sport?
SW: "The short answer to that is the same in both businesses, we have earned the respect of the industry for what we do. As a driver I was never able to realize my full potential for many reasons, but these two businesses have given me that second chance to earn the respect I wasn't able to as a driver.
"Styled for me is just the number of teams we now work with and how we continue to grow as a company. We have now been in business for seven years and every year we have grown in sales and people. Kyle and I started this company in a 200 square foot area in his basement printing 1 shirt at a time. We now have a 2800 square foot shop with seven employees. It's all still a bit surreal to me.
"On the coaching side, my greatest success has been working with Aaron Telitz on his run up the motorsports ladder. He and I share a similar vision about life and motorsports and have grown into really good friends over our time working together.
"Winning the Pro Mazda Championship was obviously the tip of the iceberg, so far, especially in the way he won. After the oval race where he finished sixth I think and we were way down to Pato (O'Ward) in the standings, that season could have melted down. But Aaron, the team and myself all really jelled and worked forward. It was one of those seasons that don't come around too often, so you really have to cherish them when they do."