Red Bull Global Rallycross heads to Thompson Speedway in Connecticut this weekend where the points could shift significantly for the first time, as the first of four doubleheader weekends in the 2017 season.
Both Saturday and Sunday races will air at 5 p.m. ET on NBC.
Thus far Scott Speed (Volkswagen Andretti Rallycross) and Sebastian Eriksson (Honda Red Bull Olsbergs MSE) have split the two wins at Memphis and Louisville.
Speed leads the championship by 10 points over teammate Tanner Foust (150-140), but the top seven in points are only separated by 45 in total, from 150 for Speed to 105 for seventh-placed Cabot Bigham of Bryan Herta Rallysport.
Steve Arpin, who sits third in points, has a pair of podiums in the privateer Loenbro Ford and was unlucky to get edged out by just 0.071 of a second last time out in Louisville. He's on 133 points with Eriksson fourth on 129.
In the doubleheader races last year, Foust swept in Phoenix, Arpin and Foust split in Daytona, and Speed and Brian Deegan split in Los Angeles. The MCAS New River weekend was meant to be a doubleheader before the second race of the weekend was washed out, and not rescheduled.
Going back to 2015, the Daytona and Detroit doubleheaders also saw split winners before Speed (Los Angeles) and Foust (Barbados) won the final four races of doubleheaders that season.
All told, that means there's been nine Volkswagen Andretti final round wins as part of doubleheader weekends in the last two years (five in eight 2015 races, four in six 2016 races). The last weekend Andretti did not win at least one race in a doubleheader came at Detroit in 2015, when Ken Block (Hoonigan Ford) and Patrik Sandell (Herta Ford) split that weekend.
At 0.895 of a mile, the Thompson track this weekend is a bit longer than Louisville last race, with just over 35 percent dirt.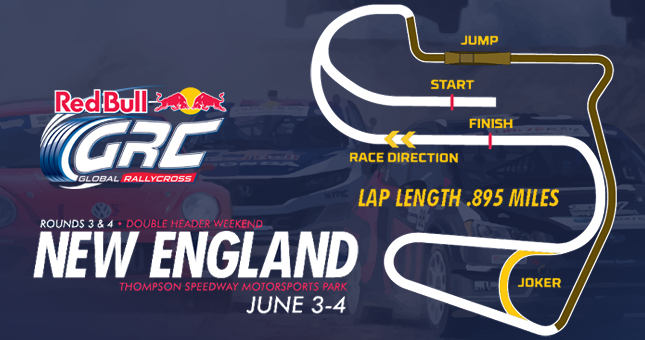 Speed and Foust will look to uphold the Volkswagen Andretti honor in doubleheaders, while Arpin, the Hondas, Subarus or Bigham or Austin Dyne will look to play spoiler.
Points Entering:
1-41-Scott Speed, Volkswagen Andretti Rallycross, 150
2-34-Tanner Foust, Volkswagen Andretti Rallycross, 140
3-00-Steve Arpin, Loenbro Motorsports, 133
4-93-Sebastian Eriksson, Honda Red Bull OMSE, 129
5-24-Mitchell deJong, Honda Red Bull OMSE, 123
6-16-Oliver Eriksson, Honda Red Bull OMSE, 110
7-2-Cabot Bigham, Bryan Herta Rallysport, 105
8-55-Chris Atkinson, Subaru Rally Team USA, 57
9-14-Austin Dyne, Rahal Letterman Lanigan Racing, 54
10-18-Patrik Sandell, Subaru Rally Team USA, 53