Tanner Foust has become the third different winner in as many races to kick off Red Bull Global Rallycross' 2017 season, for Volkswagen Andretti Rallycross, doing so in race one of the Thompson, Connecticut doubleheader.
Foust joins Sebastian Eriksson (Louisville) and Scott Speed (Memphis) having reached the top step of the podium this season.
WATCH: Full Thompson Race One Replay on NBC
The full report from today's race is below. Tomorrow's second race will be at 5 p.m. ET on NBC, as today's was, with Kevin Lee, Anders Krohn and Will Christien on the call.
—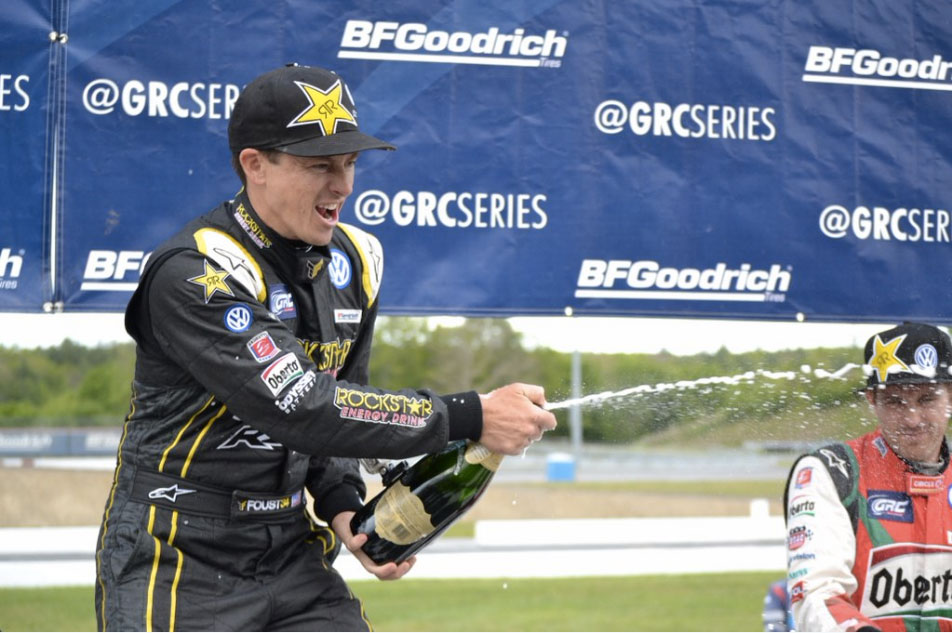 Volkswagen Andretti Rallycross driver Tanner Foust took first place in Round 3 of the 2017 Red Bull Global Rallycross season at Thompson Speedway Motorsports Park, becoming the third different Supercar winner in as many events. The former Supercar champion led a 1-2 sweep over teammate Scott Speed, while Honda Red Bull Olsbergs MSE rookie Mitchell deJong completed the podium.
"On paper, this track looked pretty smooth, but the cars took a beating, so hats off to the VARX team for putting everything together!" said Foust. "In every heat, we were fighting for it. This really is a very cool track—it's a cool piece of American history to come here on the oldest paved oval in the country. Rallycross has been in New England before, but it's taken a bit of a break, so it's nice to see a lot of familiar faces from a few years ago!"
Foust executed a flawless day on Saturday, with the pole position in the morning, three heat wins and a semifinal victory in mid-day, and a flag-to-flag lead in the final. It was his first victory since last September at Evergreen Speedway, and his ninth since joining Volkswagen in the 2014 season.
While Speed found himself shuffled to the middle of the pack at the start, he fought his way back to fourth by the end of the first lap, got around Austin Dyne for third, and then found himself on Mitchell deJong's back bumper. An almighty battle resulted, with the two-time Supercar champion trailing the 2014 GRC Lites champion for much of the race, but the Memphis winner found a way around to trade spaces on the podium.
In GRC Lites, Cyril Raymond became the third different winner of the season, and the second new race winner in as many races, after taking his own win from pole on Saturday. Christian Brooks took second place to become the new points leader, while Travis PeCoy got the best of a wild battle behind them that saw nearly half the field contend for the podium.
Full Supercar results from Red Bull Global Rallycross New England (I) are as follows:
Tanner Foust, #34 Volkswagen Andretti Rallycross
Scott Speed, #41 Volkswagen Andretti Rallycross
Mitchell deJong, #24 Honda Red Bull Olsbergs MSE
Steve Arpin, #00 Loenbro Motorsports
Austin Dyne, #14 Rahal Letterman Lanigan Racing
Patrik Sandell, #18 Subaru Rally Team USA
Chris Atkinson, #55 Subaru Rally Team USA
Cabot Bigham, #2 Bryan Herta Rallysport
Oliver Eriksson, #16 Honda Red Bull Olsbergs MSE
Sebastian Eriksson, #93 Honda Red Bull Olsbergs MSE