Weekends like the one Graham Rahal just had in the Verizon IndyCar Series' Detroit doubleheader, where he swept the two races, don't come often.
In fact, one hadn't come to the 28-year-old from outside Columbus throughout the entirety of his 11-year career, combined between IndyCar and Champ Car, since he debuted as an 18-year-old in 2007.
Add in the fact Rahal witnessed his wife Courtney Force go through a fireball of an accident in her NHRA event in Epping, N.H., but emerge unscathed, and Rahal had the whirlwind of emotions hit like a tidal wave.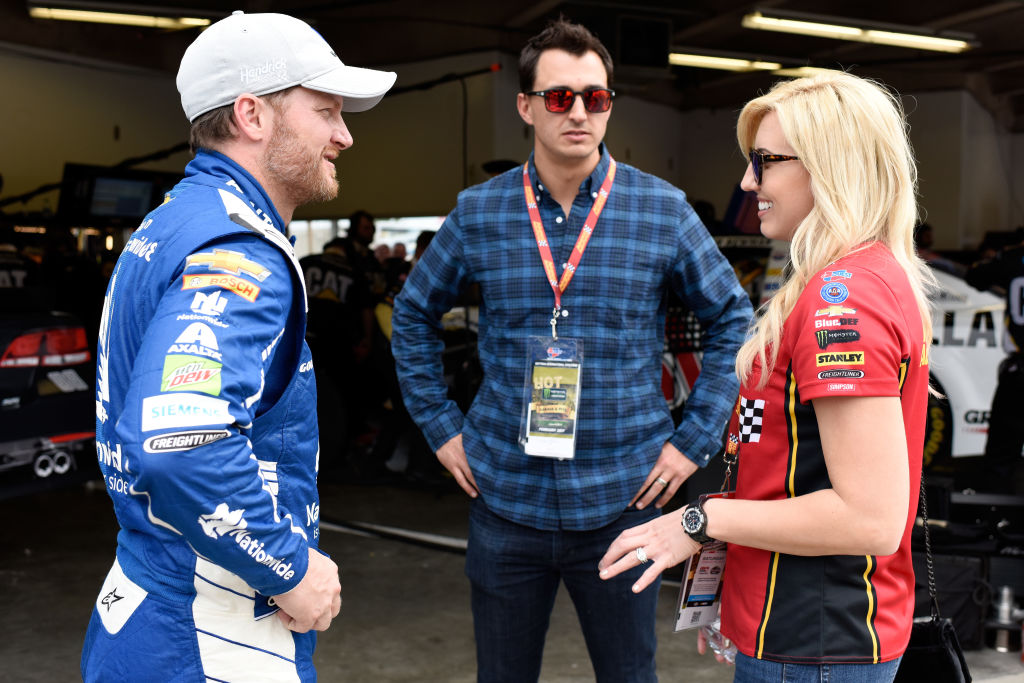 "Contrary to what a lot of people or fans or whatever want to think, it's not cool," Rahal admitted after his first of two wins this weekend on Saturday. "You know, it's nerve-wracking because I see those cars firsthand each and every weekend. There's a lot to be nervous about. There's goods and bads there.
"That's not a very comforting thing because I've seen that scenario before on others. I've never seen that with her. I guess, you know, you probably a lot of times take those things for granted, that it's not going to happen to you, or that the safety has really been improved, when it's really the same as it has been and everything else.
"You know, particularly when it's your wife, it hits home."
That was the scary part of his weekend, but the scarier part for the rest of his competitors in the Verizon IndyCar Series was what Rahal achieved this weekend on track.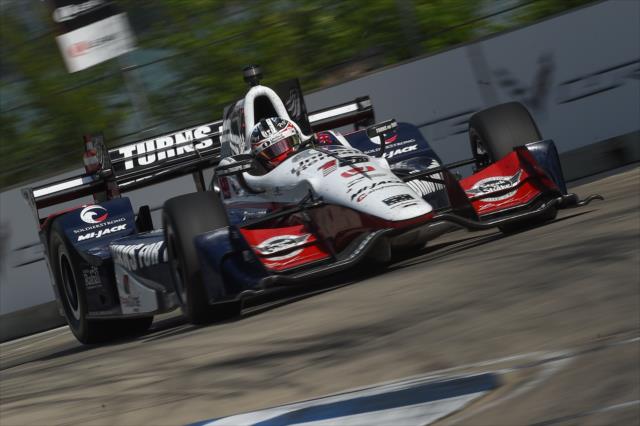 Rahal's overriding emotion was one of elation after the dominance he displayed in Detroit this weekend in the No. 15 SoldierStrong/TurnsForTroops.com Honda for Rahal Letterman Lanigan Racing wasn't sabotaged by anything outside his hands.
He won both races at the Chevrolet Detroit Grand Prix Presented by Lear, a first for the event since the doubleheader format was introduced in 2013, led 96 of the 140 laps (55 of 70 in race one, 41 of 70 in race two), scored the pole for race one and banked all but one of a possible 108 points – with 107 combined points, he moved from 15th in the championship, 101 markers behind leader Helio Castroneves after last week's Indianapolis 500, to sixth, 52 points out (303-251) of Scott Dixon in just one week.
It was a huge weekend for United Rentals' Turns For Troops program as well, which raises money per each lap completed.
The doubleheader sweep was the first by any driver in IndyCar since Dixon at Toronto in 2013, and the first time RLL Racing has won back-to-back races since Kenny Brack at the Motegi and Milwaukee ovals in the 2001 CART season… when Rahal was 12 years old.
With a tremendous setup off the truck thanks to the engineering staff and the rest of the crew, Rahal's swagger bordered on overconfidence, but he knew from the off he had a damn good race car, perhaps the best of his career.
It seemed Rahal's presence in the media center for press conferences this weekend was as ubiquitous as his status being No. 1 on the timesheets.
"Overall, it's been a place I've had some success, which is nice," Rahal said in his first of what would be four appearances this past weekend, Friday after the two practice sessions.
He had runner-up finishes in Detroit in both 2014 and 2015, and was one of the hardest charging cars on the old layout in 2012 as well.
"But obviously today started off on the right foot. The United Rentals car seems to be very strong, very competitive right off the trailer this morning. The first session, we didn't even change anything. I mean, there was no reason to."
He continued, "This setup kind of started with a concept out of Long Beach. It is very, very, very, very different from what we ran here last year, or over the last handful of years, so…
"It is certainly a departure in our mindset than what we had done for a while. But this was something that we had tried at Long Beach, in basic theory, and it worked relatively well. I mean, on race day, had it not been for a flat (tire), we were in the top 5 for sure.
"Certainly I think what we've got going here is better. I don't want to get over-confident, but hopefully it's going to be strong tomorrow."
Then Courtney's incident happened, and on Friday night, Rahal had the chance to view it. While he didn't address it Saturday morning in the press conference, his high hopes for the weekend superseded whatever concern or angst he had over witnessing it.
Rahal would have started second but inherited the pole for Saturday's race one after Helio Castroneves was docked his fastest lap for failing to slow for a yellow flag period on course. Castroneves was livid; Rahal fortunate, and on the pole for the first time in more than 130 races since Kansas in 2009. It marked the team's first pole since Scott Sharp, nearly 10 years to the day, did so at Texas in 2007.
"I felt for the first time in a long time I had a legitimate shot, that if I did my job, and I did my best, I felt we would be on pole or we would start on the front row," he said. "Rarely does that actually work to plan, but today it did.
"I don't want to put any extra pressure on myself or my team. But if we go out there and do our job today, yellows don't play a huge role in strategy, things like that, where alternate strategies could pay off, I feel pretty good about where we're at, without a doubt."
Rahal bordered on being called Nostra-Grahamus with that prediction. He did his job, the team did in its job in pit stops in race one, the yellows affected other strategies but not his – and by the end of day one, Rahal had what could be considered the most authoritative of his at that point five career victories.
Compared to his four prior wins – in the rain at St. Petersburg in 2008, via strategy at home at Mid-Ohio in 2015 and in thrilling duels at Fontana in 2015 and Texas in 2016 – this was the first time in a while Rahal looked unbeatable from the off in an IndyCar race.
"Trust me, a lot of drivers didn't like my comment that I felt like I could dominate if I got out front, but I didn't lie," he said Saturday afternoon. "You know, I didn't say that in any other way other than I felt that confident in my car. It's not about anything else. I just knew if I could be out front in clean air, we could do what we did today."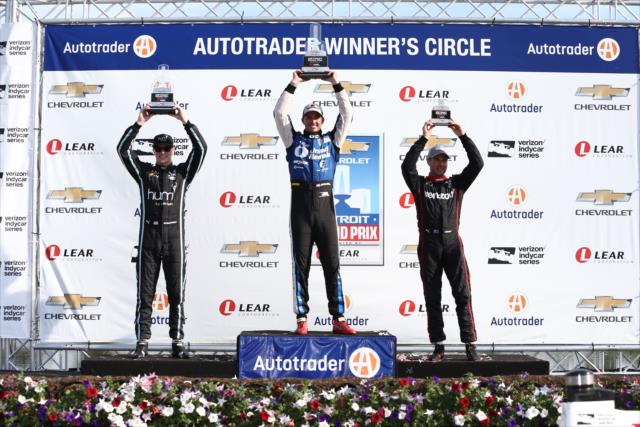 Rahal explained what the "dominate" comment meant and how he used it to in essence, "call his shot" on Saturday as he wound up and poked fun with Team Penske drivers Will Power, Josef Newgarden and Simon Pagenaud.
"Power liked my comment. So Power said to me today, he came to me today, 'Hey, mate, give Newgarden some (crap),'" Rahal laughed.
"At the autograph session, I'm like, 'Hey, Newgarden, I'm going to dominate today. You watch.'
"He's like, 'Oh, come on, man, nobody dominates.' He gets all bent out of shape.
"Then Pag jumped on me. All the Penske guys, you know. They're used to kicking everybody's butt. When somebody challenges them, they don't like it so much.
"Yeah, no, I mean, it's typical Will trying to get everybody spun up. It was fun. It was fun."
Almost perfectly, Newgarden and Power finished second and third to Rahal in race two, and as such, could offer their take on Rahal's friendly jabbing. Newgarden didn't realize Rahal had said it but Power joked, "Clearly he did get in his head."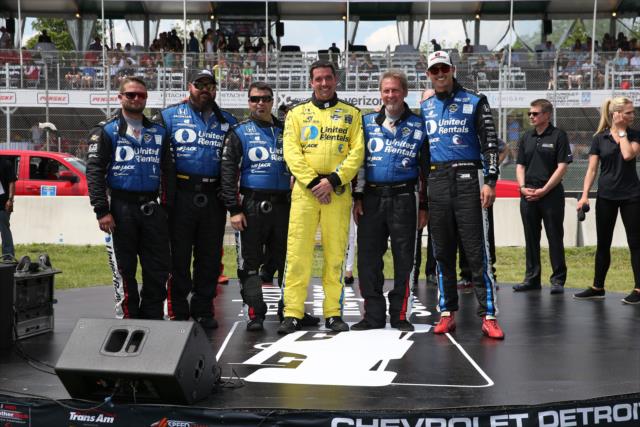 The race two win came courtesy of two more excellent things Rahal did. Killer in and out-laps on the first sequence netted him the lead after Takuma Sato led the opening stint of the race. Then, after a restart following a red flag, Rahal launched away from Newgarden to keep the dominance alive.
Newgarden was congratulatory to Rahal and said he can understand what it means to have such a dominant weekend, as Newgarden did himself at Iowa last year, leading 282 of 300 laps not long after suffering injuries to his collarbone and hand in Texas.
"It's the best thing you can do in racing. You feel great about it, when you feel like you're just better than everybody and no one had anything for you.
"They don't come around very often. So when you see them in front of you, you try to capitalize on them as best you can."
Rahal could only reflect on what he'd accomplished in full once Sunday night hit and he had his second win of the weekend in the books. It's his first weekend sweep in anything since he did so at Cleveland in 2006 in Formula Atlantic.
But now, he has this in the books and returns to Texas next weekend (Saturday, 8 p.m. ET, NBCSN) for the Rainguard Water Sealers 600, with a chance to defend his win there, too.
"As I said to you all last night, these things don't happen very often. Through my career, through the ups and downs of my career, you know, when you get a chance to win a race, you never take it for granted. So it's pretty special for me. You know, nice for our team.
"The guys are going to certainly feel good going into Texas next week, a place we know we can win at. You know, hopefully we can get it done again."