The Verizon IndyCar Series technically reached its halfway point of the 2017 season halfway through last Saturday night's Rainguard Water Sealers 600. At the half-distance point of the ninth race in a 17-race season, that marked half the races down and half to go.
By the end of the ninth race of the year though, the repair bills and the question marks about this season continued to add up. The only constant in this most goofy of IndyCar seasons is that there is no constant, and no rhythm, at all.
DIXON LEADS POINTS, BUT NO WINS, AND A LOT OF BIZARRE MOMENTS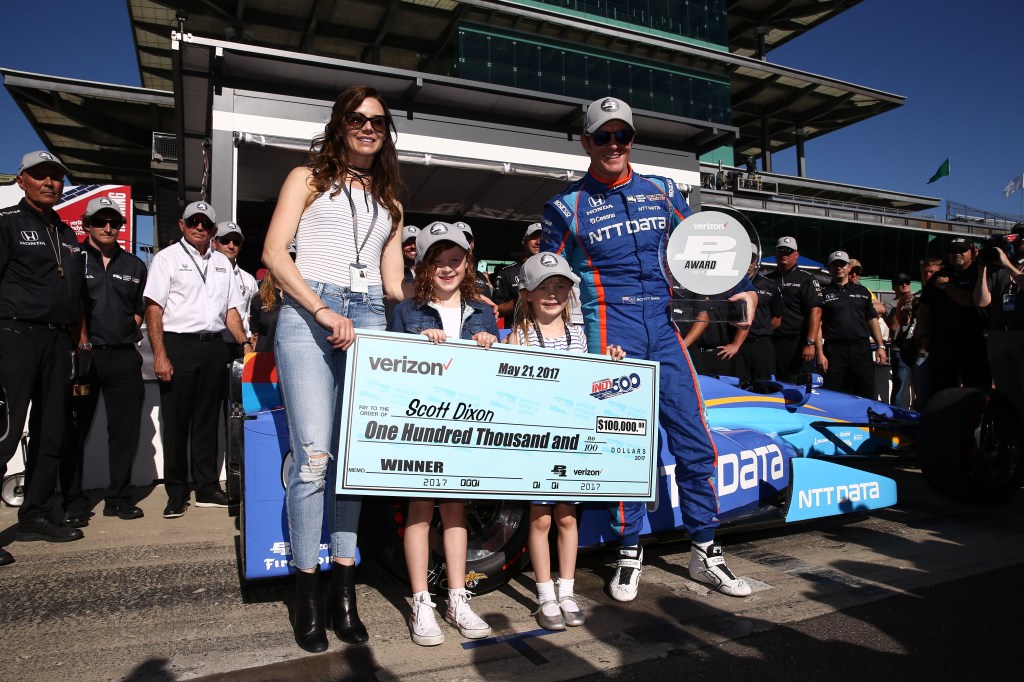 Nothing has felt normal about Scott Dixon's 2017 campaign, and it all goes back to when he premiered at the preseason test in Phoenix wearing a blank, white firesuit and was driving a blank, No. 9 Honda for Chip Ganassi Racing after being in a red Target car each of the past 15 years.
At the halfway point in the year, Dixon has had four podiums, three primary sponsors (GE LED, NTT Data, Camping World), two liveries, one pole, one alleged robbery at gunpoint at a Taco Bell, one hellacious airborne accident that left him limping, one crash where he got taken out through no fault of his own and exactly zero wins… and he leads the points. All this in a year where Ganassi's switch to Honda was supposed to slow their roll as a championship contender and when Dixon's lone knock throughout his career is that he's a slow starter renowned as much for his heroic second-half comebacks.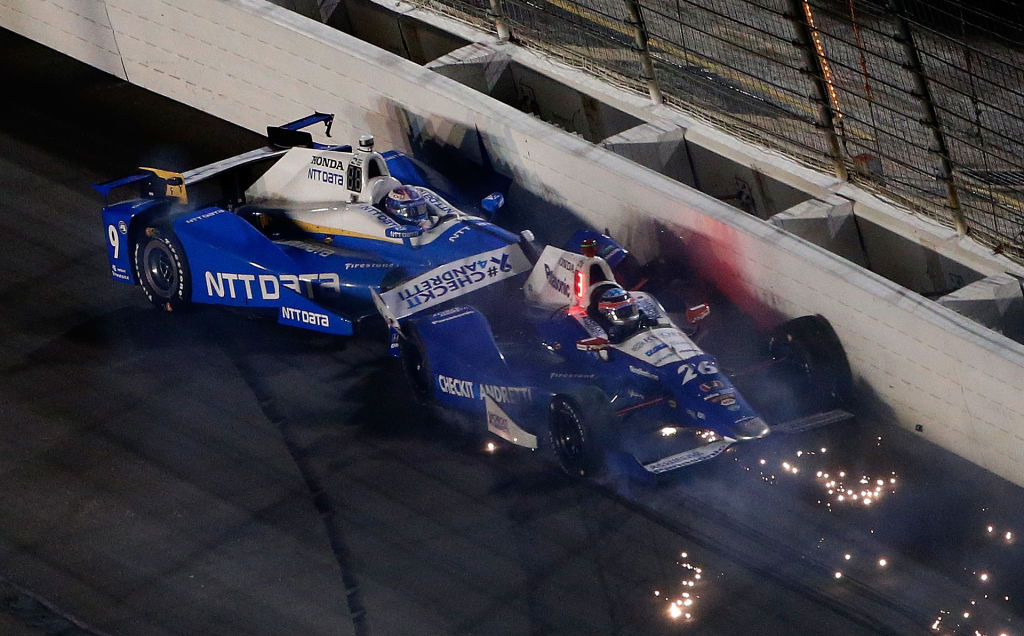 Nothing's gone right for Dixon from a results standpoint this year and that's what makes it crazy to think he's in the points lead. The usually unflappable "Iceman" was more pissed off by Takuma Sato taking him out in Texas than by either traumatic event in Indianapolis.
If Dixon's 2017 season doesn't encapsulate IndyCar's "year of the weird" in a nutshell, nothing will.
PENSKE'S PERPLEXING BARBER SHOP QUARTET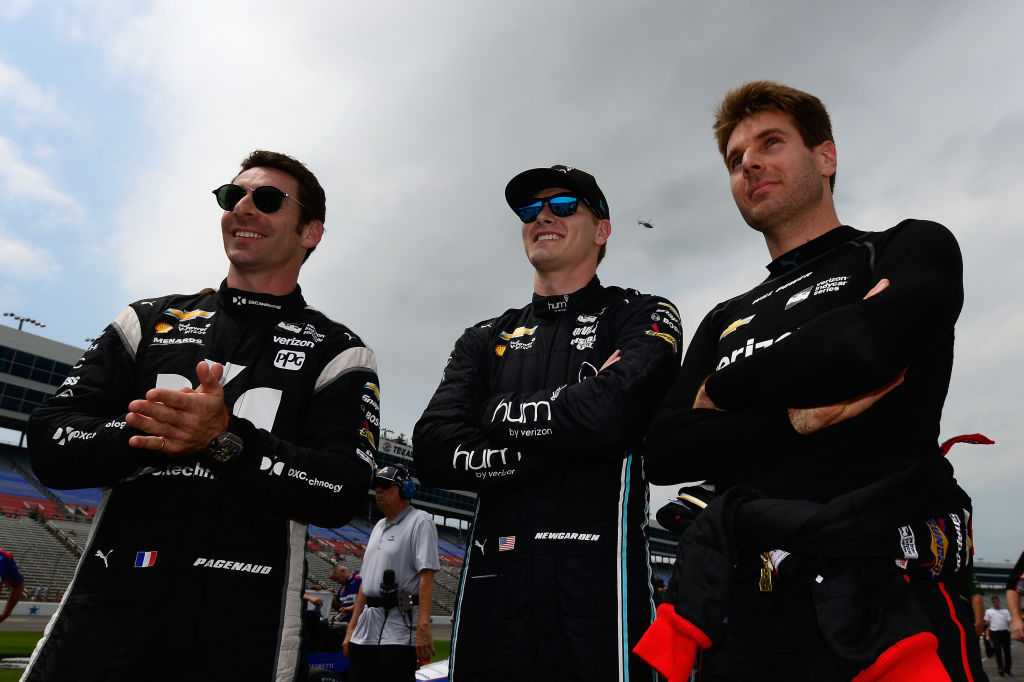 Ordinarily by now we'd have a sense Team Penske would have an authoritative, de facto number one by this point in the year. Naturally, because 2017 is such a weird year, we don't.
Will Power is the only member with two wins but they've come in dominant fashion at the Indianapolis road course – which you'd expect – and on Texas' 1.5-mile oval – which you wouldn't. Power's relaxed, calmer state of mind has been fascinating to witness this year because in the past he's been wound up. Now his responsibility as a dad and husband to wife Liz has seemingly taken precedence, which is good. He had a miserable start to the year with a mechanical gremlin at St. Pete, contact with Charlie Kimball at the start of Long Beach, a puncture that cost him the Barber win, and also got taken out at the Indianapolis 500. Still, he seems poised to contend down the stretch now fifth in points.
Defending champion Simon Pagenaud also typifies the "year of the weird." He had no business coming second at St. Pete or fifth at Long Beach after nightmare qualifying sessions, yet he did. He dominated Phoenix, an oval, for his first oval win. He was nowhere at the Indianapolis 500… yet drove so smart at Texas to get third. He's second in points, but you wouldn't know it by how under-the-radar he's been, even though he's raced well this year.
Newcomer Josef Newgarden? He's made his impact, too, with a lack of rhythm. Often Penske's fastest in-race driver, Newgarden inherited the Barber win, has raced better on the street courses where he's struggled in the past (finishes of eighth, third, fourth and second represent his best street course season to date), and made two mistakes on ovals that have left his crew with wrecked cars. All the while, he's been trying to integrate into the Penske team, has moved to Charlotte, and still keep up his level of humor. He's balancing a lot.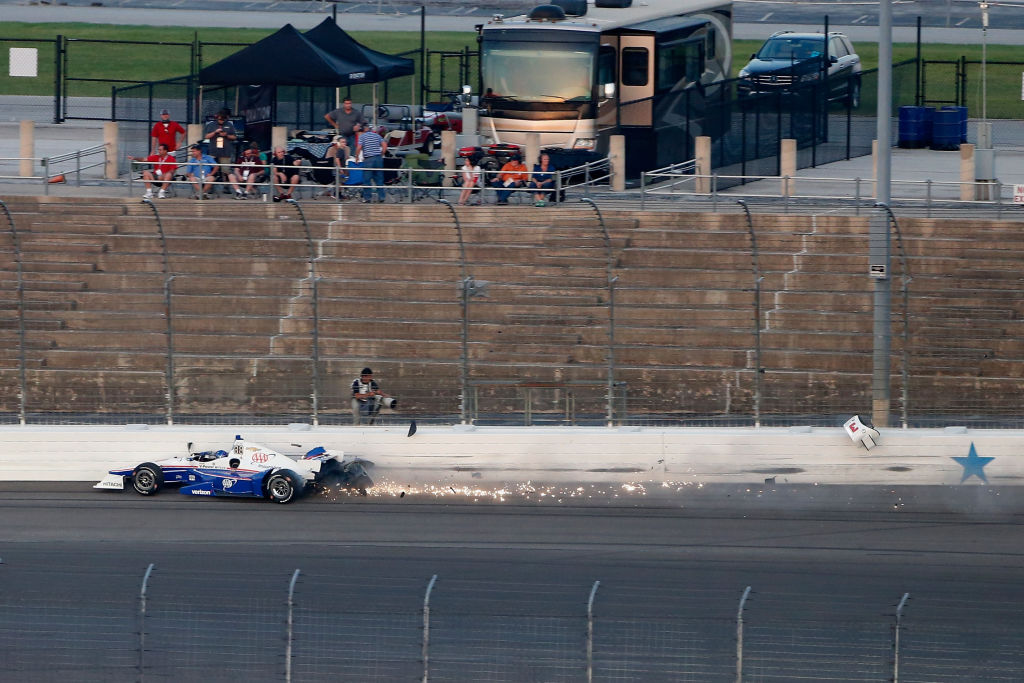 And until Texas, it was fourth driver Helio Castroneves, who hadn't won yet, who led the team from a points standpoint. Yet his lack of rhythm also exists. A consistent first five races saw him end between fourth and ninth in each, but poles at both West Coast races in Long Beach and Phoenix didn't provide an end to his winless drought. He drove underneath a flying Dixon at Indy, and drove a wrecked, down on power car to within a fraction of his fourth Indy 500 win. It was one of the drives of his 20-year career, but one which came up short. Then losing the pole on a penalty in Detroit produced what seemed to be an angry Helio there – mistakes followed, as did a pair of poor results. A heavy crash at Texas has likely left him shaken up, as well. Fourth in points now, he needs to find the mental strength to overcome a series of frustrating results.
This doesn't even mention Juan Pablo Montoya, who appeared to get in the heads of some of his teammates with an under-the-radar yet solid month of May in the team's fifth car. Despite a fueling issue, Montoya recovered to sixth in the race. He proved his point, that he remains perhaps IndyCar's best driver without a full-time seat.
SATO'S RE-EMERGENCE VERSUS ANDRETTI AUTOSPORT'S MISSED CHANCES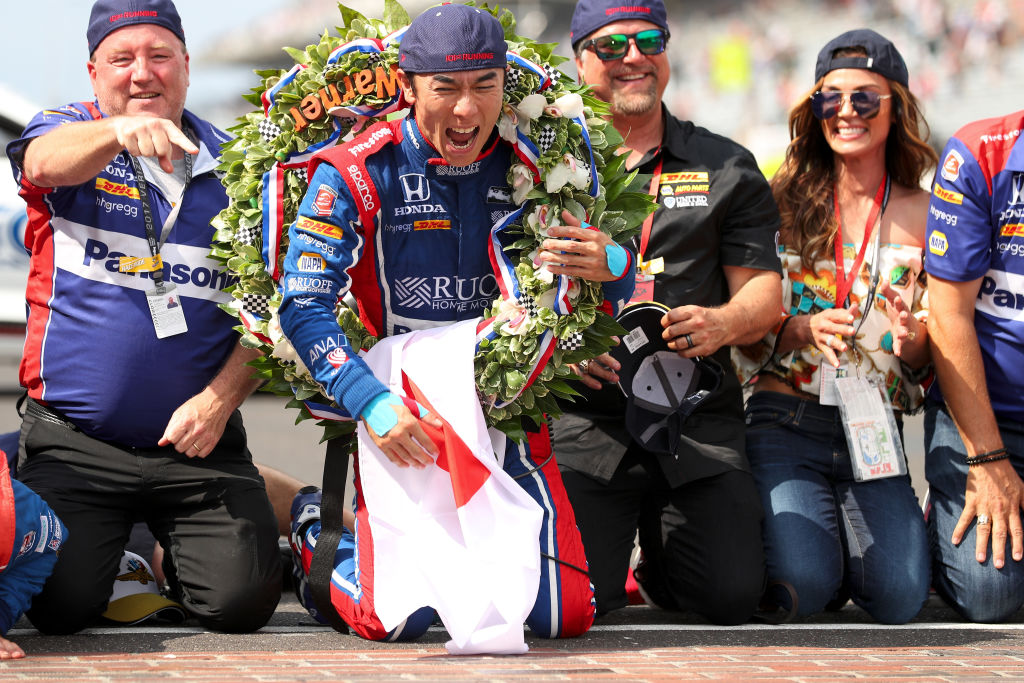 The Takuma Sato that has emerged in 2017 is a welcome variance from the Sato that often permeated his previous seven seasons in IndyCar. Fast, but not fragile, Sato's "no attack, no chance" style only appeared when it needed to – and paid dividends. In a car that afforded him a proper opportunity to showcase his talent at Andretti Autosport, Sato played the game perfectly at Indy all month, made the moves on Max Chilton, Helio Castroneves and Ed Jones when he needed to, and held off Castroneves for a popular victory in the 101st Indianapolis 500. His follow-up weekend at Detroit was huge too, and kept him in title contention.
And then… Texas. Sato's aggressive streak got the better of him there and took both himself and Dixon out in the process. It's those kind of moves that will lose the congenial Sato a championship; then again, at third place and only 14 points back, he's not out of it either. This is the Sato dichotomy in a nutshell; he's so fast, so good and so tenacious most of the time, but it's those mistakes that pop up at the worst possible moments that prove his undoing. We can only hope "Good Taku" defeats "Bad Taku" through the second half of the year.
Sato, to his credit, has been the main results generator for Andretti's team. Keeping with the "weird" theme of the year, we meet his three teammates and their seasons: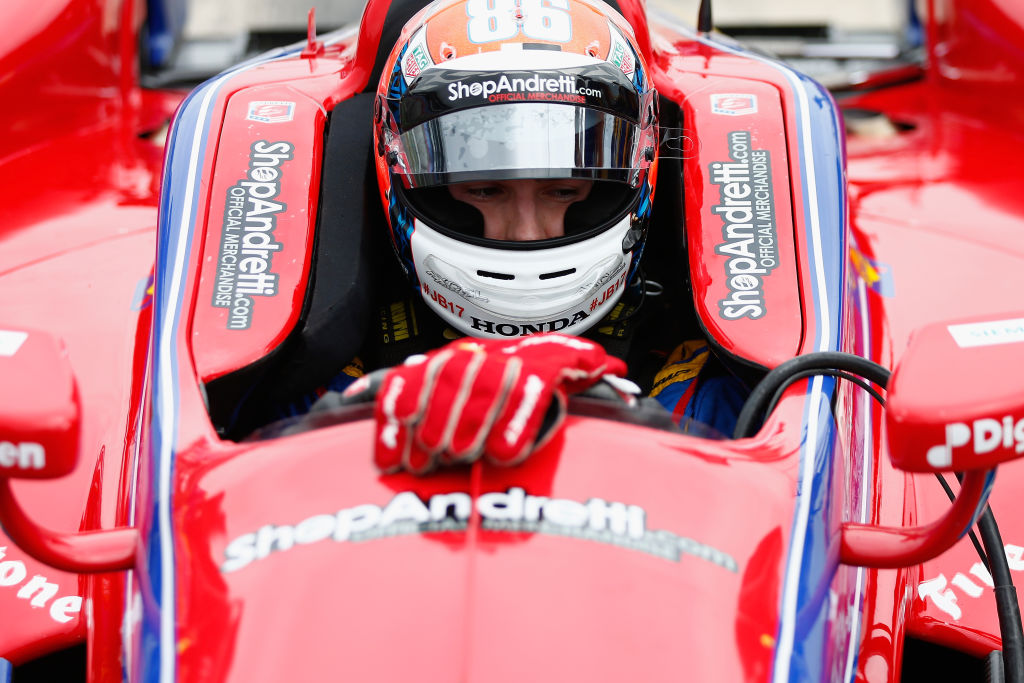 Alexander Rossi (above) has driven so well this year but doesn't have a proper result to show for it. Between a puncture at St. Petersburg, engine failure at Long Beach, fueling issue at Indy and being trapped in a "Ganassi sandwich" at Texas, Rossi has probably lost close to 100 points between those four races. He's ninth in points on 254, but could be so much higher with a bit of luck. It feels that if he can get first big result, the rest will come.
Similarly, Ryan Hunter-Reay has had a cartoon anvil chasing him around. With four DNFs and seven finishes of 11th or worse in nine starts, Hunter-Reay's borne nearly the entire brunt of bad luck. If anyone has an answer for what he's done to piss off the racing gods of late, I'm sure he'd love to know…
Marco Andretti, meanwhile, has had a better season in every aspect but results. A regular practice pace setter this year, Andretti's either just missed it in qualifying or been caught out at the wrong place at the wrong time. Like his teammates, his standing (13th while RHR is 14th) is not representative of his improved form this year.
We'll get to one of their Indy-only teammates in a minute…
DALE COYNE RACING'S ROLLER COASTER OF FORTUNES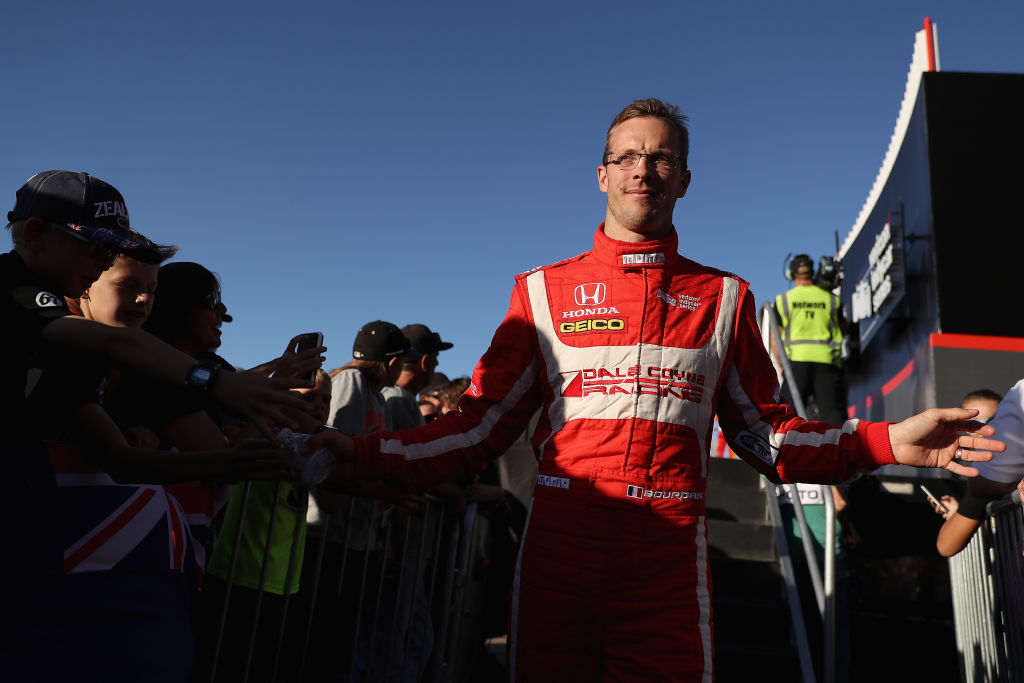 In a normal year, Dale Coyne Racing wouldn't be one of the stories of the year. But again, 2017 is not a normal year.
The investment Coyne made on the engineering front in adding Craig Hampson and Olivier Boisson to reunite with Sebastien Bourdais has been well-documented. The dream reunion came good with a storybook last-to-first win at St. Petersburg, in Bourdais' adopted hometown.
The roller coaster that followed has also been one to note. Bourdais dodged debris flying at him at Long Beach en route to second, there. He still led the points after a solid eighth place at Barber.
But then Phoenix hit. Once Bourdais got taken out in the first lap melee triggered by his longtime sparring partner Mikhail Aleshin, it left the Coyne crew having to rebuild the car in the first of several six-figure impacts that would come.
Bourdais looked a pole contender at Indianapolis and two 231-mph laps in qualifying proved that point; then it all went wrong following an overcorrect and even worse crash at Turn 2. The track fell silent, as did the jaws of most on pit road. The horrific looking accident fortunately for Bourdais could have been worse – he's already on the road to recovery after pelvic fractures and a hip injury – but it left Coyne with yet another lost race car.
Flash forward to race day. Replacement James Davison wasn't the most popular pick but more than made up for it with a dynamic drive to the lead from last… and then he crashed out. Then, having been overlooked all month, rookie Ed Jones continued his stealthily solid start to 2017 with third place in a damaged car. He lost the Sunoco Rookie of the Year honors and outrage justifiably followed.
With Esteban Gutierrez and most recently Tristan Vautier in the No. 18 car, there's been more Coyne stories that have come. And then, sadly, both Vautier and Jones got taken out in the Texas melee. The repair bills keep adding up for IndyCar's favorite small budget team out of Plainfield, Ill., who don't deserve the luck they've had for their pace and efforts this year.
RAHAL'S MIDSUMMER REVIVAL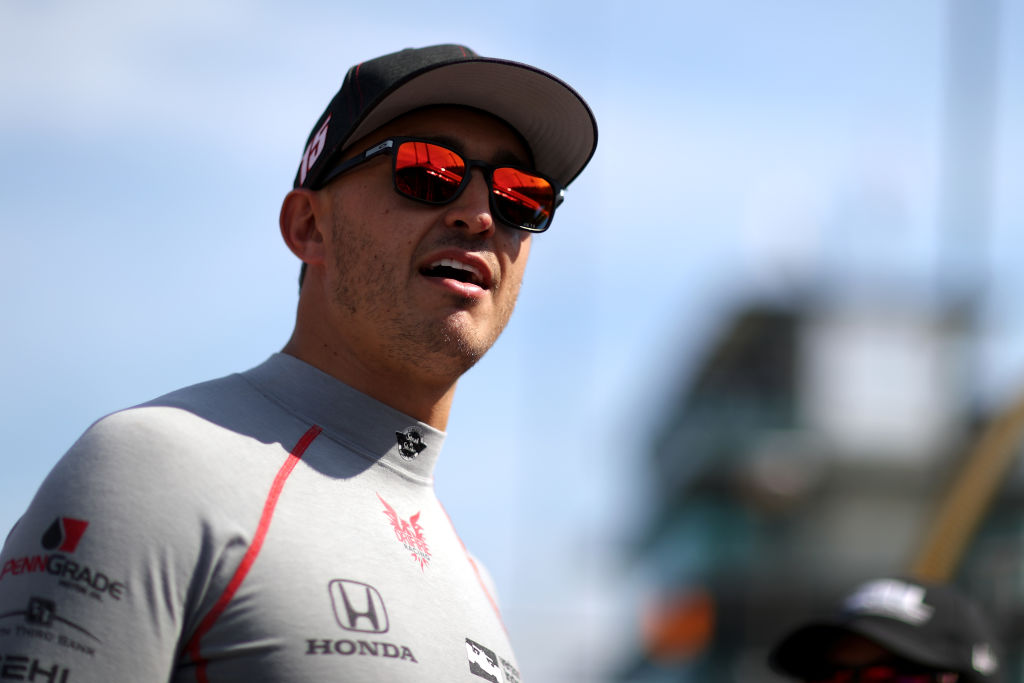 Not even a month ago Graham Rahal was 17th in points leaving Phoenix, with a wrecked race car in the Turn 1 mess, and 100 points back of Simon Pagenaud. After Texas, Rahal might be the hottest driver in the series.
Rahal has scythed up to sixth in points with his Detroit doubleheader sweep and a fourth in Texas, and he'd be even higher had a puncture not set him back at the Indianapolis 500. The first Detroit win came after Rahal was admittedly shaken up seeing wife Courtney Force's awful accident in NHRA competition at Epping, N.H.. Coupled with an outstanding 20th-to-sixth run at the Indianapolis road course, Rahal and the RLL Racing team have finally hit their stride for the year after a brutal opening four-race stretch.
The consistency is good to see for Rahal now, as last year, he seemed to alternate good and bad results per weekend. More consistent top-fives and a further win or two will solidify his championship challenge.
THAT FAMOUS ONE-OFF SPANIARD AT INDY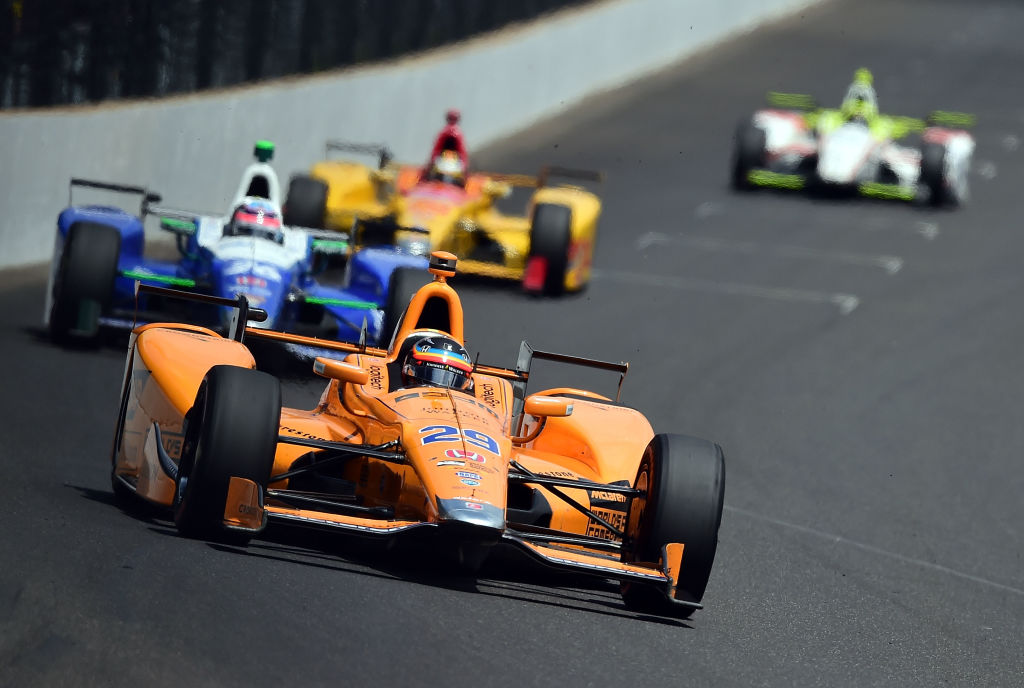 Clearly we mean Oriol Servia, right?
Servia, who's Catalan, went along like the rest of us with the ultimate one-off entry that was the story of mid-April into May, in Fernando Alonso's bow at the Indianapolis 500 with McLaren, Honda and Andretti. We've written so many words about him and his odyssey already and it only seems like it will continue as the summer passes into the fall.
What we know is he enjoyed the experience, soaked up the atmosphere, did the commitments he needed to do, endeared himself to the fans, and, almost poetically, retired with 20 laps to go courtesy of a Honda blown engine.
What we don't know is his next move; and neither does he. Does a full-time IndyCar shift really interest him beyond the "Why not?" message he said during the NBCSN Texas broadcast? Can he find an F1 seat where he can win? Or will he be destined to make another bad move at the wrong time, as has affected him most of his F1 career? We can only wait and see…
HONDA'S REVIVAL VS. CHEVY
Both on the strength of numbers (13 cars with five full-time teams to eight cars and three) and results, it's been Honda's best year in several up against Chevrolet. But even as Honda has racked up the accolades and the wins – thus far a 5-4 edge over Chevrolet – in pursuit of its first manufacturer's championship since Chevrolet's return, its reliability has been a talking point. So many failures have occurred which has seen HPD pushing the envelope. We knew this was an issue in F1 with its separate power unit there, but it hadn't been an issue in IndyCar, until this year.
Still though, Honda's achieved quite a lot, and done so in important races and markets. The Indianapolis win with Sato was huge both politically and corporately for Honda of Japan and America; its Detroit double sweep came in General Motors' backyard.
THERE'S SO MANY OTHER STORIES TO TELL, TOO…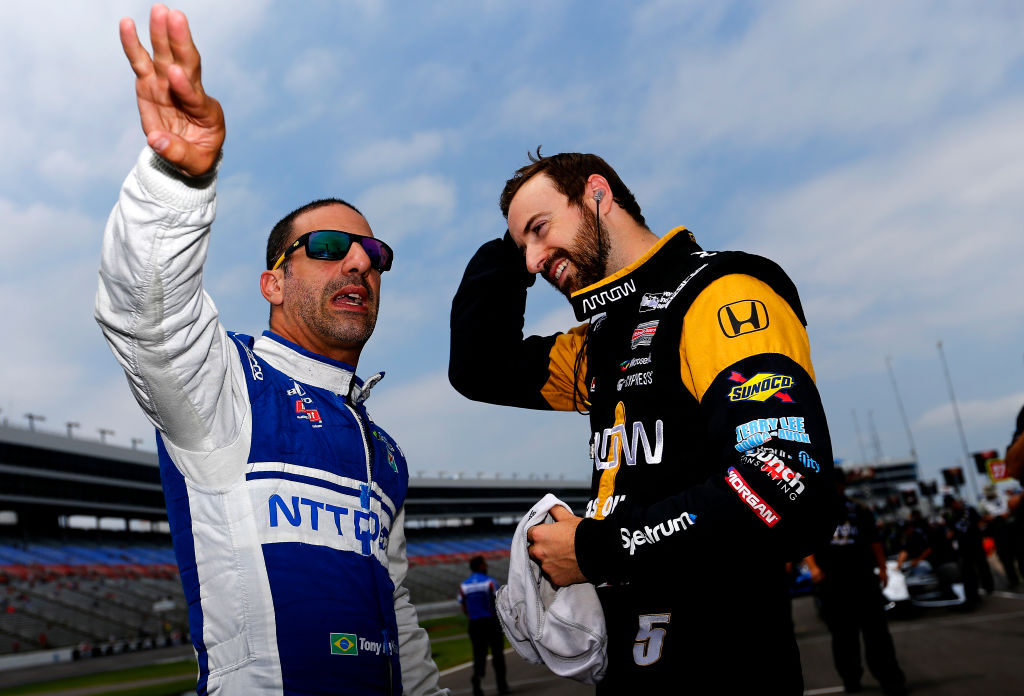 As this is getting to be north of 2,000 words (again, the year is so weird it requires so many), we'll go through bullet points of some other notes:
James Hinchcliffe's emotional win at Long Beach completed his comeback story told ad nauseum over the last two years. Somehow though it seems so long ago; Hinchcliffe's Schmidt Peterson Motorsports team has since struggled from a results standpoint. His "that's adorable" retort to Chip Ganassi, though, was priceless and an early contender for "quote of the year"…
SPM teammate Mikhail Aleshin has not endeared himself to the paddock with the number of incidents he's been involved with. Between Tony Kanaan, JR Hildebrand, Ryan Hunter-Reay, the handful of cars at Phoenix and then getting caught up in the Texas pileup, Aleshin's No. 7 Honda has been in the eye of the storm way too often. After making huge strides in 2016, it's fair to say the "Mad Russian" has regressed in 2017 in a disappointing campaign thus far.
Kanaan had had a weird year to date so far, as well. He has had multiple incidents with Aleshin; he had a first-lap incident on the IMS road course; and it was only at the '500 where he banked a top-five. His best finish, second at Texas, came after he was being accused of triggering the massive pile-up. He took responsibility, and now heads to the 24 Hours of Le Mans for his debut run – this is weird because he only got the appointment following Bourdais' injuries.
Both Ed Jones and Max Chilton have been the surprise drivers of the season in good ways. Jones has banked a number of top-10s and only had his first incident at Texas. Chilton has taken a significant step forward in his second year. His month of May was stellar and he's racing a lot better towards the front of the field. Jones' third at Indy technically counts as a podium; I'd not be surprised to see either on a proper podium or perhaps win their first race later this year.
Ed Carpenter Racing is another team that could use "weird" as its word de jour to describe 2017. Spencer Pigot has raced excellent in his starts but been undone by fiery brakes (St. Petersburg), a fiery motor (Detroit), an overcorrection on corner exit (Barber) or a bad pit stop (Indianapolis road course). He's also raced with a famous Instagram dog as his primary sponsor… because again, 2017 is weird. JR Hildebrand and his majestic hair and scruff has looked the business on ovals but not yet on road or street courses, meshing with fellow brainiac and IndyCar engineering convert Justin Taylor, formerly of Audi's LMP1 program. Ed Carpenter's results haven't matched his pace on his ovals, while Zach Veach impressed in a one-off fill-in role at Barber.
AJ Foyt Racing has, as expected, taken time to come to grips with the new Chevrolet aero kit and engine. But Carlos Munoz's 10th place at Indianapolis and Conor Daly's seventh in Texas have been nice signs of life. The team is getting there, but isn't fully there yet in such a deep field.
If it weren't for bad luck, Charlie Kimball wouldn't have any. First-lap dust-ups at St. Petersburg and Long Beach have then ceded to back-to-back engine issues at both Indianapolis races, then an oil leak at Texas after his first career pole. Even if you assign blame to the likable Californian for one of the two first-lap contacts, it's still not fair how much poor luck he's dealt with otherwise, as he's a distant 18th in points.
Gabby Chaves and Harding Racing have gone ninth-fifth to start, which is as surprising as it is amazing for the debut team and a driver who's been revitalized in a new team built around him.
Good to see Juncos Racing debut at Indianapolis; it'd be great to see them, Harding and Dreyer & Reinbold Racing all full-time in 2018. Michael Shank Racing, too, improved as their first month went on with Andretti Autosport and Jack Harvey did enough to deserve a second chance, even if his results don't show it.
Jay Howard had done a perfect job of flying under the radar in SPM's third car at Indianapolis all month, until he crashed out and came into Dixon's path exiting Turn 1. The crash was bad; the attempt to blame Hunter-Reay was perhaps worse.
Oh, and by the way, renderings of the new 2018 Dallara common aero kit are out. We can't wait for the car's official first test, set for July 25-26 at Indianapolis, before its first road course test the Tuesday after Mid-Ohio on August 1.
If the first half of 2017 was weird, how should we expect the second half to play out?
The next round of stories will be written starting next weekend at Road America (Sunday, June 25, 12:30 p.m. ET, NBCSN).