Lewis Hamilton's perceived comments about the Verizon IndyCar Series field came under the microscope as his Formula 1 colleague and fellow World Champion, Fernando Alonso, made his bow at the Indianapolis 500.
Hamilton said upon Alonso's arrival at Indianapolis that he would be "the best driver in the paddock." In later alleged comments made to French newspaper L'Equipe, Hamilton reportedly called into question the overall level of the IndyCar field.
At Detroit, both double race winner Graham Rahal and James Hinchcliffe took the opportunity to respond – and not to bash Hamilton, but merely to defend the caliber and level of IndyCar drivers.
"It's funny hearing criticism about the depth of our field from someone who has to race three other cars when we have seven winners in the first seven races," Hinchcliffe said at Detroit. "It shows how competitive this series is, the parity between the manufacturers, between teams. Just how difficult it is to win one of those races."
Rahal added after race one, "When I saw Lewis Hamilton's comment, you guys know me, it took me everything I had in my body not to say something. Legitimately, in Formula One, over his entire career, it's been a two-car race, four max, max. Here you have, like, Hinch who spins on lap one. You're going, He's done. No, he had the pace. He had a great strategy. He made some moves. I think he went through a three-stopper, ran blacks, ran hard, had the speed to get through, next thing you know he's in third.
"IndyCar racing, this is the seventh race, seventh different winner. That doesn't happen in other motorsports, period. So no matter what anybody wants to say, it's a great form of motorsports. I think Esteban will tell you, I just talked to him briefly, he said this is the most fun car he's ever driven in his life. It's man and machine. It's as simple as that. It's a lot of fun."
The IndyCar circus seemed to move on to Texas Motor Speedway last weekend and up north in Montreal, Canada, Hamilton was busy getting back on top at his day job.
A blindingly quick lap netted him his 65th career pole and an emotional one at that as the Senna family bestowed on him one of Ayrton Senna's helmets, as Hamilton matched his racing hero. He followed with the win on Sunday in the Canadian Grand Prix.
But at Texas, some IndyCar fans took the opportunity to troll Hamilton's alleged comments in a way that Americans generally do – by saying a person likes Nickelback.
A picture was captured via IMS Photo's Chris Owens that said, "Lewis Hamilton likes Nickelback & unsweetened tea," and was posted to IndyCar's Instagram page.
Hamilton has allegedly took the opportunity to respond, with either he or someone authorized to use his official Instagram account replying, "'how you remind me' was a belter."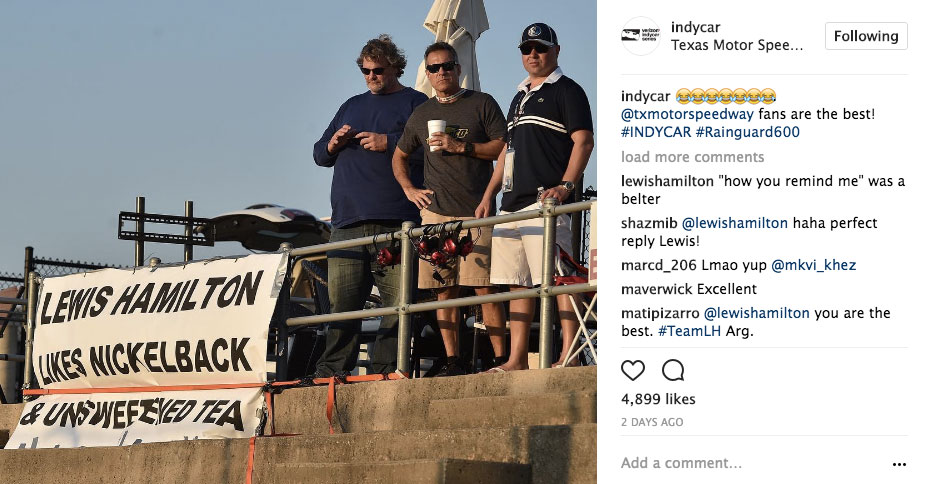 Both Mercedes AMG Petronas and IndyCar's official Twitter have responded too, with Mercedes giving credence to Hamilton actually having been the one to respond.
This post goes as proof that no matter what our differences may be in this world, we can all agree that no mention of Nickelback goes without response.