Although he hasn't been in a Verizon IndyCar Series race this year, NBCSN IndyCar analyst Townsend Bell was best of those actively involved in the 2017 IndyCar season in qualifying for Saturday's 24 Hours of Le Mans.
Bell qualified third in the GTE-Am class in the No. 62 WeatherTech-backed Ferrari 488 GTE for Scuderia Corsa, which he shares with Bill Sweedler and Cooper MacNeil. Bell and Sweedler are seeking to defend their class victory here last year, which they accomplished co-driving with Jeff Segal in the previous generation Ferrari F458 Italia.
As there are eight 488s in the 16-car GTE-Am class, this Scuderia Corsa Ferrari has been the best of them both at the Le Mans Test Day and in qualifying. Bell's best time of 3:53.312 was about a half second off class polesitter Fernando Rees, in the No. 50 Larbre Competition Corvette C7.R, at 3:52.886. Bell has completed 32 laps this week.
"Qualifying went well," Bell said. "We made our first change to the car to make it go quicker and that is exactly what it did tonight. It improved the balance and that made a small improvement, but around this long track that makes a big difference. Bill and Cooper did some strong laps and are comfortable in the car, which is what is important. To be starting third and the fastest Ferrari says a lot about our effort here this week."
Beyond Bell, there's three active drivers competing in IndyCar this season who are racing at Le Mans this week, two in the GTE-Pro class and one in LMP2.
Scott Dixon is best of that group as he'll start fifth in GTE-Pro in the No. 69 Ford Chip Ganassi Team USA Ford GT which he shares with Ryan Briscoe and Richard Westbrook. This trio finished third here last year, with Dixon setting the fastest race lap in class on his Le Mans debut.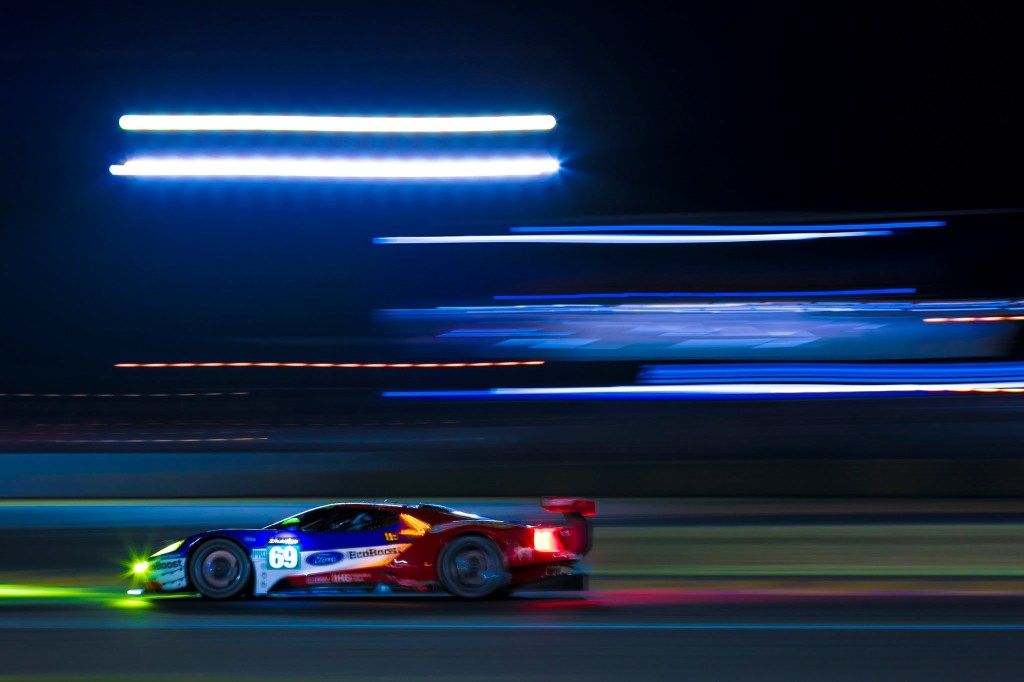 Briscoe, an IndyCar veteran from 2005 through 2015, set the car's best qualifying time of 3:51.232. The class pole time is Darren Turner in the No. 97 Aston Martin Vantage V8 at 3:50.837.
"We definitely had a go at qualifying tonight," Briscoe said. "It was the first time we ran with new tires and low fuel and we've always found this car comes alive when we drop the fuel out of it, so it felt great. The balance was nice. We got one of those good laps at Le Mans where you get a tow and don't get held up with any traffic and piece it together. I was really pleased, but obviously there's a lot of competition. It was quick at the time but we're fifth now so I think it's going to be a tough race and hopefully we'll have the pace to stay at the front during the race."
Dixon's best time this week in 29 total laps is a 3:52.807, set in the second of three qualifying sessions. Westbrook's is a 3:52.496. Dixon also got to catch up with Ford World Rallycross driver Ken Block at Le Mans.
The No. 68 Ford, the defending class winner here, will launch its defense from 12th on the 13-car grid. IndyCar 20th year man but Le Mans rookie Tony Kanaan shares that car with Joey Hand and Dirk Mueller, Kanaan deputizing for the injured Sebastien Bourdais.
Kanaan's best lap this week is a 3:53.512. The Brazilian completed 15 laps in the first four-hour free practice session and nine more laps since, so he has a total of 24 before warmup on Saturday morning.
Mikhail Aleshin also saddles up for his third consecutive Le Mans, this time in SMP Racing's new Dallara P217 Gibson in LMP2 with Sergey Sirotkin and Victor Shaitar.
Aleshin's best time of 3:27.782 has put the No. 27 car 10th on the LMP2 class grid, and 16th overall, first non-Oreca 07 (or the rebadged Alpine A470 variant) on the grid. In the all-Russian lineup, the Schmidt Peterson Motorsports IndyCar driver has driven only 24 laps this week.
MAZDA ROAD TO INDY ROOKIE QUARTET DEBUTS
There's also four recent Mazda Road to Indy presented by Cooper Tires graduates making their debuts at Le Mans, in Andre Negrao, Felix Rosenqvist, Will Owen and Jose Gutierrez, who've competed in either Indy Lights Presented by Cooper Tires or Pro Mazda Championship Presented by Cooper Tires in recent years.
Those cars will line up 14th, 20th, 21st and 22nd overall, eighth, 14th, 15th and 16th in the LMP2 class. Negrao is in the No. 35 Signatech Alpine A470 Gibson with Nelson Panciatici and Pierre Ragues, Gutierrez is in the DragonSpeed-run No. 22 Oreca 07 he shares with Ryo Hirakawa and Memo Rojas, Owen in the best of seven Ligier JS P217 chassis, the No. 32 United Autosports entry he shares with Filipe Albuquerque and Hugo de Sadeleer, and Rosenqvist in the DragonSpeed-10 Star No. 21 Oreca 07 with Henrik Hedman and Ben Hanley, an all-rookie lineup.
Negrao's best time this week is 3:29.248 in 31 laps, Rosenqvist's is 3:29.777 in just 19 laps, Gutierrez's is 3:32.406 in 37 laps, and Owen's is 3:37.469 in 32 laps.
It is worth noting the Oreca has a distinct pace edge in LMP2 over the other three chassis. Aleshin's Dallara lap of 3:27.782 is the best non-Oreca lap this week, but still 2.43 seconds off Alex Lynn's pole time of 3:25.352 in the No. 26 G-Drive Racing (TDS) Oreca 07.
Of course there are plenty of others with past IndyCar or Mazda Road to Indy experience in the field but these mentioned above are the most recent and/or are still active within these championships.
This year's Le Mans race starts Saturday at 3 p.m. local time, 9 a.m. ET, with coverage on the FOX networks and flag-to-flag radio coverage via Radio Le Mans.