Don Panoz is back at Le Mans for this year's race, with hopes of getting back on the grid in another Garage 56 slot. Panoz last raced at Le Mans with the original DeltaWing in 2012, then backed by Nissan, as the initial Garage 56 entry at the 24-hour race.
The new Green4U Panoz Racing GT-EV, which is being developed at the company's design and engineering hub in Braselton, Ga., was revealed today in Le Mans Village at the Circuit de la Sarthe.
The release with more information is below:
—
Green4U Technologies, Inc., formed in 2016 to provide electric vehicles (EVs) and EV technologies, and Panoz, a Green4U company, today unveiled an all-electric race car concept with the goal of delivering performance and range similar to internal combustion engine and hybrid powertrain race cars and able to compete in long-distance endurance races.
Don Panoz, chairman and co-founder of Green4U Technologies, Inc., unveiled the new race car concept this morning during an announcement at the company's display in the 24 Hours of Le Mans Village. Christened the Green4U Panoz Racing GT-EV, it is being developed at the company's design and engineering hub in Braselton, Ga.
"We're debuting it here at Le Mans because of this iconic race's history where the brightest and most ambitious and tenacious competitors always push the motorsports and automotive boundaries," Don Panoz said. "We pushed the boundaries when we brought Sparky [the 1998 Panoz Q9 GTR-1 Hybrid] and the DeltaWing to Le Mans, and we'll do the same with the all-electric GT-EV.
"Our goal is to run our car in a race, perhaps even applying for a future Garage 56 slot, and apply what we learn to our Green4U EV vehicle designs."
Jack Perkowski, Green4U Technologies, Inc. CEO and co-founder, added, "The development of an all-electric race car that can compete with the best internal combustion engine race cars places Green4U at the forefront of electric vehicle technology."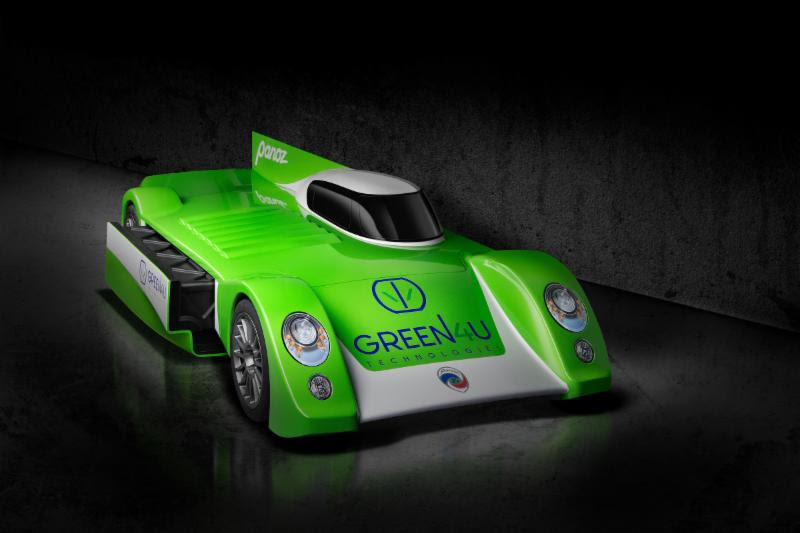 The Green4U Panoz Racing GT-EV team, led by Vice President of Engineering & Design Brian Willis, has outlined the race car's initial design and performance targets:
400 to 450 kW total power
175 to 180 mph top speed
Removable battery pack design enabling battery exchanges during pit stops
90- to 110-mile range in race conditions
All-wheel drive with two electric motors (One driving the front wheels and the second powering the rear wheels)
2,200 to 2,750 lbs. total mass with battery pack
Roughly 192 x 72 x 48 inches (L x W x H)
A unique carbon fiber chassis design with an offset closed cockpit
Active aerodynamics to reduce drag on straightaways and increase range and performance
Regenerative braking technology on all wheels
"Our team is focused on achieving the speed and range of current road racing sports cars," said Willis. "Key is the ability to go as far as petrol and hybrid race cars on the power contained in a single battery pack, then exchange the battery in about the time that it takes them to refill their tanks."
Don Panoz considers the Green4U Panoz Racing GT-EV to be the 'Holy Grail' of racing, and is an avid believer in 'roots in racing' and pioneering and proving innovative technologies through motorsports.
Green4U Technologies, Inc. also revealed renderings of its proposed street-legal sports car based on the GT-EV. Conceptualized by renowned car designer Peter Stevens, who has contributed to the design of many vehicles such as the Panoz Esperante GTR-1, the design features a unique two-passenger, jet fighter-style passenger compartment where the passenger sits behind the driver.