One of the most famous moments in motorsports history came at the 1967 24 Hours of Le Mans, and not just because it birthed the spraying of champagne as a standard celebration. The celebration lives on 50 years later.
The second in a run of four consecutive Le Mans victories for the Ford GT40 marque, it is the only "All-American" triumph, one in which an American driver lineup won for an American team in an American car, in the history of the event.
The victory also came at the height of a rivalry between Ford and Ferrari after a failed attempt from Henry Ford II to purchase the Italian marque from Enzo Ferrari.
To commemorate the 50th anniversary of the victory, Dan Gurney and A.J. Foyt, the victorious drivers that year in the famous GT 40, sat down to reflect on the race. Foyt immediately deflected credit to Gurney, and admitted that it was Gurney's influence that brought him into the team.
"All I can say is, I'm glad (Gurney) chose me for his co-driver," Foyt quipped. "It doesn't seem like 50 years ago, but our health is showing it. I always had a lot of respect for him, as a car builder and a race driver. We've been friends for a long time and he gave me a chance. He had the car running so damn fast, I didn't know how to back it off."
For Gurney, the desire to have Foyt as his co-driver that year came down to a simple reason.
"I chose him for only one reason and that was because he's a winner," he recalled. "I felt like we were going to win once A.J. was in the car. He hadn't been a specialist in road racing like I was, but he did a great job. We had a lot of fun talking about it and gradually, the car turned out to be a really nice, smooth, fast car without any bad habits. It was just a great time."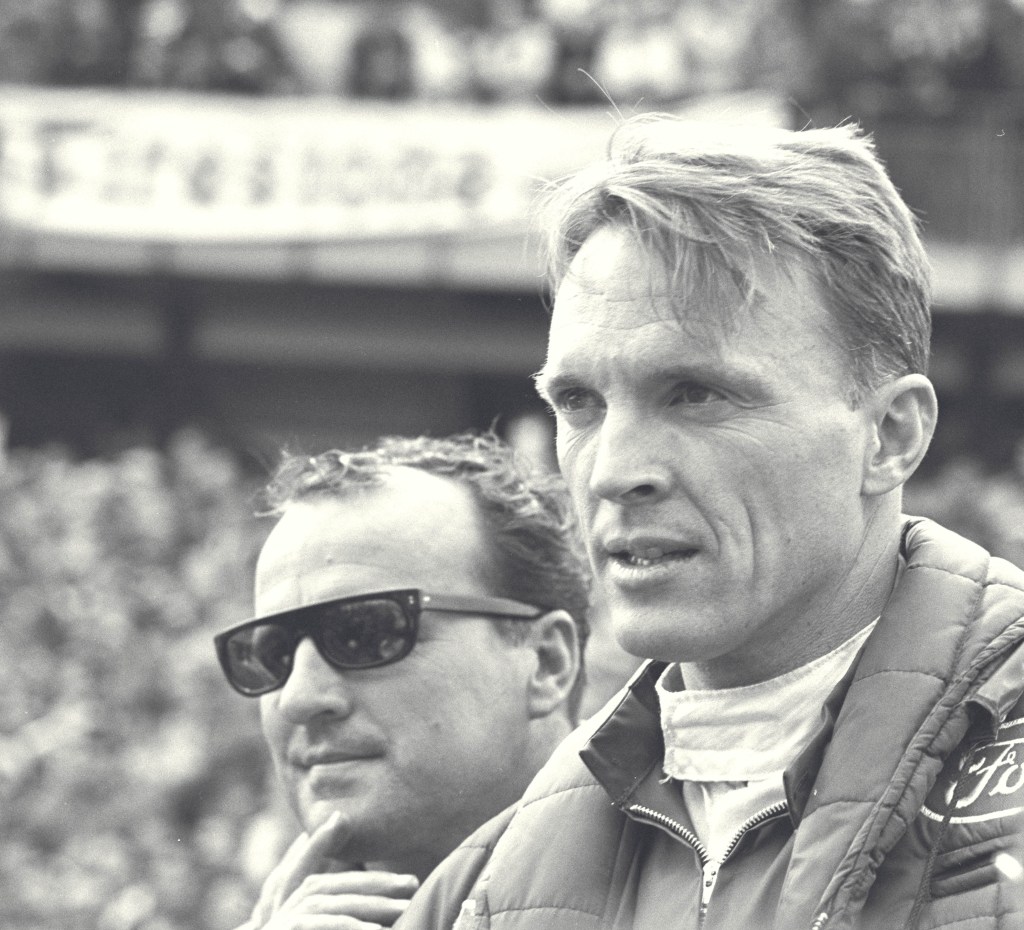 To further illustrate the point about Gurney's influence, Foyt explained how influential he was in organizing the driving strategy, and Foyt happily followed his lead. "I think Dan was more involved in strategy than I was. He'd been there before and I was just glad to be over there, for Ford Motor Company to give me such an opportunity. I was listening to Dan quite a bit. He gave me some pointers and all that."
Foyt also had to go to school of sorts and learn the track, for which he used Gurney and other drivers as a model. "I think before I got in the car, Dan run in the first shift and I got in the second shift, I think I had about 10 laps and, I'll never forget it, when I came into the pits Denis Hulme, who was in another Ford, was leading, and I knew he'd been out of there for a lot of time, and I followed him for about four-five laps and got lucky enough to get by him. That's kind of how I learned the course," Foyt recalled.
Gurney, meanwhile, revealed that he and Foyt had to temper themselves, citing that when the team told them to push the car to its limits, they knew to only take things so far. "We just tried to use our experience," Gurney asserted. "They expected us to be the rabbit and we were going to battle each other for fast time, and everything, and we could tell that the car wasn't going to finish with that sort of attention. So we told the strategy guys that 'yeah, you're right,' and of course, we didn't pay any attention to it," Gurney laughed.
Of course, no good effort would be complete without some unexpected surprises. For Foyt, one of those came when he pitted and expected Gurney to take over…only for the Californian to be nowhere in site. "I told them when I came into the pits that my arms hurt so bad and they said 'We can't find Dan.' I said, 'What do you mean, you can't find him? Hell, he's over there sleeping, somewhere!' They said 'You have to get back in.' I said 'Oh no, don't do that to me.' And still Dan laughs about it. I think he was hiding on purpose," Foyt laughed.
And, perhaps most famously, the victory sparked the victory tradition of spraying champagne, with Gurney first spraying Ford president Henry Ford II. "(Henry Ford II) was there with a new bride, I think, on their honeymoon and when I started spraying him, I'm not sure he liked it or not, but he was a good sport about it and we had a wonderful time spraying champagne, A.J. and I both," Gurney of the spontaneous celebration to quickly became a staple of Victory Lane across all racing disciplines.
The 1967 race was Foyt's only appearance at Le Mans, while Gurney made ten appearances between 1958 and 1967.