ELKHART LAKE, Wis. – Pirelli World Challenge has returned to full Sprint race action at Road America today with its GT class, while the GTS class was joined by a handful of invitational entries in the TC class for a pair of races at the 4.014-mile circuit.
GT
Adderly Fong, the Hong Kong-based driver, has captured his first career PWC victory in the No. 88 Bentley Team Absolute Bentley Continental GT3.
It's Bentley's first PWC victory since 2015, when Chris Dyson won here at the same circuit. The win came after Fong scored the pole, his second straight and Bentley's third straight at the track. It also comes on the same day as Bentley won the Paul Ricard 1000km in the Blancpain Endurance Series, with Fong's SprintX co-driver Vincent Abril co-driving for Bentley Team M-Sport with Andy Soucek and Maxime Soulet (below).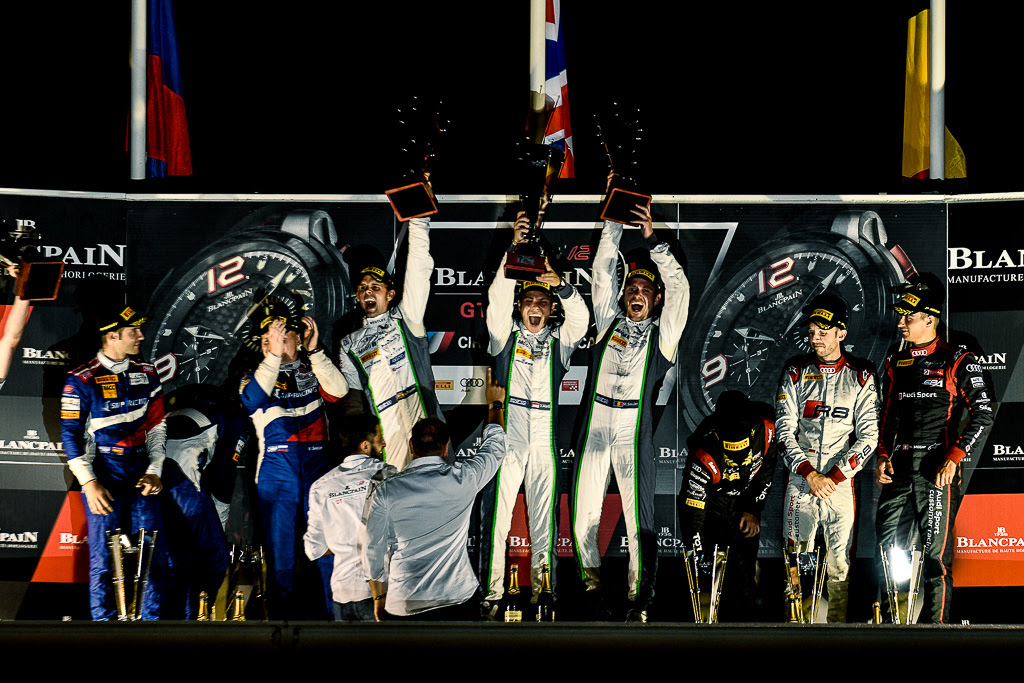 Fong had a pair of podiums here last year and with the Bentley expected to do well at this circuit, the pressure was on to deliver.
"My team manager told me if I didn't win, I didn't get to have dinner," Fong joked in the post-race press conference. "I guess I can eat tonight!"
The race-winning performance in the 50-minute race was delivered after Fong collided with Johnny O'Connell on the opening lap, Fong on the inside pitching O'Connell on the outside into a spin exiting Turn 5. Fong apologized for the contact, but was not penalized by PWC race officials.
From there, Fong controlled the pace over Patrick Long, in the No. 58 Wright Motorsports Porsche 911 GT3 R, with both drivers managing their Pirelli tires from there.
Long got close, but never close enough to make a passing attempt of Fong for the win. Nonetheless, after finishes of third, first and second in the first three races, Long's fourth straight Sprint podium brought him forth the Sprint points lead.
Michael Cooper completed the podium in the No. 8 Cadillac Racing Cadillac ATS-V.R, continuing his consistent season in pursuit of an overall PWC championship combining both the Sprint and SprintX components of the calendar. Cooper and Jordan Taylor won the lone SprintX race at Canadian Tire Motorsport Park this year while Cooper posted his first Sprint podium of the season.
Daniel Mancinelli had a rare but welcome trouble-free race in his No. 31 TR3 Racing Ferrari 488 GT3 to finish fourth, with the first of the RealTime Racing Acura NSX GT3s, Peter Kox's No. 93 car, scoring a top-five finish on RealTime's home soil near its Saukville, Wis. base.
O'Connell rebounded to eighth overall after his first lap spin in his No. 3 Cadillac.
In 13th, James Sofronas won the GTA class in his No. 14 GMG Racing Porsche 911 GT3 R. Yuki Harata won the GT Cup class in a Dream Racing Lamborghini Huracán LP 620-2.
GTS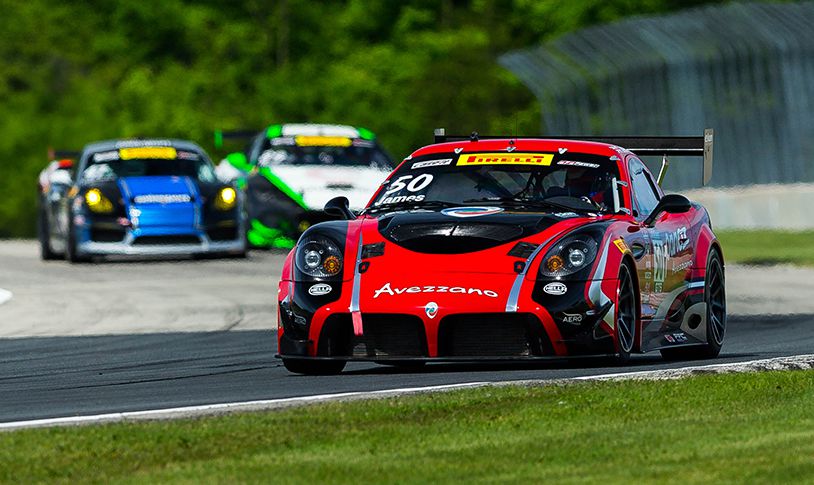 Ian James has scored the Panoz Avezzano GT's maiden victory, as the new car took the win in Saturday's combined GTS and TC race.
It comes after a series of close calls, a near win at Lime Rock Park before engine failure and its first podium there as well. The Tom Milner-led team has a series of holdovers who have worked on Don Panoz's most recent creation, the DeltaWing, and have transitioned over to a more normal looking sports car.
James dominated the 50-minute race while the battle was more behind him for second place, featuring Jeff Courtney's No. 99 JCR Motorsports Maserati GT4 in his home race and Lawson Aschenbach in the No. 10 Blackdog Speed Shop Chevrolet Camaro GT4.R.
Aschenbach, the championship leader, drove smart to get another podium finish with Courtney just behind despite several attempts.
They held off a late charge from Austin Versteeg, PWC debutante, in the No. 13 ANSA Motorsports KTM X-BOW GT4. The talented teenager out of Sandy, Utah has shifted to racing Lamborghinis this year after racing prototypes but was now in Alain Nadal's entry this weekend.
Cody Ellsworth, in his No. 111 RacerInk Porsche Cayman, won the TC class.