Saturday was a busy day for the all three series in the Mazda Road to Indy Presented by Cooper Tires, with each contesting races in the early afternoon. The day saw three dominating victories, along with an epic drive from one of the championship leaders.
Indy Lights: Leist Dominates Race 1
The momentum Matheus Leist had built in the month of May carried over into the month of June, as he led every lap from pole to dominate Race 1 at Road America for the Indy Lights Presented by Cooper Tires. He fended off challenges from Neil Alberico and Ryan Norman in turn 1 after the start and slowly began to pull away from the field, eventually winning by over six seconds.
"The car today was perfect," said an elated Leist, who will start second in Race 2. "The moment was very good. I'm very happy for this team working so hard. The car is fast in qualifying and fast in the race as well. Really looking for tomorrow."
Santi Urrutia emerged in second after a tough fight with Ryan Norman and Kyle Kaiser in the early laps, with Kaiser rounding out the podium in third, ahead of Norman in fourth.
Urrutia, despite the strong finish, was very frustrated afterward, citing a simple lack of pace that kept him from challenging for the win. "I'm struggling as I don't have the speed," he lamented. "That's the only thing. Long day to improve the car. Definitely we're not quick. We want to keep gaining some speed and developing for the championship."
Kaiser, meanwhile, continued the consistency that has vaulted him into the championship lead. But, as he explained afterward, Kaiser is not playing prevent. "I think it's important to finish races but I'm not trying to be careful," he asserted. "When you're too defensive and careful you get wrecked. I showed that this weekend. We made a lot of good passes. I was aggressive to the very last lap. That's the plan the rest of the year."
Of note: Neil Alberico was shuffled nearly outside the top ten after running wide at Turn 1 on the opening lap, but eventually rebounded to finish seventh. Colton Herta and Aaron Telitz, meanwhile, endured very difficult races that saw neither in contention at any time, and both finished outside of the top ten. Telitz was 11th and Herta 12th at the checkered flag, with Herta even spinning late in the going.
Results are below. Race 2 rolls off Sunday at 9:45 a.m. (8:45 local time) and will air on NBCSN at 11:30 a.m. ET. Qualifying report for Race 2 can be found here.
Pro Mazda: Martin Withstands Franzoni Charge for Race 2 Win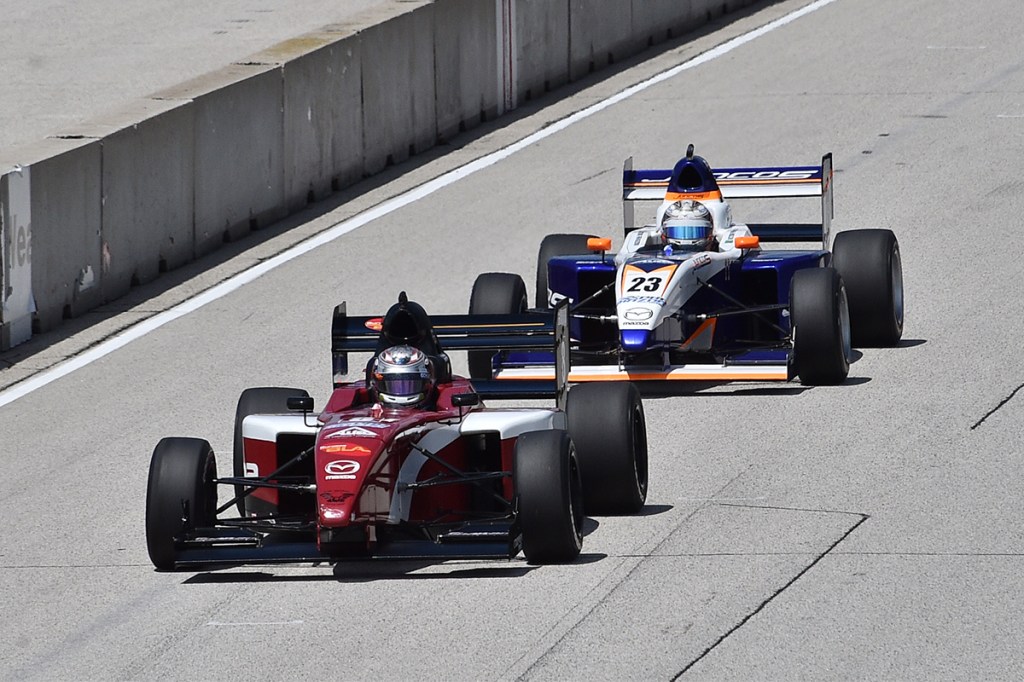 Victory Franzoni may have had the drive of the year in Race 2 for the Pro Mazda Championship Presented by Cooper Tires, but it was Anthony Martin who went to victory lane. Martin led every lap from the pole, while Franzoni ripped through the field after starting 15th to finish second.
Franzoni was up to third in the early laps when a caution for a spinning Brendan Puderbach allowed him to close the gap to Martin. He then moved to second on the subsequent restart and immediately began pressuring Martin for the lead.
Martin had to endure two more restarts, one coming on the final lap, to hold off the fast-moving Franzoni, but he was able to consistently thwart all challenges to take his third win of the 2017 season. Nikita Lastochkin rounded out the podium in third.
Martin explained afterward that he kept Franzoni behind him by focusing forward. "I got a really good start and I kept that gap for a good while until the safety car came out and bunched everyone up. And at that point, I saw the standard white and purple car in third place and thought 'OK, he's definitely got pace.' I just had to put my head down and my bum up and really focus on the road ahead of me and not behind me," said the Australian.
Franzoni, despite the strong run, lamented losing points to Martin in the championship. "I'm sad not to win, but other people would say it's good that I came back to finish second. But we lost points today, even though I came from last to second. I had to be really smart and really aggressive. I couldn't lose time but I couldn't crash," he said.
Results are below. Franzoni now leads Martin by a scant seven points, with Pro Mazda's next event coming at the Mid-Ohio Sports Car Course on July 28-29.
USF2000: Rinus Veekay Sweeps the Weekend
Rinus VeeKay (full surname of Van Kalmthout) had the broom out in the Cooper Tires USF2000 Championship Powered by Mazda as he swept the weekend at Road America. The 16-year-old Dutchman outlasted challenges from David Malukas, Calvin Ming, and Oliver Askew to dominate Race 2. It is also the third consecutive race weekend in which a driver won both races, with Oliver Askew doing so at the previous rounds at Barber Motorsports Park and the Indianapolis Motor Speedway Road Course.
"It's great. I won a lot of points for the championship standings, and I'm happy with that. I'm happy I could show the speed. My first two wins in one weekend, it's great!" said a jubilant Veekay.
Ming managed to get ahead of Askew for second, while Askew rebounded from Friday's  17th-place finish to end up third. They moved up at the expense of Malukas, who had been running second, but spun off into the gravel at turn 14 on the final lap.
Results are below (note: Ming finished second, with Malukas credited with 12th). Veekay's victories, coupled with Askew's struggles, bring Veekay to within 23 points of the championship lead. The next race for USF2000 is July 9 at Iowa Speedway, the only oval on their 2017 calendar.