Team Penske dominated the entire Kohler Grand Prix weekend at Road America, twice going 1-2-3-4 over the three practice sessions on Friday and Saturday and then doing the same in qualifying, with Helio Castroneves taking pole from Will Power, Josef Newgarden, and Simon Pagenaud.
However, race day represented a missed opportunity. Though Castroneves led early, it was Newgarden who emerged as their best hope for victory following a spectacular outside pass on Castroneves entering turn 1 on lap 19. That put Newgarden in the lead, and he seemed to be in full control.
Still, Chip Ganassi Racing's Scott Dixon had been stalking the Penske foursome all race long, and sat behind Newgarden in second for a lap 30 restart. With Newgarden on primary blacks and Dixon on alternate reds, Newgarden was somewhat of a sitting duck, and Dixon muscled his way into the lead with an equally spectacular outside pass in turn 1, with Newgarden briefly falling to third behind teammate Castroneves.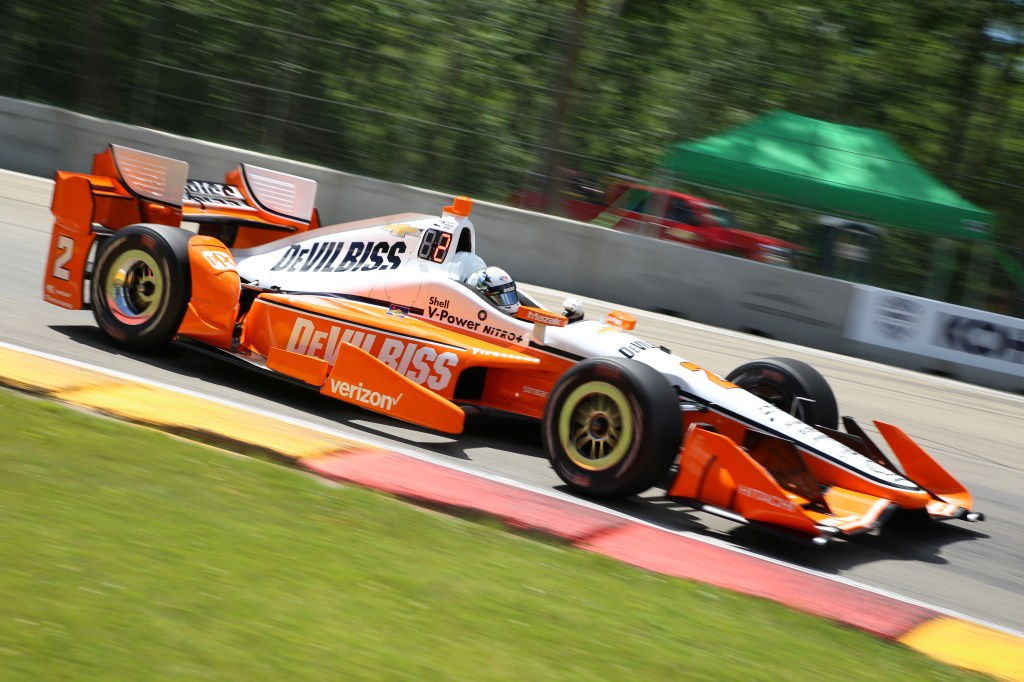 Although Newgarden regrouped, overtook Castroneves during the final pit stop sequence, and closed to within a second following a restart with seven laps remaining, he was never close enough to make a move for the win.
Even though the Team Penske drivers all finished in the top five, going 2-3-4-5 with Newgarden leading Castroneves, Pagenaud, and Power, missing out on victory was a bitter pill to swallow.
"It stings a little bit coming home second when you feel like you have a winning car," Newgarden revealed in the post-race press conference.
He added that an ill-timed lap 28 caution for a spinning Takuma Sato ultimately put paid his chances of victory. "The caution didn't fall our way. You can't predict that stuff. It hurts when it comes at the wrong time. That's pretty much what happened today. With (Tim Cindric calling the strategy), I feel confident with all our decisions, everything those guys do on the pit box. Things just didn't fall our way today."
For Castroneves, a slight error before his final pit stop saw him pit earlier than the team wanted, due to an alarm that went off in the cockpit. However, as he explained to NBCSN's Marty Snider, it was of little consequence to the outcome of the race.
"We mentioned in the debrief that if in turn 14, the blue lights come on, you are to come right away. So I came in. I am sure they had a little buffer, and they knew what exactly was going on. (Race engineer Jonathan Diuguid) said keep going but I couldn't quite understand him. But at the end of the day it didn't cost us anything in terms of a win or second place."
Still, the strong results see Pagenaud and Castroneves sit second and third in the championship, while Newgarden and Power sit fifth and sixth, respectively.