ELKHART LAKE, Wis. – The sequel is often harder to duplicate than the original, so the second year of the KOHLER Grand Prix at Road America was always going to be a test case to prove last year's "oh my goodness, IndyCar at Road America is back!!" vibe wasn't a one-off.
Similar to the Indianapolis 500, while 2016 was always going to be a special event, the 2017 event matched it in awesomeness, even with a slight reduction in crowd.
With that as a backdrop, here's some takeaways from the weekend:
DIXON SLAYS PENSKE'S QUARTET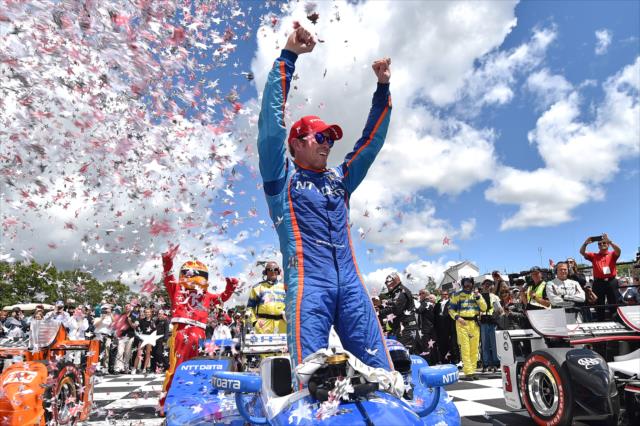 Because IndyCar often dwells so much on its history – which often serves as a crutch for IndyCar's future – it is sometimes hard to appreciate the history being made as we speak.
In Scott Dixon's latest historic act, winning his 41st career race to move within one of Michael Andretti for third on IndyCar's all-time win list, he singlehandedly toppled the Team Penske quartet in the process.
A well-timed caution for him and being on the right tires – Dixon had Firestone red alternates on while combatant Josef Newgarden was on the black primaries – paid dividends. Dixon promptly delivered one of the overtakes of the season following the Lap 31 restart, basically taking Newgarden's earlier around-the-outside pass for the lead at Turn 1 of Helio Castroneves and saying "hey, I can do this too."
The combination of the strategy with Mike Hull, in his 25th anniversary weekend with Ganassi, and Dixon's pace on track delivered an overdue first win of the year. It was such a big win, and extended his points lead to 34 in the process, he even did donuts after the race.
"He's a calm person. I can get pretty worked up at some points throughout the races," Dixon said. "It's nice to have that sort of level-head person on the stand to extract the most out of everybody that's on there.
"His knowledge and experience that he's had, you know, in racing, I don't know how long he's been in racing, it's got to be a long time if he's been at one team for 25 years, we win and lose as a team. All but one race victory has been with this team. Mike's a very large instrumental piece of, you know, Chip's team and the success that they've had.
"It's very gratifying. They looked pretty disappointed. It was nice to get a victory. As far as road courses go, this was going to be one of the more difficult ones for us because of the long straights and the drag that we have."
The win also came after Dixon missed the morning warmup owing to a fuel pump issue, but the team got it resolved.
Sometimes it's hard to appreciate good deadpan but Dixon nailed that after the race, too.
"I did not fix it, which is a good thing, because we probably wouldn't have started the race!" he laughed.
PENSKE'S LOST CHANCE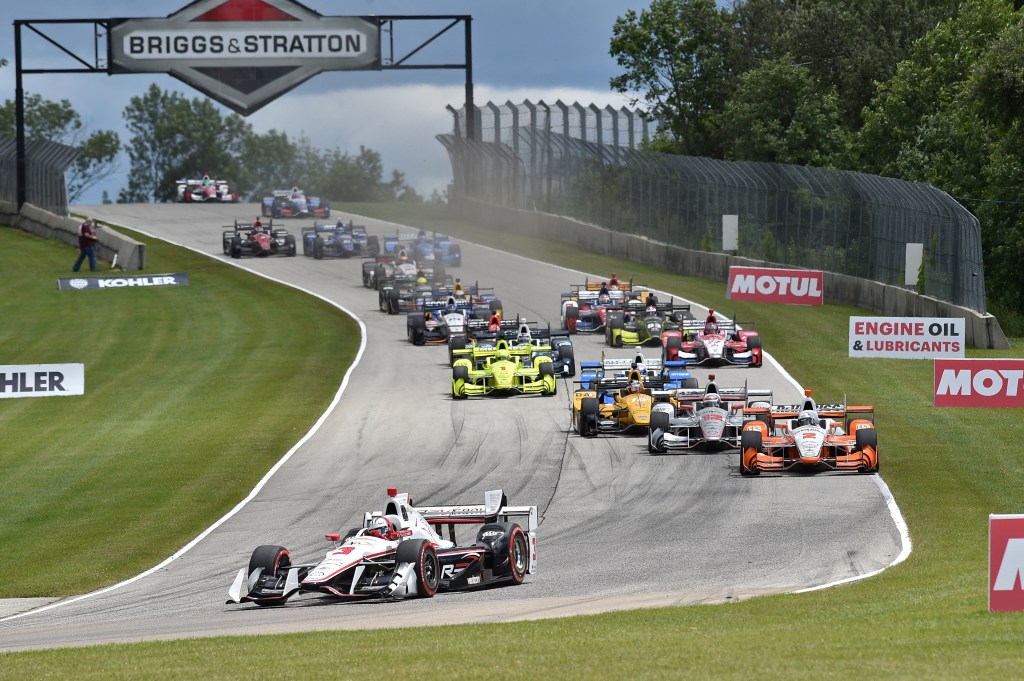 Between a disappointed Josef Newgarden, a dehydrated Helio Castroneves, a seemingly invisible Simon Pagenaud and an occasionally erratic Will Power, Team Penske's dominant weekend ended without first place when it mattered most.
Newgarden looked the best of the bunch while Castroneves lost out on strategy – he pitted too early in the final sequence – while Pagenaud and Power faded from contention. Power got one penalty assessed and ordered to give up one position to Pagenaud for a move earlier in the race and ultimately finished behind him, on a day when "the incident involving Car 12 and Car XX" was said repeatedly. Pagenaud, as has been his strength this year, banked another solid top-five finish without generating major headlines to do so.
A TRIO OF UNDER-THE-RADAR GOOD DAYS
In sixth, seventh and ninth, Charlie Kimball, Ed Jones and Max Chilton got needed results. Kimball's penchant for poor luck finally turned as he hoped it would going into the weekend. Jones, again, continued to overachieve for Dale Coyne Racing – this time wearing a Walter Payton Chicago Bears tribute helmet and having overcome a major piece of debris hitting his left front wing. Chilton fell to ninth from seventh but banked his fourth top-10 finish in the last six races. For a driver who only had two all of last year, that's moving in the right direction.
GOOD CROWD ONCE AGAIN
Thanks to Chevrolet for a pre-race ride in one of its event cars, driven by USF2000 regular Ayla Agren – Road America is a big Chevrolet track – I had a good view of the crowd in the final moments before this year's race kicked off. Between the grandstands and hillsides, there were plenty of fans and just as many campers.
It'd be hard to call this year's race day crowd as big as last year's but even if it was down slightly, it was still very good.
MAZDA MOTORSPORTS MANIA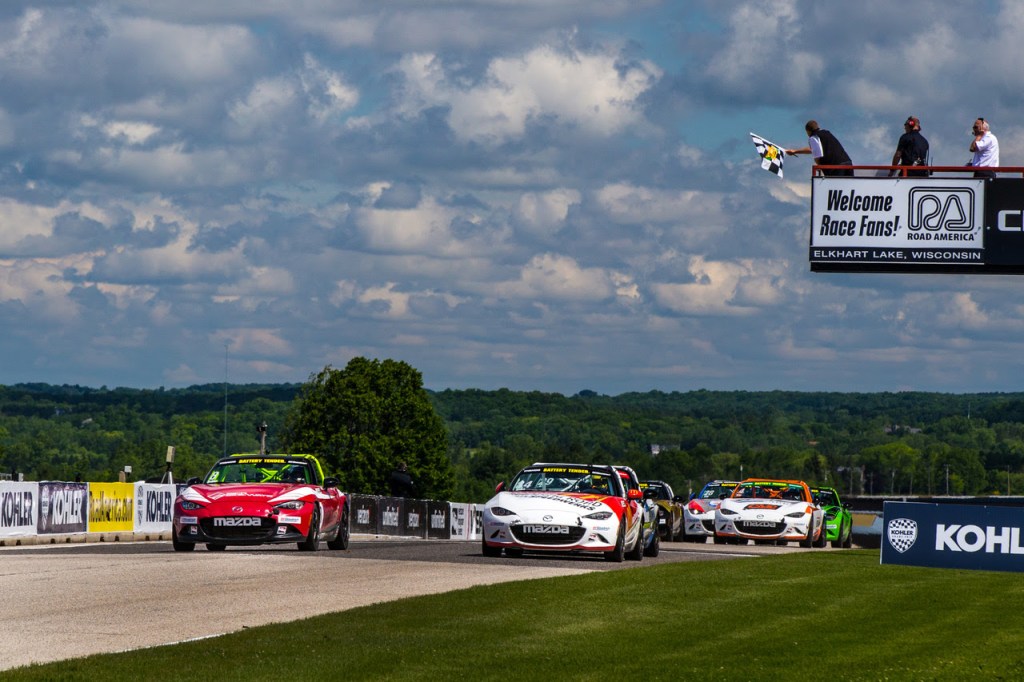 Eight of the additional races this weekend were from the Andersen Promotions operated and INDYCAR sanctioned, Mazda-powered series. With all three rungs of the Mazda Road to Indy presented by Cooper Tires here for two races each, plus two Battery Tender Global MX-5 Cup presented by BFGoodrich Tires races on the docket, fans and paddock observers had a chance to witness a festival of "driving matters" on display at RA.
They were largely entertaining. Saturday's second Pro Mazda race nearly witnessed Victor Franzoni complete a last-to-first comeback, and end disappointed after being beat by sparring partner Anthony Martin. Just like in USF2000 last year when Martin and Parker Thompson battled for the title, it will be hard to see one of them lost the title. Both Indy Lights races had huge margin of victories and surprising Carlin drivers winning (Matheus Leist and Zachary Claman De Melo) but great action throughout the field. Juncos Racing's Kyle Kaiser continues to drive like a champion-in-waiting; his race craft has grown by leaps and bounds in the last two years. And in USF2000, Rinus VeeKay delivered on his season-long potential with the only weekend sweep in a dream weekend for Augie Pabst's Pabst Racing time. The likable young Dutchman, who is still only 16, was able to celebrate with both his own and with Pabst's family this weekend. Teammates Calvin Ming and Lucas Kohl also scored podiums.
MX-5 Cup? Two photo finishes showcased that series' racing at this track like few others on the calendar. Patrick Gallagher and Nathanial Sparks each used last lap, last turn moves to net their wins.
PWC'S POPULAR WINNERS…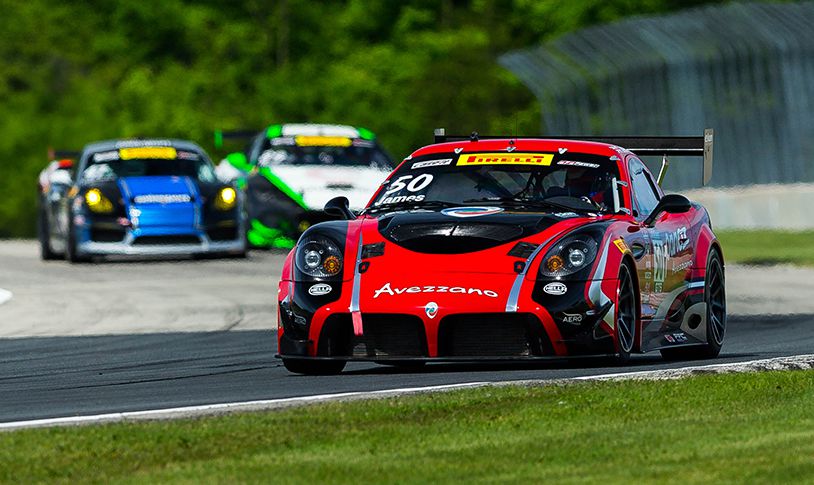 Panoz winning a sports car race is cool. As Ian James said on Saturday, few have given as much to sports car racing in North America, and for that matter the world, what Don Panoz has. So seeing Panoz's latest wild GT creation tame Road America for a double win with James driving was not just a highlight for the driver, but also the Tom Milner-led team, who've been through a lot over the years with either uncompetitive or unreliable past cars.
A Panoz sports car was last a winner with the old Esperante GT2 in 2006, its Le Mans class win that year the car's ultimate highlight. And with James' weekend sweep, it continued PWC GTS' crazy run of different drivers, teams and manufacturers sweeping the weekend – now five different drivers, teams and manufacturers in as many weekends, over 10 races. Yet it's the one driver who hasn't won, Lawson Aschenbach in the Blackdog Speed Shop Chevrolet Camaro GT4.R, who still leads the points.
GT saw the perfect balance of Fong and Long on top. Adderly Fong took his first PWC win in his No. 88 Bentley Team Absolute Bentley Continental GT3 on Saturday while Patrick Long rebounded in his No. 58 Wright Motorsports Porsche 911 GT3 R on Sunday. The two were second in the races they didn't win, with Cadillac splitting its two drivers – Michael Cooper and Johnny O'Connell – in third.
… BALANCED BY WEEKEND SCHEDULE ANGST
The good news this weekend was that there was a lot of action on track. The bad news for competitors in certain paddocks was that that "lot of action" meant awkward or bad track times. Pirelli World Challenge, in particular, had a brutal weekend schedule that may threaten the combination of PWC and IndyCar on the same weekend going forward for 2018 and beyond, IndyCar having been confirmed for June 23-24 here next year.
PWC already lost its Touring Car classes from the weekend compared to 2016 going in, with MX-5 as the replacement. A handful of invitational TC cars were added to the GTS races. The majority of PWC sessions were held Thursday with the GT and GTS/TC classes only having one session each on Friday, a qualifying and a race apiece on Saturday, and a second race apiece on Sunday.
Several competitors voiced their displeasure over this this weekend, and it was the latest sign of PWC's growing pains as it works to evolve into a marquee, standalone series beyond being an excellent supporting act on IndyCar weekends. The fact for the second time this year that Sunday's second GT race was not shown on a live web stream despite being advertised as such did not help matters, either, as a same day delay TV broadcast did occur for a smaller audience.
ADDITIONAL NOTES
The first murmurs of IndyCar silly season started to emerge this weekend with an AutoWeek report that hinted Andretti Autosport could be on the move from Honda to Chevrolet next season. While it would not be a surprise to see team and manufacturer movement next year – and there are whispers of multiple teams doing just that – it would be a surprise to see that starting so soon. Several drivers could do with improved results too in the coming races as contracts start to get looked at for 2018.
Robert Wickens handled his abnormal situation as well as he could. The Canadian had to deal with wondering whether he'd get to keep racing into the weekend after substituting for Mikhail Aleshin on Friday at Schmidt Peterson Motorsports. It'd be nice to see Wickens earn a proper opportunity for a full weekend later this year, and it's worth noting the DTM calendar and IndyCar's remaining road and street course races don't have any clashes…
Birthday weekends at race tracks are amazing, but exhausting. The amount of kind words and gestures were overwhelming though this weekend, as was what I think was a joint operation between INDYCAR, Road America and several media colleagues to surprise me with a cake in the media center on Friday evening was very flattering. I'm not sure where the "LaVern" came from, but the #BlameTony hashtag – a running joke going six years on – was a fun touch. Thanks to all.
It was also fun to call Sunday's second Indy Lights race from the Advance Auto Parts IndyCar Radio Network booth. Seeing the behind-the-scenes operation of how radio works as the crew puts everything together is like an orchestra. Coincidentally, IndyCar Radio regular Jake Query led NBCSN's Indy Lights coverage this weekend, as Kevin Lee gets to call additional Verizon IndyCar Series races as lead announcer and host.
The Verizon IndyCar Series is off until Iowa; Pirelli World Challenge races next at the Mid-Ohio Sports Car Course; the Mazda Road to Indy presented by Cooper Tires is split between its next races at Iowa (Indy Lights, USF2000) and Mid-Ohio (Pro Mazda) and MX-5 resumes next in Toronto.