The 2017 Indy Lights Presented by Cooper Tires season has been feast or famine for some drivers expected to be championship favorites.
Colton Herta has two wins and one additional podium, but has also recorded five finishes of tenth or worse. Aaron Telitz, too, is a race winner this year and has four additional finishes of fifth or better to his name, but his season has also been blighted by three finishes of 11th or worse.
Matheus Leist (15th and 11th), Nico Jamin (13th and 14th), and Zachary Claman De Melo (14th, 11th, and 10th) are also race winners who have suffered poor finishes at various times this year.
This highlights a remarkable aspect of Kyle Kaiser's 2017 campaign. The Juncos Racing driver, in his third Indy Lights season, has finished every lap of the season so far, scored a victory at the Indianapolis Motor Speedway Road Course (Race 2), finished on the podium five additional times, and has a worst finish of ninth. In fact, his season results run as follows: 6-4-2-2-3-1-9-3-2.
The remarkable run of consistency has propelled Kaiser to the lead of the Indy Lights championship as the series heads to Iowa Speedway next weekend.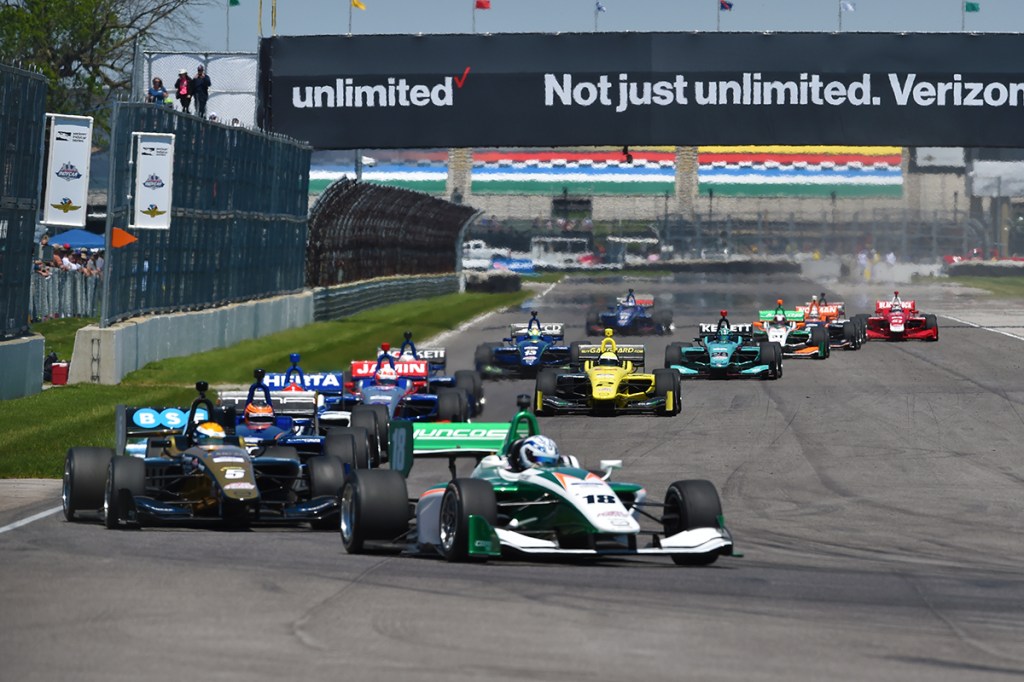 However, one should not mistake Kaiser's consistency for conservative driving. As he explained after Road America, running conservatively could leave him vulnerable to other competitors, so he remains as aggressive as he can be.
"I don't want to put myself at risk by not being defensive or not being aggressive. I'm trying to drive the way I normally drive and hope everybody else respects the racing room," Kaiser asserted.
Multiple factors have converged to see Kaiser leap to the fore, but the engineering side of the team may be the biggest. Kaiser currently works with Peter Dempsey, a former competitor in the Mazda Road to Indy Presented by Cooper Tires and current Indy Lights engineer at Juncos Racing, and the relationship between the two has been a productive one.
"I like Peter a lot," Kaiser said of Dempsey's influence. "He worked with me in Pro Mazda, so we had a really good relationship. He's been super helpful."
The leadership of Juncos Technical Director Ernesto Gonella has also been a big influence. And while his style is a little unorthodox, as Kaiser explained, it's highly effective.
"He just goes by feel. Every morning, he goes 'What does the air feel like?' He's really cool, I love the way he works. He totally relates to the driver, which makes it a lot easier."
The next race at Iowa Speedway presents a unique challenge for Indy Lights as the lone short oval on the calendar, and Kaiser has personal experience with the difficulties of driving on short ovals. "I had a little accident there last year in practice, and that really was a wake-up call. You got to respect these short ovals."
However, given that his first Indy Lights win came on a short oval (Phoenix Raceway, 2016), Kaiser is confident his run of success will continue. "I like the short ovals. I got my first win at Phoenix, so I think we'll have a good setup and hopefully we'll be up front again."
Kaiser heads to Iowa Speedway with a 27-point lead over Matheus Leist in the championship standings.