With a record 16 NHRA Funny Car championships and another record 148 wins in his career, there's no question John Force knows how to make things go straight down the middle.
And it's that kind of philosophy Force relied upon when he threw out the ceremonial first pitch Wednesday at Wrigley Field for the game between the World Champion Chicago Cubs and visiting Tampa Bay Rays.
Force admitted to MotorSportsTalk Thursday that he was nervous heading to the mound. He's only thrown a first pitch a couple of times in his 50-plus year drag racing career, the most recent time coming several years ago before a Giants game in San Francisco.
Force didn't want to embarrass himself or his sponsors, so he kept visualizing the task in his mind for the last couple of weeks as a way of preparation.
When the time came for Force to rear back and let the ball fly, he wound up throwing an impressive strike.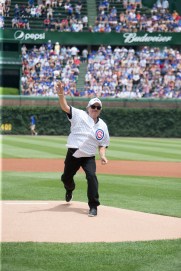 Cubs pitcher Eddie Butler served as the catcher for Force's toss and gave the driver some advice.
"Butler said to go back to your childhood when you throw it," Force said. "I got out there on that mound and with all the cheering from the crowd, and just like going into the finals of a race, I tried to blank it all out and just got into my zone.
"So I had this big old wind-up and I threw that son of a gun as hard and as solid as I could throw it and it was a strike."
As it turns out, Butler is a big drag racing fan and especially a Force fan.
It's kind of hard to judge who was more excited about the event, Force for throwing the pitch or Butler getting to meet his favorite drag racer for the first time.
"Other than throwing out those other two first pitches, it's been about 40 years or more since I last threw a baseball," Force said. "I didn't want to throw it in the dirt."
Butler and several other Cub players signed the ball for Force as a memorial of the day, and Force — who is competing in this weekend's Route 66 NHRA Nationals at Route 66 Raceway in Joliet, Illinois — then gave the ball to his grandson, Jacob.
"I did something for my grandkids that I'll likely never be able to do again," Force said. "It was really cool."