Following a week off, the Verizon IndyCar Series picks back up with races on back-to-back weekends in July, beginning with the Iowa Corn Indy 300 (July 9, 5:00 p.m. ET, NBCSN). The visit to the .875-mile oval is the second and final stop at a short oval this year, following April's Desert Diamond West Valley Phoenix Grand Prix.
If April's outing at Phoenix is any indication, Chevrolet teams should have the advantage. However, in a season defined by unpredictability, Iowa certainly has the potential for a few surprises.
2017 Iowa Corn Indy 300 Talking Points
Championship Battle
To say that the 2017 championship picture is tight would be an understatement, with 72 points covering the top seven in the standings.
Scott Dixon sports a seemingly healthy 34-point lead over Simon Pagenaud. But, mathematically, it is possible for Pagenaud and his Team Penske teammate Helio Castroneves (37 points behind) to leapfrog Dixon, especially if Dixon encounters early trouble (e.g. Juan Pablo Montoya at Iowa in 2015, when he crashed out within the first ten laps).
Further, the tight points gaps mean that even the slightest fluctuation in finishing positions could have drastic implications. For example, Tony Kanaan dominated this race in 2014, leading 247 laps, and appeared destined for victory before a late-race caution. That opened the door for drivers like Ryan Hunter-Reay and Josef Newgarden to pit for fresh tires, which helped them rocket through the field when the race restarted. Hunter-Reay and Newgarden finished first and second that year, pushing Kanaan down to third in the final laps.
A third-place finish is strong on paper, but in the case of Kanaan, it saw him leave 15 points on the table. With the championship as tight as it is, such a loss is hardly insignificant.
Assuming 21 cars will start Sunday evening's race, the maximum point-swing possible is 45 points. And while Takuma Sato, Josef Newgarden, Will Power, and Graham Rahal cannot mathematically leave Iowa with the championship lead, they remain well-positioned to gain ground.
Chevrolet short oval dominance
The balance of power among the manufacturers has been considerably more equal in 2017, with Honda possibly having the edge in the engine department and currently holding an advantage in race wins (6-4). However, Chevrolet continues to be the dominant force on short ovals.
April's Desert Diamond West Valley Phoenix Grand Prix was evidence of this. The five fastest qualifying times came from Chevrolets, with Castroneves taking the pole, and the top four finishers were all from Chevrolet teams, with Pagenaud taking victory.
As a result, one can expect the Penske quartet of Simon Pagenaud, Helio Castroneves, Josef Newgarden, and Will Power to be major players this weekend. However, even though Team Penske is Chevrolet's most dominant team, one cannot simply give this weekend's win to someone in the Penske camp.
Ed Carpenter Racing sports a short oval program as stout as anyone's, and both JR Hildebrand and Ed Carpenter kept the Penskes honest at Phoenix, with Hildebrand finishing third.
What's more, Ed Carpenter Racing is the defending champion at Iowa, with then ECR driver Newgarden offering a performance unlike any we've seen in recent memory, leading 282 laps and nearly lapping the field during the first 109 circuits.
While Chevrolet may have the upperhand, the "David vs. Goliath" battle between Team Penske and Ed Carpenter Racing offers plenty of intra-manufacturer intrigue.
Andretti Autosport looking to regain Iowa form
In looking at the history of the Verizon IndyCar Series at Iowa Speedway, Andretti Autosport surfaces as the track's main protagonist, with the organization scoring seven victories, including a string of six in a row between 2010 and 2015.
However, last year's Iowa Corn Indy 300 was somewhat of a disaster for the Michael Andretti-led outfit. While Alexander Rossi managed to finish a respectable sixth, teammates Carlos Munoz and Marco Andretti finished outside the top ten in 12th and 14th, while Ryan Hunter-Reay, a three-time winner at Iowa, suffered an engine failure a little over 100 laps in.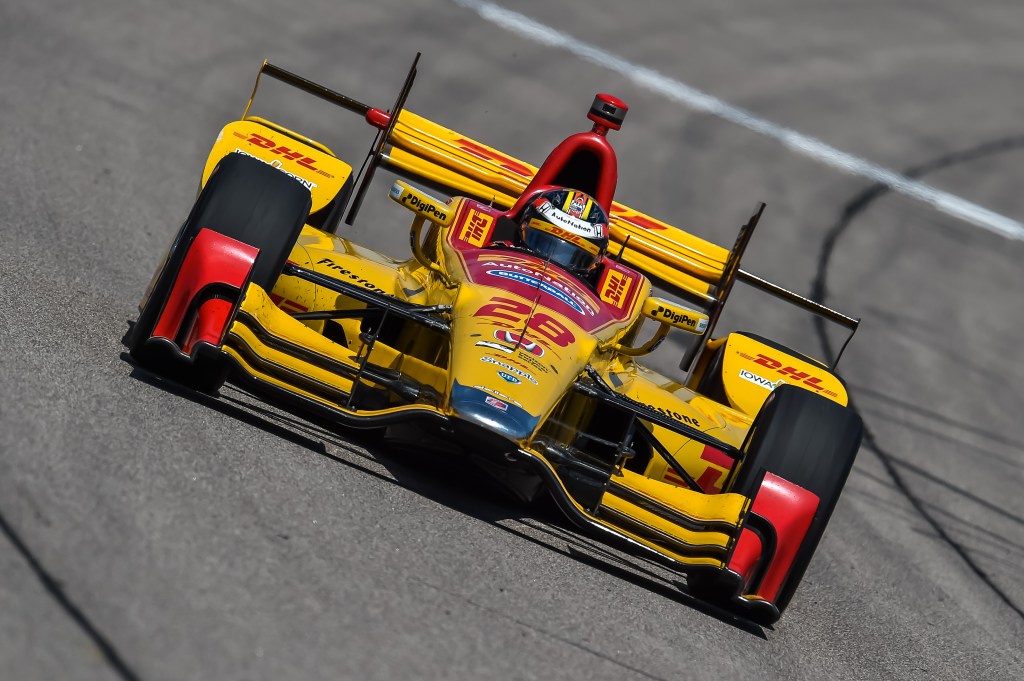 What's more, they inexplicably lacked pace all weekend. Munoz was their best qualifier, and a lowly 15th at that, while Rossi started in 17th, Andretti in 19th, and Hunter-Reay in 20th.
The 2017 season has seen Andretti Autosport improve its pace significantly, however luck has alluded them at several events this year. While Sato (fourth) and Rossi (ninth) sit in the top ten in the championship, Andretti and Hunter-Reay languish down in 13th and 15th.
If luck is on their side, their history at Iowa Speedway suggests this could be the venue for Andretti Autosport to right the ship.
Ninth different winner in the cards?
Eight different winners have graced Victory Lane so far in 2017, yet a number of heavy hitters remain winless. Most obviously, Helio Castroneves and Tony Kanaan top the list, but Alexander Rossi, Ryan Hunter-Reay, JR Hildebrand, and Ed Carpenter all represent possible winners as well.
With seven races remaining, it seems likely that the 2017 season will see double digit winners, and it's very possible the series could cross that threshold this weekend.
Lingering questions
Can Josef Newgarden repeat last year's performance with a new team?
Will the Honda teams be as disadvantaged as we think?
Dale Coyne Racing brings a pair of rookies to Iowa in Ed Jones and Esteban Gutierrez. Jones has quietly impressed thus far in 2017, and has two Iowa podiums in Indy Lights Presented by Cooper Tires, while Gutierrez makes his oval track debut this weekend. What will the Iowa oval have in store for them?
The final word
From last year's Iowa winner, Josef Newgarden: "I'm really pumped for the race at Iowa. For starters, I won last year, which was huge for me and my career. Secondly, we're racing again in the No. 2 Fitzgerald Glider Kits Chevy in which I won earlier this season in at Barber. And on top of that, we're coming off a solid finish at Road America. We've been working on our oval program since Texas and have a lot of things we want to try out that we think will give us a really strong car. The whole team is really excited to head to that race and see what we can do."
Here's the IndyCar Weekend Schedule:
At-track schedule (all times local):
Saturday, July 8
10:00 a.m.- 11:15 a.m. – Verizon IndyCar Series practice #1, Livestreamed on RaceControl.IndyCar.Com
2:00 p.m. – Qualifying for the Verizon P1 Award (single-car format, two laps each), airs LIVE on NBCSN
6:15 p.m. – 6:45 p.m. – Verizon IndyCar Series practice #2, Livestreamed on RaceControl.IndyCar.Com
Sunday, July 9
3:10 p.m. –  3:20 p.m. – Verizon IndyCar Series pit stop practice
4:00 p.m.. – NBCSN on air
4:44 p.m. – Iowa Corn 300 (300 laps/268.2 miles), NBCSN (Live)
Here's last year's top 10
1. Josef Newgarden
2. Will Power
3. Scott Dixon
4. Simon Pagenaud
5. Mikhail Aleshin
6. Alexander Rossi
7. Tony Kanaan
8. Sebastien Bourdais
9. James Hinchcliffe
10. Charlie Kimball