JOLIET, Illinois — It was a rough weekend in many aspects for many of those at the Route 66 NHRA Nationals at Route 66 Raceway in Joliet, Illinois:
* First, Terry Chandler, a philanthropist who had spent the last several years personally bankrolling Jack Beckman's "Infinite Hero" and Don Schumacher Racing teammate Tommy Johnson Jr.'s "Make A Wish" Funny Cars, was honored prior to the start of Sunday's eliminations.
A five-minute video retrospect of Chandler's life was played on the video screens at the track. Chandler was a beloved member of the NHRA family who passed away July 4 at the age of 65 after a courageous battle with brain cancer.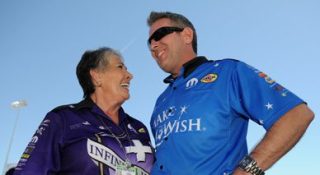 Chandler is the sister of former NHRA racer Johnny Gray, aunt to Shane Gray and great-aunt to current Pro Stock racer Tanner Gray.
"You already knew how much she was loved," Funny Car driver Ron Capps said of Chandler. "I saw her standing at the back of my car (during the first round today). I had to shake my head because I was so used to seeing her standing there.
"This was her life, making kids smile. Drag racing is all she talked about. It was a very emotional weekend and bittersweet."
Capps gave the winning trophy to team owner Don Schumacher and his family, who will then give it to Chandler's family.
* John Force Racing struggled miserably in Sunday's final eliminations. All three JFR Funny Car drivers — Courtney Force, Robert High and team patriarch John Force — lost in the first round and all for the same reason: they smoked their tires (lost traction).
Courtney Force lost to J.R. Todd, Hight lost to Jim Campbell and John Force lost to Tommy Johnson Jr. It's the first time this season that all three JFR Funny Cars have lost in the first round.
The fourth JFR driver, Top Fuel pilot Brittany Force, made it out of the first round, but lost in the second round in an upset victory by T.J. Zizzo.
John Force took the unusual step after the race of issuing a statement to fans of his, Hight's and his two daughters' respective teams.
"We're moving in the right direction, and it's a long way to the Countdown (the NHRA's six-race playoffs)," Force said in a statement. "I can't say thanks enough to my guys. I know they're bummed right now, but I don't want them to take it home. I love them all. Let's get ready and go to Denver (the next race in two weeks, which kicks off the annual three-race 'Western Swing')."
Added Hight, who came into Sunday as the event's No. 1 qualifier in Funny Car, "The good news is our performance is there. What we have to quit doing is beating ourselves, and that's what we do every week. We're not getting outrun, ever. We drop cylinders, we smoke the tires. There haven't been any races when we've went out there side by side and gotten beat. We're not getting beat by the competition; we're getting beat by ourselves. We have to eliminate that."
* Zizzo's Cinderella story came to an end in the semifinals when he lost to Top Fuel points leader Steve Torrence. It was the first race for Zizzo and his team in nearly 10 months (last time was at the U.S. Nationals in Indianapolis, early last September).
But the local driver (from north suburban Lincolnshire, Ill.) has no reason to hang his head. It's the third time the little team that could has taken out the No. 1 qualifier at Route 66 in the last five seasons: defeated eight-time Top Fuel champ Tony Schumacher after he qualified No. 1 in the 2013 race, beat 2014 No. 1 qualifier Spencer Massey and then 2017 No. 1 qualifier Britney Force.
In addition, Zizzo recorded the two best speed showings of his Top Fuel career (324.36 mph in his first round win over Pat Dakin and his second-round upset (324.75) of Brittany Force.
* Another of the sport's super teams, Kalitta Motorsports, also struggled Sunday. Doug Kalitta smoked the tires and lost to two-time defending Top Fuel champ Antron Brown in the first round. Troy Coughlin Jr. also lost in the first round of Top Fuel to Leah Pritchett. Shawn Langdon reached the quarterfinals before falling to Clay Millican.
In Funny Car, Kalitta Motorsports driver J.R. Todd upset Courtney Force in the first round, but lost to Tommy Johnson Jr. in the second round. Ditto for Alexis DeJoria, who won her first round match with Cruz Pedregon, but lost to Matt Hagan in the second round.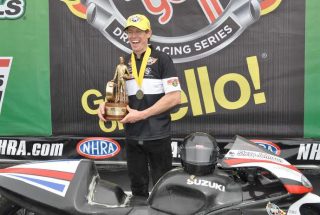 * Veteran Pro Stock Motorcycle rider Steve Johnson, one of the most popular drivers in the sport, had a bittersweet day.
On the positive, he celebrated his 400th career start in an NHRA event. On the negative, the Alabama resident lost in the first round and was sent home early.
* The oldest driver in NHRA competition, 86-year-old Chicago resident Chris Karamesines, is a big local fan favorite.
But he struggled during the four rounds of qualifying on Friday and Saturday, unable to do better than 4.690 seconds at 165.42 mph, and was the only driver of the 17 Top Fuel pilots entered for the weekend that failed to qualify.
However, 74-year-old driver Luigi Novelli, of nearby Crete, Ill., qualified 16th, the final spot on the Top Fuel ladder, but lost in the first round to No. 1 qualifier Brittany Force.