This weekend's Honda Indy Toronto (Sunday, 3 p.m. ET, CNBC) isn't James Hinchcliffe's 100th Verizon IndyCar Series start – that came last weekend at Iowa Speedway – but it is an excellent opportunity for him to pick up an elusive first win on home soil.
Consider street courses have been where Hinchcliffe and the Schmidt Peterson Motorsports team has excelled most this season and you have a recipe, in theory, for more success.
Hinchcliffe has started third, fourth and fifth in the four previous street races this year and has led all 47 laps he has this season in three of those four.
He could well have won at St. Petersburg if not for an ill-timed yellow flag, did win at Long Beach and then rebounded from a first-lap spin at Detroit race one to bank his second podium of the year there.
A nice third place last year, in third courtesy of both pace (qualified sixth) and luck (got a lucky yellow) saw him on the podium for the first time in his home race and only fueled the desire to go two better this time around.
"Obviously this is on the top of the list of races we want to win," Hinchcliffe told NBC Sports. "We got a bit of a taste of it last year, which made us that much hungrier. In the past we had horrible luck. Last year wasn't just pure pace; we did have a lucky yellow.
"Street courses have been our strength by a significant margin this year. We haven't been outside top five in quals, and St. Pete would have been a podium if not for the yellow. This track is very different to those. Always has been. Being good at Detroit doesn't necessarily mean you're good here. Hopefully you have a good handle on it."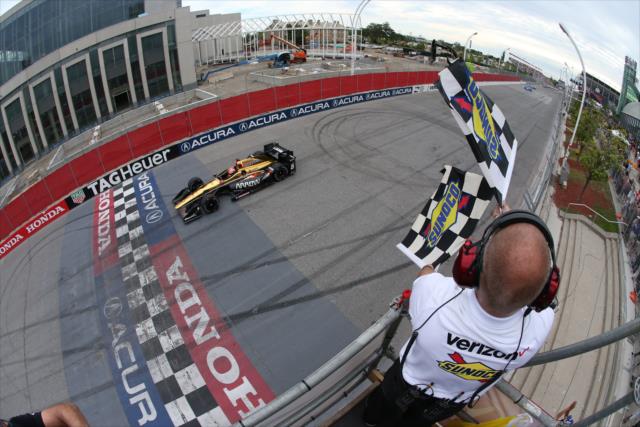 Hinchcliffe's season overall has been plagued by bad luck and has seen him drop from a top-three points position down to 12th entering the weekend, which isn't entirely representative of his pace.
Despite an 8.6 average grid position, Hinchcliffe only has five top-10 results all year – and just two of them in the last eight races after opening ninth, first and sixth out of the gate.
One of them came last week at Iowa, in 10th, which wasn't bad and something of a nice course correction after getting taken out at both Indianapolis and Texas and having a late race mechanical issue at Detroit race two.
It also featured a highlight reel moment as Hinchcliffe split the gap in a three-wide move getting around Tony Kanaan and Charlie Kimball, a pair of Chip Ganassi Racing Teams drivers. On reflection, Hinchcliffe said the hair-raising move might not have been the smartest.
"It wasn't my smartest move!" Hinchcliffe laughed. "I tried to make it happen for a while. But big credit to Charlie, who gave us both room.
"I'd been stuck behind TK, and it was kind of a desperate move, but I was lucky we got out of it. It's one of those things where you chalk it up to experience and move on all good!"
Understandably, the home race for Hinchcliffe packs a year's worth of pressure and anticipation to perform ahead of his home fans. But just as Hinchcliffe was drawn to the series as a young fan at the Honda Indy in the 1990s, he fully understands the magnitude of being the hometown hero in the motorsports mad country of Canada, and he embraces how important it is to give back.
"Luckily I'm far enough into my career and have done it enough times that I know what's expected of me, and how to handle the situation in general," he said. "It's always exciting to come home. This race made me fall in love with IndyCar and for me it's a privilege to race in it.
"I think what works really well is having a good team of people. I'm not good at saying no – I want to do everything – so between the team and Fi (Hewitson, Hinchcliffe's assistant) we have a good support system that helps me out and keeps us on schedule."
Hinchcliffe's philanthropic work is also on display during the Honda Indy weekend thanks to his Honda Canada relationship and its partnership with the Make-A-Wish Foundation in Canada. Hinchcliffe explains:
"I get to do a lot of different things throughout this week. But the thing I look forward to the most is with Honda Canada and Make-A-Wish. We do a lot for the organization, we bring a group of kids to the track, and I spend some time with them.
"It's always the most rewarding thing. There's no group you'll get more inspiration from. It's such a special thing to be a part of that, and give a bit back to those kids
"What we do with the (firesuit) is we put it up at the Honda world exhibit, and then the race suit I race with, that one gets auctioned off. You do every bit you can to help the cause."
This will be Hinchcliffe's seventh start in the Honda Indy after past runnings there in Formula Atlantic and Indy Lights previously. His first Honda Indy race, in 2011, came in his rookie season where there was the beginning of the changing of the guard among Canadians – NBCSN IndyCar analyst Paul Tracy made his final Toronto start and Alex Tagliani made it three Canadians in the field.
That season stands out as one of Hinchcliffe's ultimate highlights in his 100-start career, because of the magnitude of what it meant going forward to him.
"Certainly winning rookie-of-the-year in 2011 is one of the highlights of my career," he reflected. "You only get one shot at that, and we missed St. Pete, and we weren't sure if we'd make it to Brazil and Japan. Both were last-minute deals.
"But we got the result the last race of the season. That was a big rookie class (JR Hildebrand, Charlie Kimball, Ana Beatriz, James Jakes, Sebastian Saavedra). There five other full-time guys. It was a huge achievement."
Back to this year, Hinchcliffe is confident the luck will turn for the No. 5 Arrow Electronics Schmidt Peterson Motorsports Honda as it heads into the final six races of 2017.
"If we keep doing what we're doing, and not to try do more, or engineer ourselves out of a good place past what we're capable of doing; we should get these results. We'd done pretty well all season. The results should come back. We didn't have anything go wrong at Iowa… so it's nice to not have that hanging over our heads. Keep executing on Sundays and we'll be back."