The IMSA WeatherTech SportsCar Championship has completed its lone back-to-back stretch of the 2017 season, as it restarts from the post-Le Mans break from the start of June to the start of July. A few thoughts to follow from the action thus far:
CADILLAC NOT YET DEFEATED, BUT COMPETITION IS CLOSE
That Action Express Racing with both its No. 5 Mustang Sampling Racing and No. 31 Whelen Engineering Racing entries kept the thus far perfect run of victories for the Cadillac DPi-V.R alive – now seven-for-seven overall with just three Prototype races to play – spoke more to overall team fortitude and determination rather than outright pace with each lineup breaking through at Watkins Glen International and Canadian Tire Motorsport Park, respectively.
The competition was proven to be closer here than it was in the opening rounds of the season, with the reasoning the other cars have found more in the way of in-season development and, crucially, the Balance of Performance has not been in Cadillac's favor. Yet Cadillac has continued to win in spite of the challenges they've faced throughout the season, which speaks to their team efforts.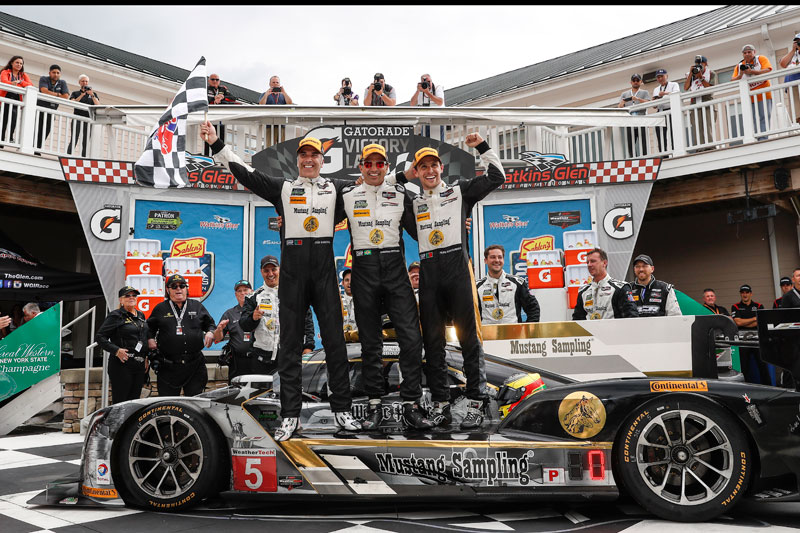 At the Glen, with the otherwise dominant No. 10 Konica Minolta Cadillac resigned to a spectating role playing catch-up with first lap suspension damage costing them laps, and the No. 31 Cadillac later sent to the rear of the field for a drive-time violation for third driver Filipe Albuquerque, the No. 5 Cadillac picked up the slack with Joao Barbosa's slightly more experienced hand winning out in traffic over the equally determined, but defeated, Stephen Simpson in the No. 85 JDC-Miller Motorsports Oreca 07 Gibson "banana boat."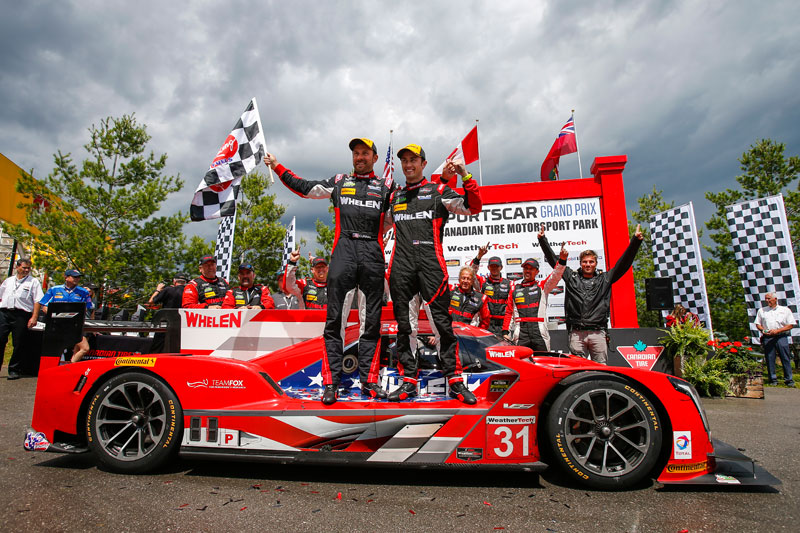 Late rain and final pit stops at CTMP brought the No. 85 car behind the No. 31 Cadillac of Dane Cameron and Eric Curran, and the defending championship winning team held on despite a car with a pace disadvantage. Yes, like at the Glen, the No. 10 Cadillac was out of contention – Jordan Taylor sustained an unfortunate collision with his Corvette Racing teammate Tommy Milner in the No. 4 Corvette C7.R – but it shouldn't detract from this team finally breaking through after a tough season defending its title.
The No. 85 car has been the closest to beating the Cadillacs, for sure, but successive podiums from the No. 55 Mazda RT24-P and No. 2 Tequila Patron ESM Nissan Onroak DPi have seen the other two DPi manufacturers on the podium, and in the right pair of hands, the No. 52 PR1/Mathiasen Motorsports Ligier JS P217 Gibson looks a decent bet too.
ESM was unlucky at Watkins Glen with a car that was clearly fast, but hit hard with penalties before retiring. It's been a whirlwind couple weeks for that team with Ed Brown's retirement from prototype racing before being sidelined due to back surgery, then Pipo Derani winning the pole one week in the No. 2 car before getting shifted to the No. 22 car the next week.
The scoreboard reads 7-0 Cadillacs in favor of everyone else but the "why" they're on top reveals a much closer level of competition than merely the stats would indicate.
JDC-MILLER'S "BANANA BOAT" ROCKING THE BOAT OF PLANNED FORM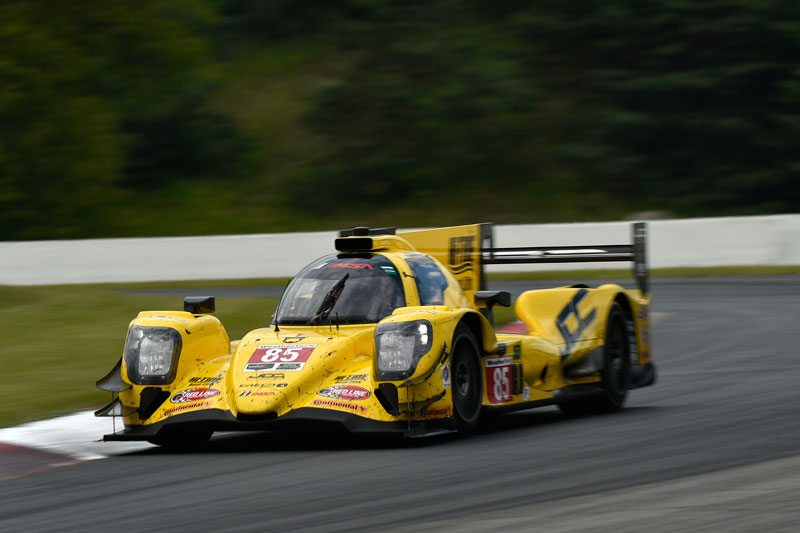 The fact a lineup of one full pro (Simpson) and two burgeoning ones (Misha Goikhberg and Chris Miller) has almost been able to almost topple two title-winning lineups – in its first year in the top class, with an entirely new car, mind you – spoke volumes of the John Church-led team's preparation. Those who have seen JDC's title-winning success in the junior open-wheel ranks shouldn't be surprised, and it's been the best pleasant surprise of the IMSA season.
At the Glen, Simpson's pass for the lead on Barbosa with just over 20 minutes remaining was as breathtaking as it was bold, before Barbosa got him back later. The Barbosa/Christian Fittipaldi full-season pairing finally broke through with Albuquerque able to enjoy the spoils of his first U.S. win this year, a needed result for him after his Daytona disappointment.
Simpson also looked the business at CTMP, but it was Goikhberg's weekend performance that stood out. Qualifying second in this deep a field spoke a bit to the car's inherent strength for this circuit, but would not have been delivered if Goikhberg didn't have the confidence to deliver the lap. He ran well over an hour in the race too, and handed the car off to Simpson well with a shot to win.
Seeing the past IMSA Prototype Challenge (formerly Lites) champion blossom into a solid number two driver at this level has been a minor revelation because he's not as highly rated as some of the others in this category, but JDC-Miller's success would not have happened without his growth.
DON'T FORGET THE PERFORMANCE TECH PERFECTION STILL ROLLING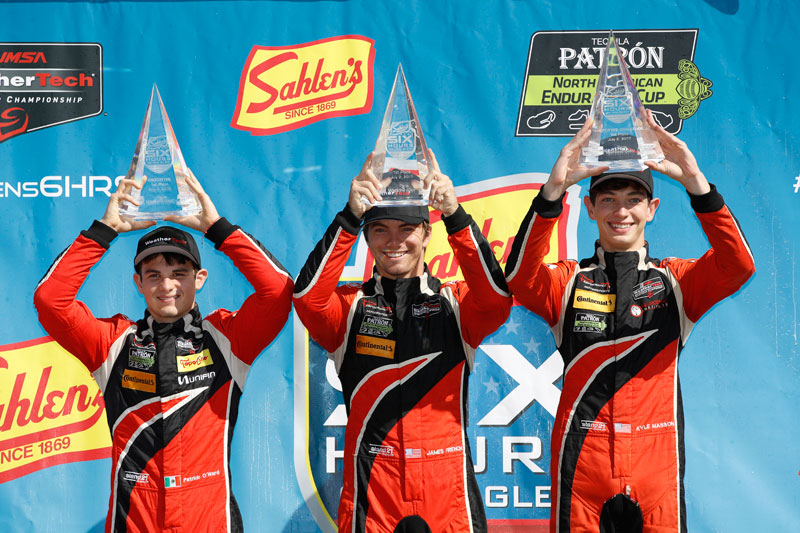 The class is a shadow of its former self in its final season, but the Prototype Challenge class has still seen Brent O'Neill's Performance Tech Motorsports team performing at its highest level yet in seven seasons in this series. At CTMP, despite losing time in the pits for repairs after hitting a tire, the crew executed the repairs to ensure Pato O'Ward made that time up and still brought home a victory, the sixth in a row for O'Ward and James French in the team's No. 38 Oreca FLM09 (with Kyle Masson part of the winning lineup at the Glen).
O'Neill is in a tough spot as he plans for the team's next step. The performance shown this year – French has five poles from six races and the team has won all six races with only two races remaining in the class' history (Road America and Road Atlanta) – has showcased what the team can do. But it's going to require a significant financial uptick in budget – north of $2 million for a season in 2018, so perhaps double the current PC budget – for a move to an LMP2-spec chassis as the PC cars become obsolete.
It's easy to overlook the "little guys" of the sport as manufacturers and top privateer teams make up the bulk of the grid, but oftentimes it's the heart and passion from the smaller teams that ingests a lot of extra blood into a championship. The Performance Tech season to date has been a bright spot in a down year for the venerable, but overdue to be retired, PC class.
BMW'S FINAL HALF SURGE
For a year and a half it looked like BMW Team RLL couldn't buy a break with its heavier M6 GTLM but the winds of change (one could say somewhat Balance of Performance-assisted) have swept through the camp the last two races.
BMW hadn't won a race in the GT Le Mans class since September 2015, the now final win for the Z4 GTE at Circuit of The Americas. It's now won back-to-back races in as many weeks with the M6, the first and second wins for the car as the second half of its final season begins before the M8 comes to life next year.
A final caution aided Alexander Sims at Watkins Glen to consolidate his fuel strategy in the No. 25 car he shared with Bill Auberlen. Auberlen then added this first win in the M6 to the first win in the Z4 (2013) and first win in the M3 (2009) among recent BMW GTE spec cars.
"I am extremely proud of this team," Bobby Rahal said after the Watkins Glen win. "It was a tough fight today with the win not assured until that last yellow helped us with fuel mileage. Alexander and Bill did a great job, but it could have equaling been John and Martin's day if now for an errant piece of a competitor's car puncturing the radiator."
The John Edwards and Martin Tomczyk pairing finally got a result of their own in CTMP, coming second in their No. 24 BMW to the sister No. 25 car, which completed a two-week sweep and brought them to within three points of Antonio Garcia and Jan Magnussen for the class championship lead in the No. 3 Corvette C7.R.
INTENSE GTLM TITLE FIGHT DEVELOPING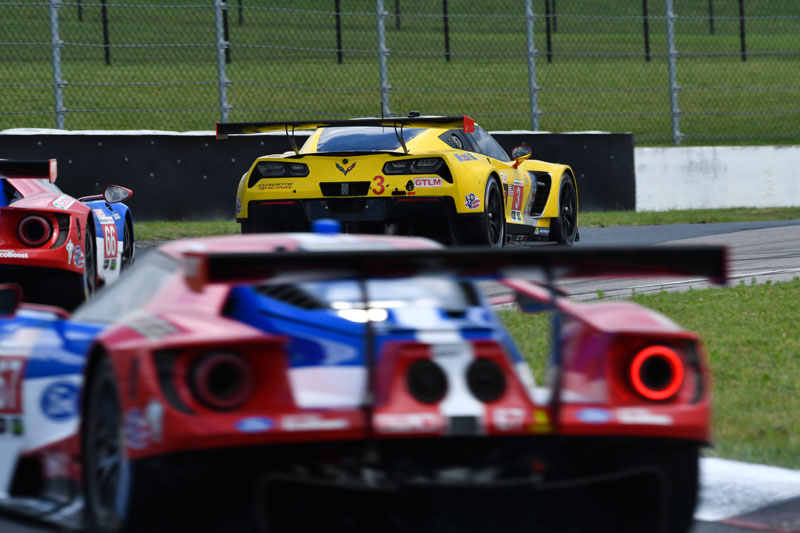 Garcia and Magnussen are driving as well as ever in spite of being in the oldest car in class – the C7.R now in its fourth year – and with refuelling restrictor changes having hamstrung this team on the BoP side of the equation. Corvette's made a habit of winning when their backs are against the wall and how this pairing will battle the rest of the way with five races remaining: Lime Rock, Road America, VIR, Monterey and Road Atlanta, will be interesting to watch.
They're three points ahead of Sims and Auberlen (182-179), while the pair of Ford Chip Ganassi Racing Ford GTs (Dirk Mueller and Joey Hand on 172 and Richard Westbrook and Ryan Briscoe on 169) are still perfectly within striking range with a win and a bit of bad luck elsewhere.
Porsche's looked the business too with its new mid-engined Porsche 911 RSR but at 23 points back, it'd take a lot to go right for Dirk Werner and Patrick Pilet to leapfrog up the order. A spate of late-race puncture and engine issues have taken both the Nos. 911 and 912 cars out of contention, limiting the overall results for them.
Bad luck sees the second Corvette of Milner and Oliver Gavin just sixth in points, 33 behind their teammates. Their inadvertent win and the No. 3 car's unfortunate loss at Long Beach – and the 18-point swing that went with it – looms larger every race.
THE NO. 93 ACURA, 63 FERRARIS HIT THEIR STRIDE IN GTD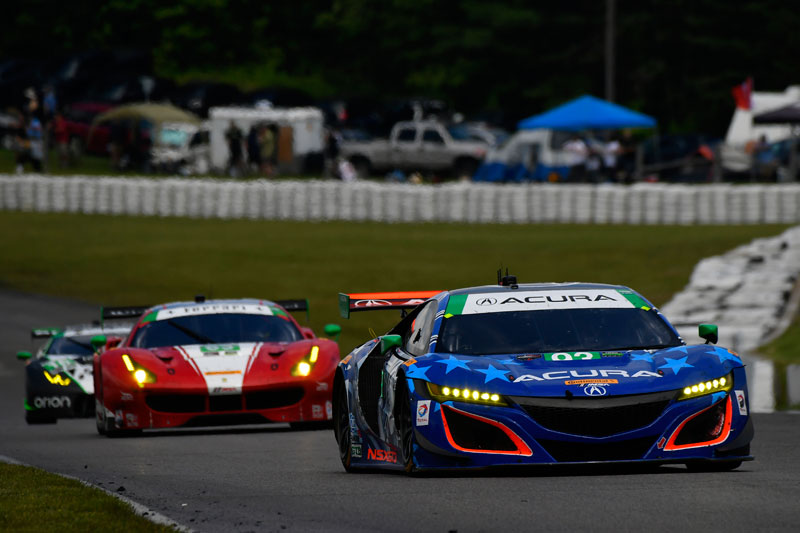 The hottest pairings in GT Daytona are without question the No. 93 Michael Shank Racing Acura NSX GT3 of Andy Lally and Katherine Legge and the No. 63 Scuderia Corsa Ferrari 488 GT3 of Alessandro Balzan and Christina Nielsen.
The Lally/Legge pairing won their second straight race in a blaze of patriotic glory at the Glen, and followed it up with their third straight podium by coming second at CTMP. Nielsen and Balzan have rebounded perfectly from their engine issues at Daytona with six straight podiums, albeit no wins, to have moved into the title lead by eight points (203-195) over Jeroen Bleekemolen and Ben Keating, who've hit a rough patch since June with three tough races in their No. 33 Riley Motorsports-Team AMG Mercedes AMG-GT3. Lally and Legge are third in points, 24 back, with a title not impossible to fathom but with the top two needing to both hit trouble to make it a more realistic prospect.
It's the No. 57 Stevenson Motorsports Audi R8 LMS that finally broke through this weekend at CTMP though, ending respective winless droughts for the talented American pair of Lawson Aschenbach and Andrew Davis. The win was made even more special as it was in tribute to a crew member, Dexter Johnson, they've lost recently, and also capped off Stevenson's banner weekend where its new Chevrolet Camaro GT4.R won the Continental Tire SportsCar Challenge race on Saturday.
OTHER NOTES
Team Penske's sports car program seems due to be announced shortly and once the cat finally, officially comes out of the bag there it will end the worst-kept secret in sports car racing the last year or so.
IMSA ramps up for Road America next month as that's the traditional "state of the series" venue, where schedules and other business-of-racing topics are presented to key stakeholders. Lime Rock Park is next in a couple weeks but sees only the WeatherTech Championship GT classes and the Continental Tire SportsCar Challenge on site.
Despite sixth and seventh place finishes, the No. 10 Konica Minolta Cadillac team still leads Prototype overall by 19 points with three races remaining. This is the first time this team has finished outside the top-five in consecutive races since coming sixth at Detroit and Watkins Glen in 2015.
Mazda Motorsports scored top-five finishes with both its cars for the second time this season at CTMP. Mazda did that twice last year, as well.
PR1/Mathiasen was unlucky to end how it did with David Ostella turned over at the end of the race, but fortunately the Canadian was OK. Co-driver Nick Boulle impressed all weekend, qualifying ahead of Tom Long's Mazda in his Prototype debut and only 1.8 seconds off the pole – a handy job for the Dallas native in his third IMSA start this year, with as many different teams (Performance Tech and BAR1 in PC at Daytona and COTA). Olivier Pla and Jose Gutierrez showcased the car's full potential a week earlier at Watkins Glen, before Gutierrez missed CTMP.
Lexus continued to progress as Sage Karam got the car's first pole at CTMP and he and Scott Pruett finished fifth for the 3GT Racing Lexus RC F GT3 first top-five of the year. It was good to see the sister car rebuilt after Jack Hawksworth's heavy accident in practice on Saturday.
Change Racing posted its best 2017 finish with sixth for Jeroen Mul and Corey Lewis at CTMP in the No. 16 Lamborghini Huracán GT3. After a year of cartoon anvils and bad luck chasing them around, it was a nice result for the Robby Benton-led team.
Joerg Bergmeister returned to the No. 73 Park Place Motorsports Porsche 911 GT3 R after missing Watkins Glen; he and Patrick Lindsey ended ninth at CTMP as the Porsche continues to fight an uphill battle in the GTD class.
Turner Motorsport has delivered two solid finishes, third with Jens Klingmann and Justin Marks at Watkins Glen, then fourth with Klingmann and sprint race co-driver Bret Curtis at CTMP.
Townsend Bell and Bill Sweedler will race at Lime Rock in their No. 23 Alex Job Racing Audi R8 LMS, per Sportscar365. This comes on an off weekend for the Verizon IndyCar Series and will allow the NBCSN IndyCar analyst and his usual sports car co-driver a crack at the GT-only sprint race.
Kenton Koch swept the PC series races at CTMP for P1 Motorsports in his Ligier JS P3.
The PC series was the only additional IMSA series beyond the WeatherTech Championship and Continental Tire SportsCar Challenge at CTMP, but Watkins Glen was a different story. The story there was a heavy accident in the first Porsche GT3 Cup Challenge USA by Yokohama race there, where several drivers were sore but there weren't serious injuries. Full results from all series, all races at the Glen and CTMP can be found here.