Whatever the next step for Mike Shank and his eponymous Pataskala, Ohio-based Michael Shank Racing operation is after this year's factory-supported Acura NSX GT3 program, will see the focus on his sports car program supersede any potential full-time entry into the Verizon IndyCar Series.
INDYCAR needs new blood in team owners and Shank, passed over somewhat unceremoniously for the factory Acura prototype program announced by Team Penske on Tuesday, has expressed his interest in joining the championship.
But what Shank has built in sports cars over the last 15 years, first in GRAND-AM with a Daytona Prototype through to the IMSA WeatherTech SportsCar Championship with a Ligier JS P2 Honda, then this year's Acura effort, will come before any full-time IndyCar bow.
"I just got a text today from INDYCAR asking how I'm doing," Shank told NBC Sports.
"Every six weeks, INDYCAR will check in with me, and ask if there's anything they can do to help. They want teams, and they want to help make a lot of difference, and I appreciate that.
"But what I cannot do is dilute my sports car program, especially the factory relationships we've worked so hard to build.
"You see what happens when you take an almost billionaire in (Kevin) Kalkhoven and now he can't do it anymore. There's a lot of empty space on IndyCars. I have to be very careful to do more. But if I can do the Indianapolis 500 every year without sacrificing my program, I want to keep doing that."
Shank's efforts to build the team beyond a sports car only program have been amplified in the last two years. The team's debut at the 24 Hours of Le Mans last year was an unquestioned success – ninth in LMP2 and 14th overall in a 60-car field for the small crew and a lineup of Shank lifers Ozz Negri and John Pew plus eventual Porsche factory ace Laurens Vanthoor was nothing to sneeze at. This year's Indianapolis 500 debut has showcased Shank in an IndyCar paddock, albeit not without its challenges, but the team fought through in tandem with technical partner Andretti Autosport and rookie driver Jack Harvey.
This year, what Shank has shown is an ability to launch a new car from the ground up. In tandem with Honda Performance Development, HART and RealTime Racing, the Shank Acura NSX GT3s have developed over the course of the season into a race winner – arguably sooner than anticipated – with Andy Lally and Katherine Legge breaking through both in Detroit and Watkins Glen, and then coming second at Canadian Tire Motorsport Park. Negri and Jeff Segal have endured nearly all the team's bad luck and don't have a result of note to show for their own performance.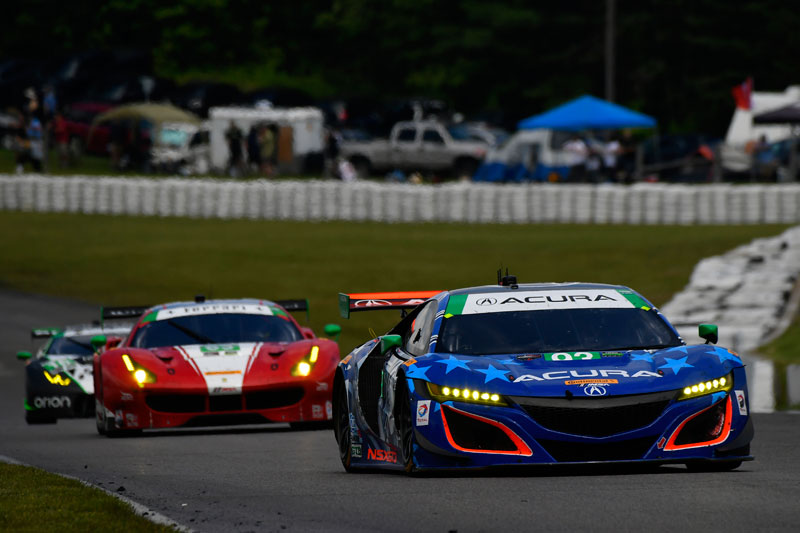 "It's been a huge amount of work, no question, more than anything I ever did in prototypes because this is bringing a car to life from its infancy," Shank explained. "Ligier had done a lot of the work with the P2 car.
"In this case we started with a new piece, and early on, we were definitely challenged. That's not to say we're not now. Consider this car is only six or seven races old, period. To be honest, we have more things to explore with the car chassis-wise. We haven't hit the sweet spot on the chassis fully, but we're getting there."
Shank explained what the whirlwind of the last three months has been this year. Harvey's program was announced in mid-April at Long Beach, with the Shank component announced a few days later – unfortunately overshadowed by Fernando Alonso and McLaren's Indianapolis announcement the same day – but he described what was all entailed into making the Indy 500 program work.
"I never sit and reflect, but it's fairly rare that teams get the opportunity to do what we have," Shank said. "The experience with me and Tim Keene and others that have worked in IndyCar allowed it to happen. It all happened fairly seamlessly.
"It was such a last-minute deal at Indy. But through the first week it simmered down and ran like a normal MSR operation. Andretti are the dominant force at the Indianapolis 500 right now – that cannot be denied.
"With that, we jumped over a lot of obstacles teams face. We had our obstacles in the first week, but with having them as a partner it made it easier to get through.
"The people… that was all my guys. It wasn't from Indianapolis or from another team. And so that was kinda my point, is that now we're capable of doing anything.
"Le Mans? Prototypes? Win Petit? We've done that. Now Indy, we did. We can do GT and win races.
"We want to show the depth of what this team is capable of. I think that's the biggest thing we took out of it."