INDYCAR has confirmed Juan Pablo Montoya and Oriol Servia as test drivers and Team Penske (Chevrolet) and Schmidt Peterson Motorsports (Honda) to provide cars for the new Dallara 2018 universal aero kit testing.
The first on-track test is scheduled for July 25 and 26 at the Indianapolis Motor Speedway oval, before the first road course test at Mid-Ohio Sports Car Course that comes following the Honda Indy 200 later this month.
INDYCAR's full release is below.
—
Veteran Indy car drivers Juan Pablo Montoya and Oriol Servia have been named by INDYCAR to perform testing duties for the Dallara universal aero kit to be used by all Verizon IndyCar Series teams starting in the 2018 season.
Testing of the universal kit, which will be fitted to the current Dallara IR-12 chassis used by all teams, begins July 25-26 on the 2.5-mile oval at Indianapolis Motor Speedway. Subsequent tests will take place on the permanent road course at Mid-Ohio Sports Car Course, the short oval at Iowa Speedway and a street-course simulation at Sebring International Raceway.
The two test cars will represent the engine manufacturers currently competing in the Verizon IndyCar Series. Team Penske will provide the Chevrolet-powered Dallara chassis to be driven by Montoya. Servia will drive a Schmidt Peterson Motorsports Dallara with a Honda engine.
While the teams are providing crews to service the cars, the testing regimen will be supervised by INDYCAR, sanctioning organization for the Verizon IndyCar Series.
"If we can help in any small measure to have a great product in 2018, I'll be honored," said Servia, who has raced Indy cars since 2000 and reached his milestone 200th career start at the 101st Indianapolis 500 presented by PennGrade Motor Oil in May.
"It's great that INDYCAR is doing it to make sure we have good racing. We want to help them accomplish what they want to accomplish."
The 2018 universal aero kit marks the beginning of a new era. Dallara was named last month to manufacture the kit following a yearlong process at INDYCAR to establish the parameters for a sleeker, bolder bodywork kit whose look is inspired by past favorite chassis that competed in Indy car racing.
Chevrolet and Honda have been supplying aero kits to their contracted teams since 2015, but that will cease at the end of this season. The new universal kit is expected to be more cost-effective, with the intent to draw additional engine manufacturers to the Verizon IndyCar Series since they no longer need to supply aero kits as well.
"I think they did a really good job with it," said Montoya, the two-time Indianapolis 500 winner who counts 15 race wins and the 1999 CART championship among his motorsports accomplishments. "I think going back to one aero kit for both (engine) manufacturers is good for the sport. … It opens the door to other companies to get interested in INDYCAR again."
INDYCAR will maintain control of the test chassis and data, so as not to provide either test team a competitive advantage for the 2018 season. Data and results will be distributed to all teams once testing is complete.
The universal kit contains additional safety enhancements and is intended to deliver even greater on-track racing since most of the aerodynamic downforce will be generated from underneath the car. That will create less air turbulence for trailing cars, allowing for more overtaking opportunities.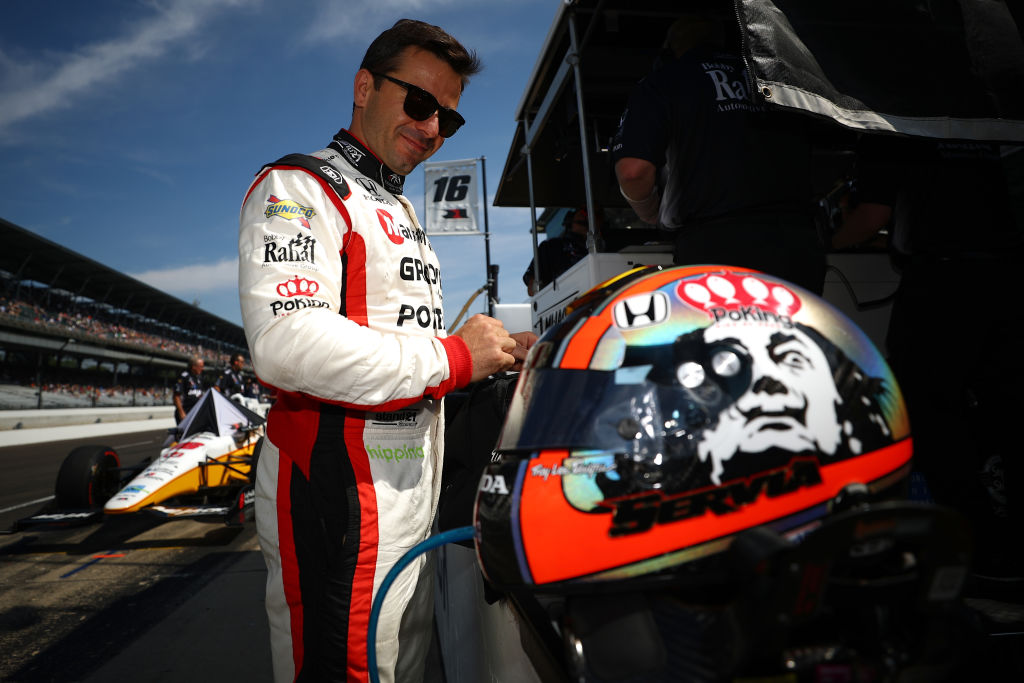 Another component of the universal kit's design is a weight redistribution to improve the car's handling and balance.
"The new car will have more weight on the front," said Tino Belli, INDYCAR's director of aerodynamic development. "We've removed the (rear) wheel guards and the beam wing, which obviously is quite a bit of weight far back on the car. We've introduced side-impact structures beside the driver and moved the radiators forward a bit. We're anticipating having about 1.6 percent more weight on the front axle, so that could require a small amount of front downforce."
The Indianapolis Motor Speedway test will mark the public debut of the new car look. Computer-generated images of the universal kit were initially released in January and followed up with more detailed images in May. The response from Verizon IndyCar Series drivers has been overwhelmingly positive, as were the responses of Servia and Montoya to the invitation to be the first to test it.
"To be chosen as one of the guys to test it is exciting," Montoya said. "It works out really well. Since I'm not running full-time this year, it was a good fit."
As with the current kits, the universal kit will come in two specifications: one for superspeedways and the other for road courses, street circuits and short ovals. Testing at all venues will be used to confirm the baseline standards for the package, starting with the superspeedway kit at Indianapolis.
"Once we're sure the car is in the right window, we'll move on to reliability testing," Belli said. "We'll put the car back to a race-level of downforce, fill it up with fuel and check that we don't have issues with the exhaust heating the bodywork too much and establish the cooling levels for each engine.
"We're not really trying to go a certain speed and we're not trying to check how the car handles in traffic," emphasized Belli. "Those things won't be established until we're able to work 'in anger' next year, but we just want to make sure that we haven't missed on our aero targets specifically."
After IMS, the rest of the test schedule is set for Aug. 1 at Mid-Ohio, Aug. 10 at Iowa and Sept. 26 at Sebring.