The Honda Indy Toronto showed promise for Simon Pagenaud, Helio Castroneves, and Graham Rahal. Castroneves rocketed into the lead with a bold, three-wide move on the inside entering turn one as the race started, and he led teammate Pagenaud and Rahal through the opening stint.
All told, the three were beginning to draw away from the field as the first round of pit stops began, but a Lap 23 caution for Tony Kanaan, who overshot turn one and nosed into the tire barrier, put Castroneves, Pagenaud, and Rahal behind the eight ball.
With several drivers having stopped before the caution flew, the former lead trio restarted outside the top ten on Lap 26, with Castroneves running the highest in 14th. From there, they played catch-up as best as they could.
In the end, all three made it back into the top 10, with Pagenaud finishing fifth, Castroneves eighth, and Rahal ninth. But, all three were disappointed to miss out on chances to win.
Pagenaud masked his disappointment in acknowledging that the race win went to fellow Team Penske driver Josef Newgarden.
"We managed to fight back on the (primary black tires). The car was phenomenal. Such a shame we got caught out by the yellow. But glad we kept (the win) in the family," he said to NBCSN's Jon Beekhuis regarding his comeback to fifth and Newgarden's triumph.
Castroneves, too, remained upbeat post-race. "When Roger (Penske) called me to pit I was already off Turn 10 and I couldn't come in. It's a shame that it came out that way but at least one of our guys ended up winning the race. Our Hitachi Chevy was really strong and we keep collecting points and getting closer in the championship," he told Beekhuis.
Rahal was somewhat more vocal in his frustration.
"I got the call after we passed pit in. Newgarden was just lucky because he was falling off the train of the three of us (Castroneves, Pagenaud and Rahal). He was 2.5 seconds behind us, or just enough to get the call. When (my team) said to me 'Pit, pit' I was turning into Turn 9. Obviously I can't see what's going on in Turn 1. We played it right today but got unlucky. The three best cars didn't win the race or finish 1-2-3," Rahal lamented.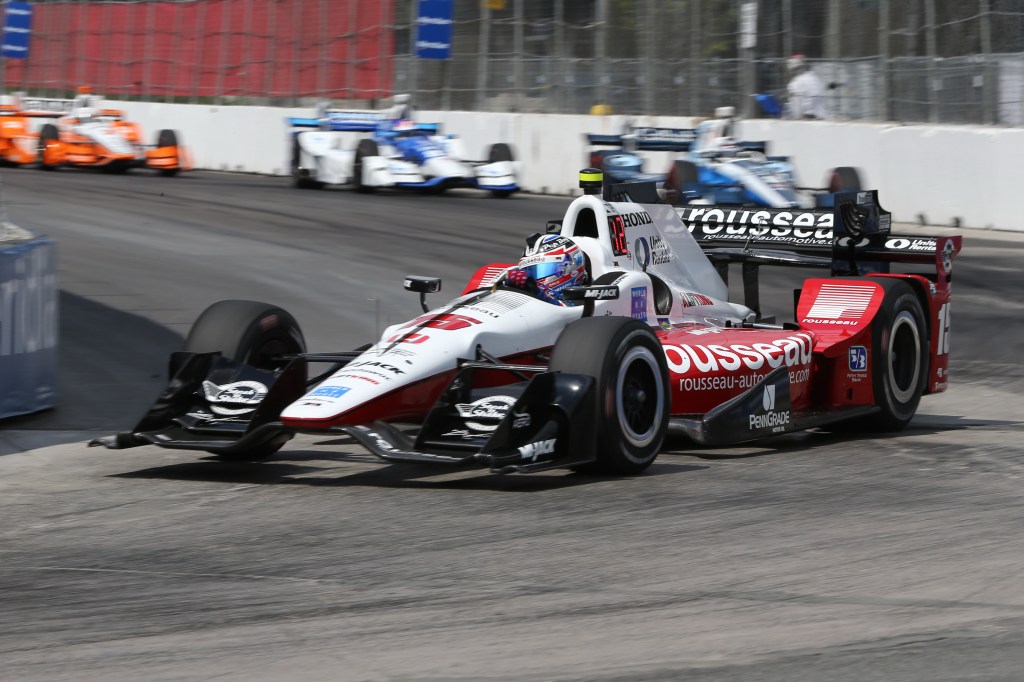 Rahal added that he missed an opportunity to gain a lot points in the championship as well, due to a lap one crash involving Scott Dixon and Will Power.
"Obviously I'm disappointed for the Rousseau team. I'm happy for our United Rentals Turns for Troops (lap completed) program. We raised another several thousand dollars to help our veterans. But I'm frustrated because today was a day we should have easily gained a lot of points on Dixon, Newgarden and everybody else but unfortunately the way the officials have decided to close the pits these days, luck plays a huge factor and today it bit us," he finished.
Still, all three drivers remain in championship contention. Castroneves sits in second, only three points behind Dixon, with Pagenaud 19 points out of the lead in third. Rahal sits tied for fifth with Will Power, 64 points behind Dixon.